This is one of our project in Philippine – a medium scale copra oil mill, including 20TPD oil extraction line and 10TPD oil refinery line. The daily capacity is processing 20 tons of copra (desiccated coconut) and get 10 tons of refined coconut oil. It is designed for manufacturing edible coconut oil from desiccated coconut (copra).
Copra Oil Mill Plant Under Construction
The following photos were took during the project construction onsite. If you are interested in getting more about the equipment details and cost of the project, just feel free to contact us (info@abcmach.com)!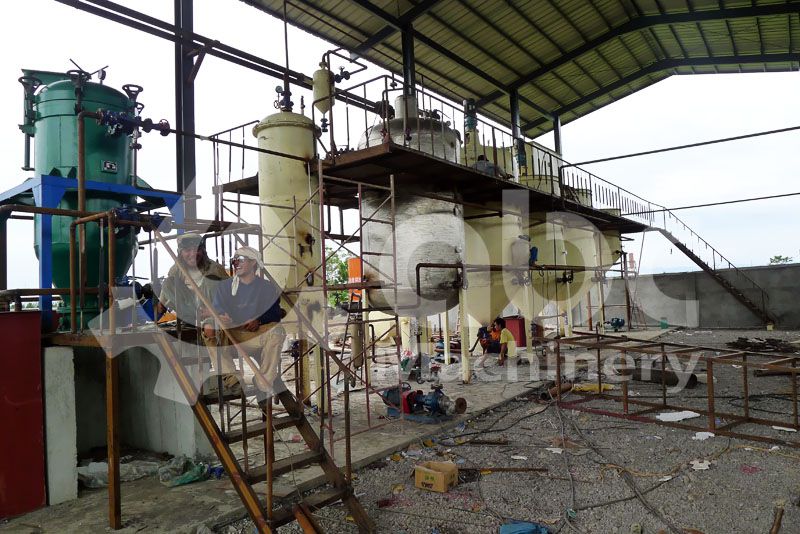 Oil Refining Equipments

Related News: Small Edible Coconut OIl Refining Plant Shipped to the Philippines
Copra Oil Pressing Process
Main Copra Oil Mill Machine in the Project: hammer mill, flaking mill, steam cooker, large screw press, oil settling tank, centrifugal filter, elevator and conveyor, etc.
Copra Conveying
Copra coconut are solid and not suitable for elevator. Small scraper conveyor is also not recommended sine the imports is too small which has feeding difficulties. Large scraper is costly and not worthwhile. Therefore, belt conveyor is chosen. The angle should not exceed 30 °, otherwise the copra is easy to fall. Iron remover is equipped in the conveyor before the crushing process, so as to prevent the damage of metal material to the processing equipment, and also guarantee the quality of the cake meal of coconut oil.
Copra Crushing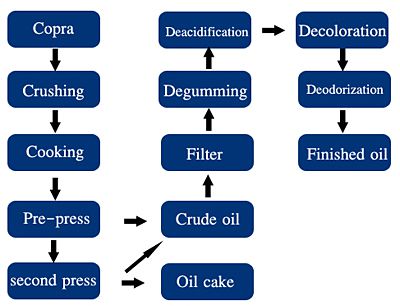 Copra is large block dried coconut. The size of some large pieces can reach 180cm × 100mm × 6mm. For the crushing of copra, hammer mill is chosen. Increase the mesh size and reduce the number of hammer, hammer cross-arranged evenly. Since the copra is high oil-bearing material, chain elevator is used for transporting the materials after crushing. In addition, due to the high powder degree, the inlet and outlet can be easily assembled and even blocked. Therefore, there are observation Windows in the inlet and outlet.
Flaking
Copra is hard, resilient, low in density and high in oil content. If the rolling distance is too small, it is easy to extract oil and cause caking problem. Therefore, different from other common oil bearing materials, the rolling distance is larger, which is about 3 ~ 4.5 mm.
Cooking
FAQs: Because of the constant stirring of steam cooker, oil is easily extracted and drop down through the spindle, causing waste and workshop environmental pollution. At the same time, the materials will caking the causing conveying difficulties.
Solutions: reduce the powder degree of the crushed materials, reduce the mixing time and clean the feed downpipe in time.
Steam pressure: 0.6 Mpa (indirect steam)
Cooking time: 30 ~ 40 min
Discharging temperature: 100 ° C
Copra Oil Pressing
The main ingredients of coconut oil cake obtained by copra oil press: moisture 4.84%, fat 7.47%, crude protein 22.89%, carbohydrate 29.15%, crude fiber 8.53%, ash 6.82%, 0.16%, calcium phosphate 0.55%, magnesium by 0.23%, 1.75% potassium, zinc 53 mg/kg, t 40 mg/kg of copper, manganese, 75 mg/kg. Nut oil cake obtained from screw pressing process: moisture 4.84%, fat 7.47%, crude protein 22.89%, carbohydrate 29.15%, crude fiber 8.53%, ash 6.82%, 0.16%, calcium phosphate 0.55%, magnesium by 0.23%, 1.75% potassium, zinc 53 mg/kg, t 40 mg/kg of copper, manganese, 75 mg/kg. (Related Product: Desiccated coconut oil press for sale)
The Pressing Temperature
115 ~ 120 ° C
Cake Thickness
6 ~ 8 mm
Residual Oil In Copra Cakes
< 10%
Crude Copra Oil Without Filtering
Moisture and impurities: 0.2%
Free fatty acid: 3.8% (acid value is approximately 7.6 mgKOH/g)
Color: R10, Y40
Saponification value 262.6 KOH/g
Oil Clarification and Filtering
Copra is high in fiber content, so the crude oil generally contains more slag. In order to reduce the burden of filter equipment, clarification process is arranged before filtering. The sludge go back to screw press again directly. The clarified oil will be sent to filtering process and crude coconut oil will be finally obtained.

In addition, the melting point of crude coconut oil is 19 ~ 22 ° C, so it will solidify at room temperature. To avoid troubles in storage and transportation, heating device is installed in the oil filtering poor and oil tank. It should be noted that the heating temperature must be good controlled.