Soybean Oil For Various Uses
Soybean oil is an edible oil with a neutral taste which is extracted from the soybean seeds with the help of soybean oil machine. It is mainly used for the purpose of cooking. This cooking oil is very healthy for our body as it is high in omega-3 fatty acids and polyunsaturated fats and low in saturated fats. Soybean oil is also used for frying, salad dressings, and baking. Soybean oil is also known to be the fat-free oil. Some of the benefits of health which are being provided by this oil are reducing cognitive disorders, increasing immunity, improving heart health, preventing osteoporosis and lowering the levels of cholesterol. (Related post: Cooking Oil Manufacturing Plant Cost >>)
| | | | | | |
| --- | --- | --- | --- | --- | --- |
| Fatty Acid | Palmitic | Stearic | Oleic | Linoleic | Linolenic |
| Soybean Oil (%) | 10.5 | 2.7 | 20.8 | 58.6 | 5.0 |
There are also lots of uses of soybean oil, i.e., it can be used in biodiesel, lubricants, industrial paints, adhesives, cleaners, oleochemicals, solvents, biocomposites, etc. It is a perfect component for bio-based products as the cost of this oil is low, environment-friendly, and easily available. Therefore, soybean oil business attracts a lot of people in many countries. In order to ensure the success of your soybean oil mill, it is better to have a full understanding about the soybean oil machine, soybean oil manufacturing process and soybean oil markert demand, etc..


Successful Projects - Soybean Oil Pressing Plant
ABC Machinery is the leading oil processing machine manufacturer and supplier of BEST soybean manufacturing oil machines. Generally, the equipment for soybean oil production includes screw pressing machinery and solvent extraction equipment. In order to meet more customers' needs, we provide one-stop service to help customers build up their own soybean oil processing plant for household or commercial uses, including equipment selection, manufacturing, installation and after-sale service, etc.. If you are interested in buying the best soybean oil machine at factory price, please contact us directly!
Manufacturing Process of Soybean Oil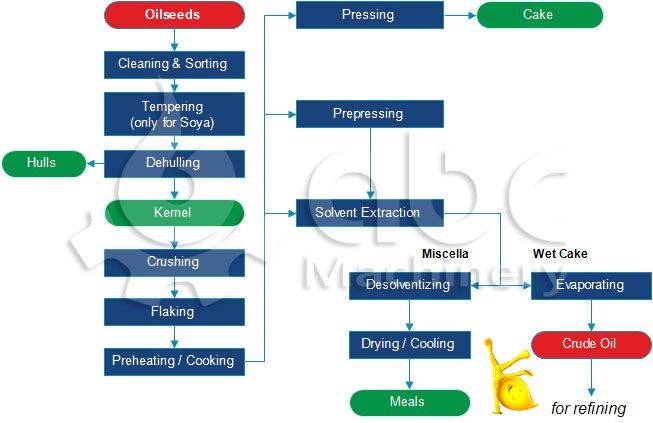 Complete Oilseeds Processing Plant
Capacity Range from 10T/D to 5000T/D
The soybean oil manufacturing process is not easy as you think. You should follow some essential steps. The main process is as follows:
Preparation or cleaning of the soybean seeds;
Pre-pressing: use oil expeller to press oil from the beans through mechanical or physical method.
Extract oil from oil cakes by solvent;
Purification or refining of the extracted oil;
Winterizing and hydrogenation (optional);
The complete soybean oil manufacturing process requires a series of oil processing machine based on the specific processing steps, including cleaning machine, cooking machine, oil extraction machine, oil filter machine, solvent extraction plant, oil refining plant, and more. The selection of soybean oil processing machine should be closely related with the capacity, oil production process, final soybean oil uses, investment budget and other exact conditions. (Related post: Small Scale Soybean Oil Plant Cost in India >>)

Soybean Oil Extraction Machines at Factory Price
According to the oil extraction methods, soybean oil extraction machine is basically divided into two types, screw oil press machine and solvent extraction plant. Generally, the screw oil press machine is suitable for both small scale and large scale cooking oil production line, while, the solvent extraction plant is more suitable for large scale or industrial scale vegetable oil processing plant.


Soybean Oil Machine - Screw Expeller
The oil press residue is about five to seven percent. The final user after processing by oil press can get crude soybean oil as well as soybean cakes. These soybean cakes can be used for making the feed of animal. (Related project: 25TPD Small Scale Soybean Oil Mill Plant in Ghana >>)



Soybean Oil - Solvent Extraction Machine
The residue of solvent extraction plant is less than one percent. The users at that time can get soybean meal which contains high protein and can also be used for making the feed of animal. Due to this, lots of people are very much interested in solvent extraction plant of soya oil. (Related project: 100TPD Turnkey Soybean Oil Mill Project in Zambia >>)

Tips on Buying Small Soybean Oil Machine
► If you want to buy a screw oil press for soybean oil production, you should know your actual situation first and choose the type according to your own needs. If available, you can undertake on-the-spot investigation to the factory of your oil processing machine supplier.
► Second, it is recommended to choose a brand that owns great reputation in oil processing industry.
► Finally, it is better to check the packaging of the machine at the delivery time. In addition, you should also check all the technical documents along with the machine, and the machine appearance. When necessary, you can ask the manufacturer to carry out on-site testing.
Small Soybean Oil Extraction Machine Working Principle
Soybean Oil Production Market
In the latest study of IMARC, soybean oil production market includes industry trends, raw materials, plant setup, manufacturing process, cost, soybean oil machine, and revenue which offers a techno-commercial roadmap to set up a soybean oil processing plant. The study which has been done by one of the leading research and advisory firms of the world covers all the required facets of the soybean oil production market. (Read more: Soybean Processing Plant Business Plan >>)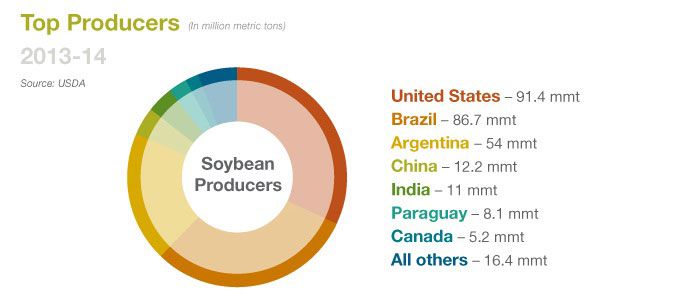 Soybean Oil TOP Producers
This ranges from an overall overview of the market to extremely small details of the performance of the industry, manufacturing and processing requirements, project funding, project cost, project economics, profit margins, expected returns on investment, etc. This whole report is a must-read for investors, entrepreneurs, researchers, business strategists, consultants, and all those who are planning for foraying into the industry of soybean oil in any way.
I need soyabean meal machine, I will send the sample of soyabean meal.I want to produce soyabean meal 10/day.
Thanks for your enquiry. Do you want to make soybean meal or extract oil from soybean meal, pls clarify clearly.
As for your request, is the soybean meal in the attachment exactly what you want? If you request the oil content in the meal is below 2%, you'll have to consider the solvent extraction technology. However, it's not economical at all for only 10TPD.
By the way, could you advise what's the purpose of this soybean meal? where did you get it, how's the current process flowchart?