Offer Complete set of soybean oil mill machinery for both mini, small and large commercial scale business plan. Great Service and the most competitive price!

Soybean Oil Mill Plant
(from left to right are workshops of oil seeds preprocessing, cooking and screw pressing )
---
Soybean oil is used by people from all around the world. It has been grown in Asia for three thousand years. In recent times its cultivation has spread all across the world. The worlds leading producers of soybean oil are United States of America, Brazil, Argentina, China and India. This oil has an immense diversity of uses in every day life and from culture to culture. Some of the most well known applications in our region are mayonnaise, imitation dairy, meat products, commercially baked food products, frozen food among many
more. Soybean is great for cooking. When processed soybean can be used the base for oil painting and ink printing. It is extracted from the seeds of soybean. To produce the oil it has to be cracked, heated and rolled into flakes. Solvent has to be exacted out of it after which, it has to be refined and blended for different. For all this it is very important to have the proper soybean oil mill machinery. This is the factor that separates the top producers from the rest. There are a few ways in which the Soybean oil can be processed.
Soybean Oil Mill Machinery for Sale


Full Scale Soybean Oil Milling Plant / Machinery


Small Scale Soybean Oil Milling and Refinery Machinery
Feel free to inqurie for detailed information about large scale soybean oil milling plant and mini/small scale oil mill machines. Tell us your oil seeds, capacity requirement, cost plan and other ideas, then our professinal engineer will help you make the best business plan. We are always at your service!
If you are thinking about producing Soybean yourself then there is a wide range and variety of products and services that will make your venture a successful one. You might consider getting your self a small scale oil production line. The alternative to that is making use of services available to you. Services include the pre-treatment of oil, oil expelling, solvent extraction, oil refining, oil filling etc. there are auto oil filling machines and labeling machines that will make the end product very professional looking. Some great soybean oil mill machinery that would be ideal for your business include the screw oil press that extracts oil, the integrated oil press, cooker and oil filter press. There are cleaning services available to make sure that your capital is in top condition all the time. Soybean oil has a massive market in the country and outside. It is a great source of income and the production process is much easier then it use to be. Now there are quite a lot of advanced soybean oil mill machinery at your disposal. Consider the prospects of capitalizing for your self.
The Manufacturing Process of Soybean Oil

There are two methods that are generally used when it comes to the production of soybean oil. The first of the two is a mechanical process (screw oil pressing plant). This is the utilization of a screw press machine. The oil ls squeezed out from the seeds and kernels using the traditional soybean oil mill machinery. The second method involves the usage of chemicals to extract the oil (solvent extraction machinery). A solvent is used in this process. There is an argument about which process should be the preferred one.
The use of the screw press machine is a much healthier as no chemicals are involved in the process. The second process has a higher yield. It really depends on the oil making needs of the producer. Some apply both methods. In order to produce the oil, the soybeans have to be cracked after which it has to be adjusted for moisture content then it is heated in a temperature of 60 to 88 ℃. Then it has to be rolled into flakes. The solvent is extracted with hexanes. After extraction the oil has to be refined then blended for different uses. Their might be a hydrogenation process involved depending on what the end production is.
Soybean Oil Production Market
There has been development in a grand for the production of soybeans in the USA. It began during the 1940s and has seen rapid increase in the growth of the market since then. The demand for that soybeans that were produced grew both at home and in the international market. The land used in the production of soybeans tripped from 1940 to 1955. the total production of soybeans increased five fold. From seventy eight million to 374 million bushels. The numbers continued to grow as the years progressed and is still growing today.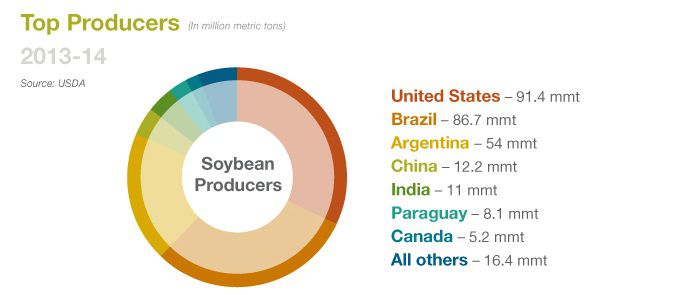 Top producers of Soybean Oil around the World
USA is a super power in the production of soybean oil. There has been a slight decrease in the speed of growth in the industry. This is a result of the increased competition. Some say Brazil might be on its way to the top soon. What ever the case, USA still produces over 80 million metric tons of soybeans each year and that is a high number to beat.
Hello sir/ma,Kindly provide information for 30MT/Day complete soymeal plant incorporating- Seed Cleaning, Dehulling, Cooking/Roasting, Cracking, Solvent Extraction Machine
Dear, Tks for your enquiry to our products. As for your request, is your raw material soybean seed or cake, do you have some equipments already?
Why just appoint these equipments? Because if you want complete equipments for soybean pretreatment and solvent extraction, these equipment is not enough. If you can seed us more information details about your requirements, that'll be better for us to design and suggest for you accordingly.
I am interested in your soya bean processing equipment. How much is the cost, technical details and installation? I have a few questions about it
1. How much is the cost of shipping from China to Ghana?
2. Are going to assemble the machines or is already assembled ready to use?
3. How can your company give us technical support if we need one.
4. Can we used the integrated press / filter to de-odorise and neutralize oil as well or we have to buy a refinery plant and if so how much is the cost of a small scale refinery plant.
Thanks for your inquiry of our product, as for the questions, please see the comments below.
1. The accurate cost has been sent to your email directly.
2. Just some simple assembly works, because we need to dismantle the machines and reduce packing size to save ocean freight cost.
3. we could send engineers to do the installation and commissioning. However, most customer could manage it by operation manual and our guidance.
4. No, it's another system--refining system. As for 1TPD refining system, it's just match with 10TPD pressing line. If you want to expand your pressing line in the future, we suggest 2TPD refinery line. And the respective price has been sent to your email directly.