Due to the high content of polyunsaturates and low production cost, soybean processing plant has emerged as one of the BEST project to invest in. Before setting up a soybean processing factory and start your soybean oil manufacturing business, it is important to look into the local soybean industry and edible oil production market.

Start Soybean Processing Business - Manufacturing Edible Oil
As the most widely produced and most consumed edible oil around the world, soybean oil is also the main oilseeds in the United States. It is a significant part of Americans' diet. Soybean oil is used daily by every American in food industry including cooking oil, commercial frying oil / baking oils, salad, shortening, margarine, etc. Besides, soybean oil is also applied for industrial use as an ingredient in biofuels, cleaners, oleochemicals, printing inks, pharmaceuticals, plastics, paints. Over 20.6 billion punds of soybean oil are produced every year in the country, and about 1.9 billion pounds are exported to other countires.
Soybean Processing Plant Cost
Processing steps, equipment price and project cost is the three main issues that investors are most focused on. In this part. let's talk about soybean processing steps, related processing equipment and cost of setting up a soybean processing factory.
In fact, the soya processing plant cost is affected by many different factors including quality and freshness of soya seeds, production output, degree of automation, equipment quality, and manufactuers. Here we give some references for you:
Small Scale Soybean Processing Unit for Sale
For farmers, individual or self-employed investor, starting from a small scale soybean oil making business is the best choice. The following picture is one of our hot sale equipment set for mini and small vegetable seed oil production line.


Mini Soybean Oil Business Plan
The production capacity ranges from 1 ton/day to 20 ton/day. This set of soybean processing equipment can be cusomized based on your different needs and situation. The equipment prices varies according to the production output. For a setting up a 5 ton/day production line, about $7000~$8000 is needed for the equipment. For the cost of other capacity, don't hesite to contact us for detailed quotation! (Related News: Small Soybean Oil Mill Machine Exported to Ghana, Africa)
Large Scael Soybean Processing Mill
A complete soybean processing plant includes process of seeds cleaning, crushing, flaking, steam cooking, oil pressing or solvent extraction, crude oil filtering, edible oil refining and soybean oil filling / bottling. However, not all these processes are necessary. To ensure low production cost and high output, each of our soybean processing project is designed and built according to different customers' requirements and capacity needs.


Soybean Oil Mill Project Report (25TPD oil pressing & 5TPD oil refining)



100TPD Soya Processing Plant (including solvent extraction, oil refinery and animal feed processing)
Referring to the soybean processing plant cost, it is closely related to the process design (screw pressing or solvent extraction) and equipment selection (small soybean oil press or industrial soybean oil machine with steam cooker). Let's take 20-30 ton/day soybean oil processing plant for example: about $40,000 is need when choosing small oil press, while the cost can be over than 100,000 when choosing industrial oil press with steam cooker. Feel free to contact us now to get more information about our factory price soybean processing machine and project cases. (Oil Mill Project: 100TPD Soybean Solvent Extraction Plant Project Report )
Video: How Soybean Processing Factory Works?
Soybean Processing Industry in the United States
| Soybean Processing Industry by Country (Year of Estimate: 2018) | Production (1000 MT) |
| --- | --- |
| United States | 125,179 |
| Brazil | 122,000 |
| Argentina | 55,500 |
| China | 16,000 |
| India | 11,000 |
| Paraguay | 9,800 |
| Canada | 7,300 |
| Ukraine | 4,400 |
| Russian Federation | 3,900 |
First of all, let's get a general idea of the local soybean processing industry in the U.S. Soybeans are the second largest crop grown in the United States and the main raw material used in the manufacture of soybean oil, the country's most dominant edible oil. It's high abundance and relatively cheaper cost are the main reasons attributed to the oil's dominance in the domestic markets. Only an estimate of 12% of US soybean oil is exported as the majority 88% is utilized domestically. 66% of Soy bean's domestic usage is consumed by the food industry as the remaining 34% is taken up in the manufacture of bio-fuels, lubricants, plastics and paints.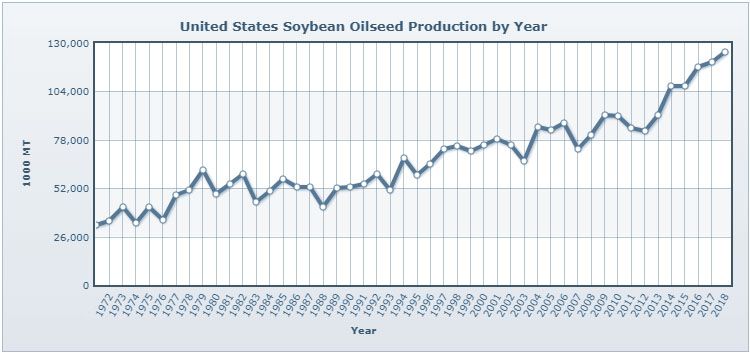 Soybean Oilseed Production by Year in the United States
An in-depth understanding of soybean processing industry and edible oil market segmentation is essential for investors, so as to make the best soybean processing business plan. Raw material, application, end-use and distribution channels are the main categories of the oil's market segment.
Soybean Varieties: Raw material segment is fragmented into conventional and organic soybean oil.
Application: Food segment consists of oil intended for Culinary use, bakery, salad dressings and other confectioneries.
End-use segment is fragmented into Commercial and Household use.
Distribution channels are fragmented into Convenience stores, wholesaler, hypermarkets / supermarkets and small-scale retailers. Majority of the market segment is taken up by the food industry due to its health benefits.
Major Market Drivers Influencing the Demand for Soybean Oil in the United States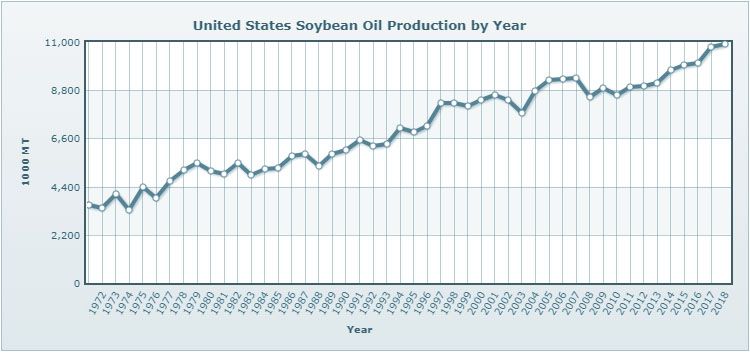 United States Soybean Oil Production by Year
In this part, let's talk about the development of soybean processing industry. What are the main factors that promote the development of soybean oil processing plant? Some of major market drivers influencing soybean processing plant and the demand for soybean oil production in the United States include:
Increasing health consciousness among consumers has brought about a change in preferences among consumers as most of them now seek healthier food alternatives. Consumers suffering from cardiovascular conditions, obesity and high cholesterol prefer using soybean oil due to its ability to boost immunity, reduce cognitive disorder.
Rising demand for highly nutritional content among consumers. Low saturated fat and calorie content of soybean oil as well the presence of omega-3 fatty acids, vitamins and minerals has boosted its popularity among food manufacturers.
The high versatility of soy bean oil has been another major Market Driver. Soybean oil has become a much sought after raw material for plastic, pharmaceutical and nutraceutical industries.
The long term outlook of soybean oil seems to be favorable evident by the the steady increase of the oil's price since 2009. This can be attributed to the spiking demand of soybean oil in developing economies and the overall population increase.
How to Make A Complete Soybean Processing Business Plan?
Executive Summary: State what you want to do, why, how, and with what?
Products and Services: Here you should state the products and services you offer.
Vision Statement: Talk about what you want to do and where you see yourself in the future.
Mission Statement: What you will do to enable you to reach your visions?
Business Structure: Give the hierarchy of management team.
Roles And Responsibilities: Role of everyone in structure.
SWOT Analysis: State what are your abilities and weaknesses. For example, Strength: Our strength is business location. We are able to access markets and raw materials with ease. Weakness: Low competition power. Opportunities: selling by-products to livestock farmers. Threats: Entry of new ventures and government policy compliance.
Market Analysis: Consider trends in the market and your target market
Competitive Advantage: Give superior aspects of your business over the competitors.
Sales Forecast: Give the expected inflow from sales for several years.
Marketing Strategy and Sales Strategy: Explain how you will reach to every sales and marketing activities.
Publicity and Advertising Strategy: Give the media to use e.g. radio and Tv.
Pricing Strategy: Specify how you will determine the price of commodities available.
Startup Budget: The total amount needs to get started.
Generating Funds financial Plan: Explain how you are intending to generate funds needed to facilitate soybean oil processing.
Sustainability and Expansion Strategy: What are future plans regarding the growth of your company.
For any investor planning on setting up a soybean processing mill in the US the following tip is crucial for the success of this business venture .ln order to retain Soybean's market dominance, potential investors must seek to enhance the oil's nutrition characteristic. Adoption of high oleic varieties of soybeans arejust one of the ways that this can be made possible. High oleic varieties of soybeans are much healthier cooking alternative that seems to correspond with the country's growing awareness of health and fitness.