If you are planning to start a soybean oil extraction plant in India, you must care of the soybean oil market in India and how much dose it cost to build an edible oil mill plant for processing soybean. Here in this article, ABC Machinery will share about the things you need to know about the local market and tips for selecting soybean oil extraction machines for your oil factory.
Start A Soybean Oil Extraction Plant in India
Most soybean oil extraction plant or soybean crushing units that produce edible oil are located in the central region of India. Refineries are not far from the oil pressing plant, crushing mills or are located in the vicinity of ports. Location near the ports is practical due to exporting to the other southeast countries. Note India imports a lot of soybean oil which is then refined by local cooking oil refining plant and packaged for local consumption.
Hot Sale Soybean Oil Extraction Machine for Small Oil Mill Plant
For the ones who are planning for starting a small scale soybean oil extraction mill with low cost, the following mini soybean oil plant unit should be your best choice!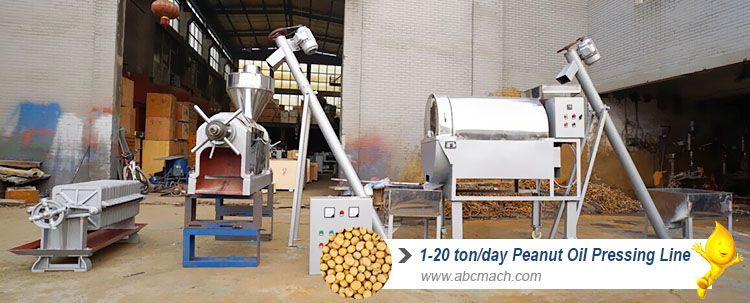 Mini Soybean Oil Extraction Plant for Sale
Small Footprint
Low Equipmen Price
Low Soybean Oil Production Cost
High Output
Easy Operaion
It is suitable for 1-20 ton/d vegetable seed oil extraction business, featured of low input, high return. The key equipment of this mini oil milling unit is screw soyeban oil press. (Recent News: Small Scale Soybean Oil Extraction Plant Exported to Ghana)

What's the Cost of Setting Up a Soybean Oil Extraction Factory?
Referring to the cost of investment for setting up a soybean oil extraction factory in India, you must figure out the following questions:
Do you want to make crude soybean oil or refined soybean oil? (Edible Oil Refinery Machine for Sale >> )
How many soybean do you want to process per hour or how many crude oil or refined oil you want to get per hour?
The answer of the above two questions will greatly affect the equipment cost. Besides, some special requirements on quality of final product can also be a factor.


Small Soybean Oil Extraction Factory built for Our Clients
In some cases, special soybean processing technology is adopted to get high quality soybean protein after oil extraction, and the investment is higher than normal oil extraction process. The qualtiy of your soybean can also affect the cost. If the soybean is not fresh or contains a lot of impurities, it will all affect the yield of soybean oil, which means to get the same amount of soybean oil, your investment can be higher than others. Here is a referrence for you: when running a 5 ton/day small soybean oil extraction plant, the equipment cost is around $7000~$10,000. Just feel free to get in touch with us to confirm soybean oil processing plant cost, we will offer the best price based on your situation and needs!
Soybean Oil Extraction Industry in India
Are you planning to venture and invest a soybean oil extraction plant in India, or buy soybean oil making machine for your factory? Worry no more as we give you insights from extensive research and interviews from industry professions.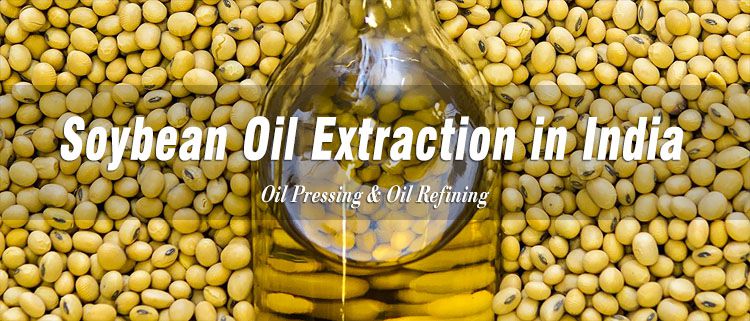 Soybean Oil Extraction Industry in India
Overview of India's Soybean Oil Market
Soybean is a crop that is widely cultivated in the agro-climatic zones of India. With mustard seeds, it holds around 85% of all oilseeds grown in the country. The cultivation keeps increasing as the demand continues rising in this country.
Soybean oil is used as a vegetable oil in Indian homes. Especially middle class has adapted to use soybean oil due to the numerous health benefits it holds. Awareness of its health benefits has led to people to prefer soybean oil over the other cooking oils. More soybean oil extraction plants have built and more branded soybean oil products have emerged in India. The rise is also the retail sector is stocking the brands in their stores not like a years ago when it was a nascent industry.
Status of Soybean Oil Extraction Plant in India
The soybean oil extraction industry space in India is unique due to the fact it is a significant producer of soybean seeds. More soybean oil extraction plant or soya oil factory are not only producing the oil. They also produce value-added by-products. The main by-products of soybean oil extraction plant include lecithin, super hy protein sbm, full-fat soy, soy emulsifiers, soy gritts, soybean oil cake for feed processing, etc. The by-products have made the industry to be more lucrative to the soybean crushing companies as no wastage occurs. (You may be also interested in mustard oil making business plan >>)
| Soybean Oil Production by Country (2018) | Production (1000 MT) |
| --- | --- |
| 1. China | 16,576 |
| 2. United States | 10,898 |
| 3. Argentina | 8,390 |
| 4. Brazil | 8,195 |
| 5. EU-27 | 3,154 |
| 6. India | 1,692 |
| 7. Mexico | 946 |
| 8. Russian Federation | 896 |
| 9. Paraguay | 740 |
| 10. Egypt | 600 |
Soybean oil productions in India is a considerable amount of more than ten million tons. According to the global soybean oil production data of 2018, India is the 6th producer of soybean oil. The global harvested hectares compared to the world of land cultivated in soybean plantation is around nine per cent which is a considerable share. In India, the central part of the country is where most of the soybean is sowed and cultivated. The cultivation occurs in the following states of Andra Pradesh, Rajasthan, Maharashtra and Madhya Pradesh.
In India, the extraction of soybean oil is lower than the demand. The lower production is caused by the effect of drought in some parts of the country. The soybean crop is affected by drought thus the low yield. The problem is adverse as most small-scale farmers do not practice proper irrigation. Therefore they are more affected by drought occurrence. The government do not allow large-scale foreign direct investment in the agriculture industry. The restriction has not helped the local soybean industries. It is due to the preference of local investors in farming and producing fruits and vegetables.
The soybean seeds in India are non-GMO (Genetically Modified Organism). It is a considerable advantage to the soybean oil extraction plants in the country. Most countries especially Japan love non-GMO soybean oil because it is healthier for human consumption.