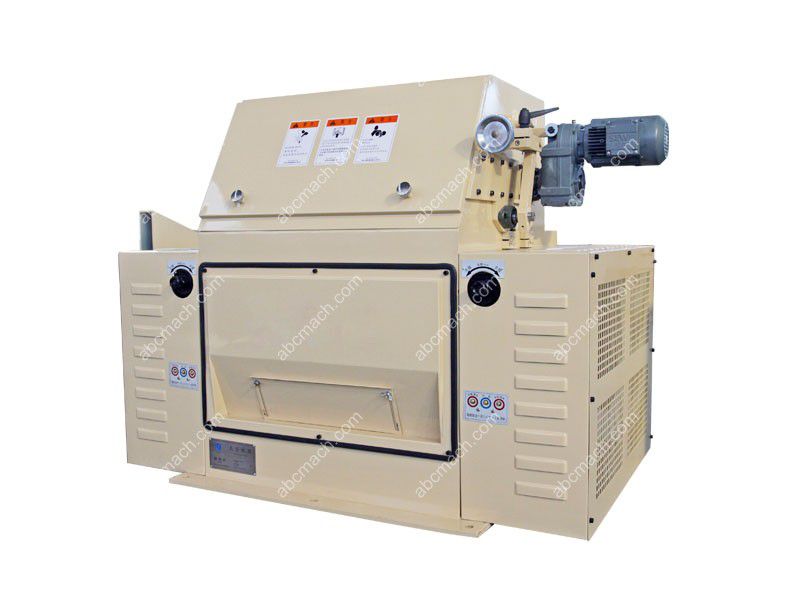 The flaking machine is designed to turn the oil materials into flakes, by means of mechanical extruding force. Flaking process is essential in oil mill plant, since it can effectively improve the oil yield of oil mill machinery through increasing material superficial area.
This newly developed flaker machine is featured of compact structure, easy operation, reliable and safe working performance. Since the design is based on different oilseed properties, this flaking machine can process different oilseeds including soybeans.
Yes! I am Interested!
Ask for Price
Details:
| Model | Capacity(td/) | Power(kw) | Roller speed(r/m) | Weight(kg) |
| --- | --- | --- | --- | --- |
| KMPYZPJ250×1000 | 20-25 | 7.5*2 | 260 | 2200 |
| KMPYZPJ400×1000 | 25-30 | 15*2 | 260 | 3500 |
| KMPYZPJ600×700 | 40-50 | 18.5*2 | 285 | 4800 |
| KMPYZPJ600×1000 | 50-70 | 18.5+22 | 285 | 6000 |
| KMPYZPJ600×1250 | 100-120 | 22*2 | 285 | 6800 |
| KMPYZPJ800×1000 | 120-150 | 30*2 | 285 | 8500 |
| KMPYZPJ600×1500 | 150-200 | 30*2 | 285 | 8800 |
| KMPYZPJ800×1250 | 180-200 | 37*2 | 285 | 12000 |
Hi Dear, Please find the attach for the steam chamber and flaking unit.
In China, we're using steam cooker and flaking machine in the oil pressing plant?
FYI, our process flowchart is mainly : Cleaning, dehulling, cooking, flaking, pressing and filtering.
Could you kindly advise do you want to use in oil mill plant also, the processing flowchart is a little different.
Look forward to sharing more info with you!
Dear, I need to ask one question for the roller built in with the flanker how long the validity till need. Change for usage every day 10 ton at the begging increase to 15 ton daily.
Hi, Dear. As for the validity of the roller, if the machine is operated properly and the raw material is clean enough, we promise this roller could be used for 10months. even if the machine is running 24hrs per day. Besides, if you only run the machine 10~15t/d, the roller could be used even longer.
ABC Machinery is engaged in supplying high quality oil mill machinery including soybean flaker. With the guidance of skilled professionals, our flakers are manufactured with precisely design. It is the best choice for flaking soybean and other kinds of seeds. To ensure its superior performance, this flaking equipment is rigorously tested on several quality parameters. We offer this flaker with a wide range of capacity and competitive price.
---
Soybean Flaking Process in Oil Mill Plant
The de-hulled soybean kernel is flaked by Flake Rollers. At the discharging tunnels equipped with aspirating channel, which will remove surface moisture of Soya Flake. The flake is uniform in thickness and good in ductility.
Design Principles of the Oilseed Flaking Machine
Adopt advanced production technology;
Wide oilseeds adaptability;
Focused on saving energy;
After conditioning, the oil seeds will be sent to flaking machine. Flaking process is essential and important for seed pre-processing of oil milling plant, prior to extraction. The output seed flakes will be conveyed to pressing process by means of oil mill or oil press.