If you are planning for starting a mustard oil business and want to buy quality and cheap mustard oil expeller machine for small or medium scale edible vegetable oil production, you are in the right place! Buy expeller machine directly from the manufacturer rather than distributor or commercial agent is most economical purchasing means. View the following content to know more about mustard oil expelling and screw vegetable seed oil expeller machines.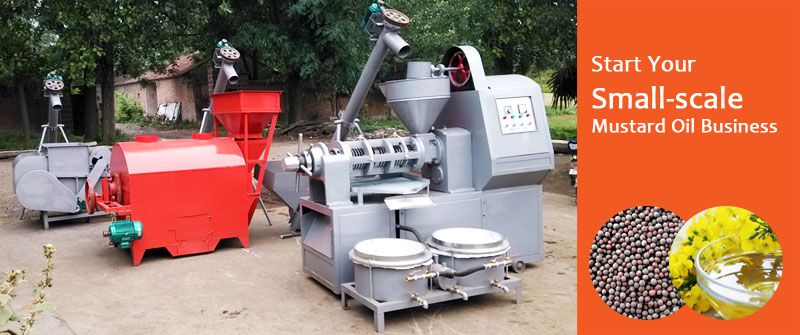 Feel free to get in touch with us if you are interested in vegetable oil expeller and want to get more details!
---
Mustard Oil Production
Mustard oil is made from mustard seeds by use of mustard oil expeller machine. It is well known for its smell, flavor and pungency. There are various ways of manufacturing this oil. It has medicinal values that are associated with it from the ancient times. Mustard oil can be extracted from either pressing the seeds or crushing them, and mixing the crushed seed with water, and finally separating then using the process of distillation. The type of mustard seeds used a re the black ones, the brown ones and the white ones. The oil produced by these seeds has a strong smell that is similar to that of cabbage. The taste is nutty. It contains uric acid, linoleic acid, fatty acids and oleic acid. (Related article: Complete Seed Oil Extraction Plant)


How Mustard Oil is Expelled in Edible Oil Mill Factory?
Although there are several types of expeller machines, they can generally used to extract the oil from various kinds of vegetable seeds or oilseeds such as copra / coconut, groundnut, cottonseed, jatropha, linseed, castor seeds, sunflower seeds, palm kernle, rapeseed, canola, corn germ, macadamia nuts, sheanut, cashew nut shell, cocoa bean, soya bean, seasame seed and other oil bearing seed and nuts.
Screw Mustard Oil Expeller Mahcine for SALE


Multi-purpose Screw Oil Expeller for Making Mustard Oil
Cage style oil screw presses are favorable for both small and large scale vegetable oil production including mustard oil. This mustard oil expeller contains a pressing chamber to which mustard seeds or other oilseeds are fed from one side of the press. The expeller machines use pressure and friction from the screw drives to move as well as to compress the oil seeds. The oil comes out of seeds through the small openings. Why these opening are so small? It is beacause that hese openings prevent any kind of solid material or residue from the seeds to mix with the expelled oil. This waste or solid residue of the seeds exists from the other end of the mustard oil expeller. This leftover residue is known as oil cakes.


Projects of Small Vegetable Seed Oil Expelling Unit
Since ancient times, people are used to extract oil from the oil seeds. So, what's the difference? In earlier days, the seeds were only cleaned and grinded by using grinders or stone mills. With the enhancements in science and technology, the use of automated oil expeller machines has started to extract oil from the oil seeds or nuts. These machines have made the extraction process very easy by making it fast. (Related articles: Mini Oil Expeller)
Full Scale Industrial Mustard Oil Mill Plant
There are mainly two types of large industrail scale oil mill plant - full pressing mill and pre pressing mill. While the full pressing method are used by small and medium oil mills, the pre-press oil processing method are used by large oil extraction companies. There are many advantages of buying our advanced mustard oil expeller machines such as optimum oil yield at low operating cost, low power consumption, and ability to crush all types of edible and non edible oil seeds.
You are welcome to inquire about our mustard oil expeller machine and oil manufacturing equipment for other seeds and nuts, or ask for detailed information and lates price. We are always at your service! It will be great helpfull if you tell us your capacity needs and cost plan while inquiring! So that we can suggest the most suitable equipment depending on your specific situation and requirement.
I interested in starting mini mustard oil mill project. Place advice.
Glad to receive your inquiry.
For the mini mustarded oil mill, pls tell me the capacity you need. I mean how many tons mustard seeds you want to press per day. Then I will recommend you the suitable machines.
Pls tell me your suitable voltage, and whether the 3phase voltage is available for you?
I am starting new business of oil mill and I dont think about refinary I wanna cost quotation and small scale size machinery. I search my area demand and according to that now I wanna buy 100 kg/hr oil expeller and please furthur contact me I m really interested in ur product my contact details are listed in email.
According to your request about the capacity again, our YZS-80 oil expeller is suitable for you, pls check the following items for the features of this type:

Model: YZS-80 oil expeller
Power: 5.5kw
Size: 1540*510*680mm
Weight: 350kg
The quotation is attacthed in email. The given price of oil press is based on the voltage is 380v,50Hz,3phase, if it's not suitable for you, the price will be different, so pls confirm your voltage.
Pls tell us your nearest seaport, then we can calculate the shipping cost for your reference.
Hope to get your reply.