As a trusted oil machine supplier, ABC Machinery can offer customized project plan for full scale mustard oil production of different capacities, which is designed based on your specific needes and situation.
Main Equipments for Starting a Fully Automatic Mustard Oil Mill
In order to find out the profit of running mustard oil factory, you need to figure out production efficiency, project input, operating costs, market price of mustard oil, etc. Here let's take the 20ton/d automatic mustard oil manufacturing business for example. View the table below to check the main equipments for open a such factory.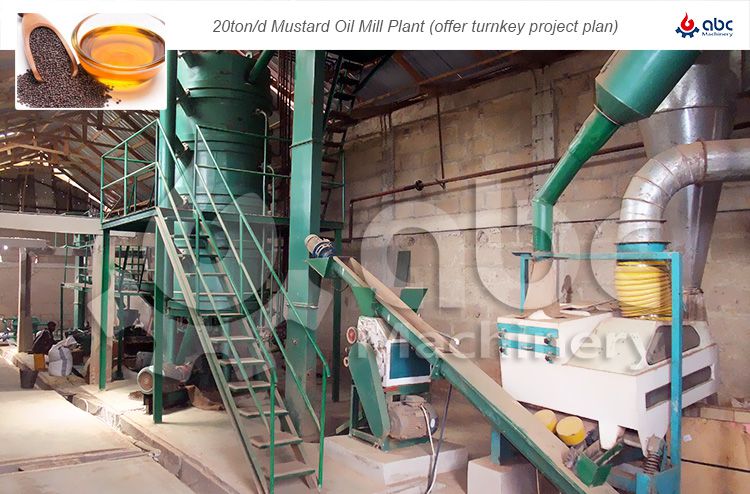 Offer Customized Mustard Oil Mill Business Plan
| Equipment List for 20TPD Oil Extraction Plant | Quantity |
| --- | --- |
| Oilseeds Cleaning Sieve | 1 |
| Elevator | 1 |
| Dispensing Silo | 1 |
| Seed Oil Expeller (YZS130) | 2 |
| Oil Sink | 1 |
| Crude Oil Pool | 1 |
| Conveyor | 2 |
| Filter Press (YLB307) | 2 |
| Finished Oil Tank | 1 |
| Oilcake Bin | 1 |
| Installation Material |   |
| Cable |   |
| Electric Control Cabinet |   |
Mustard Oil Mill Cost and Business Profit Analysis
Manufacturing Indian mustard oil represents a perfect opportunity for any business orientated individuals. How much profit in mustard oil plant is possible? There are opportunities to make huge profits for people who understand business. The cost of mustard oil mill mainly includes two parts:
Mustard Oil Plant Setup Cost (site fees, equipment price, installation cost)
Mustard Oil Production Cost (factory running cost)
Operating profits less a charge for the capital employed to generate those profits is the real profit of a mustard oil mill plant.
Mustard Oil Mill Setup Cost
The most basic factor related to the cost of mustard oil mill setup is the capacity of your mustard oil manufacturing factory. Generally, the capacity decides the factory area and the mustard oil manufacturing equipment selection. In most cases, the investor has brought or rented the factory land. And, the investment cost for factory landing is relatively low in local market. Therefore, the main cost for mustard oil mill setup is to purchase the relative machinery and equipment. The detailed cost for an automatic mustard oil machinery and equipment is as follows.
| Machinery and Equipment | Quantity | Price |
| --- | --- | --- |
| Screw Oil Expeller | 1 set | > 1,500 USD |
| Oil filter | 1 set | > 600 USD |
| Cooking machine | 1 set | > 1,500 USD |
| Cleaning machine | 1 set | > 1,400 USD |
| Oil Refining Unit | 1 set | > 20,000 USD |
Mustard Oil Mill Running Expenses
The expenses for a mustard oil mill running are operator/labors cost, raw materials cost, utility cost, transportation cost, advertising cost and more.
| Main Expense | Unit | Amount |
| --- | --- | --- |
| Worker/Labor (Per Month) | 1 Person | 15 USD |
| Raw Material (Mustard Seeds) | 1 Kgs | 0.56 USD |
| Utilities (Per Month) | LS | 6.8 USD |
| Other Expenses | | 25 USD |
Mustard Oil Mill Turnover
The revenue subtracts the setup cost and running cost is the main profit of a mustard oil mill plant.
Click here to learn more about how to make the best mustart oil business plan and how to run a highly profitable mustard il Factory >>
Small Scale Mustard Oil Production Line for Starters


Small Scale Mustard / Rapeseed Oil Processing Line
Recently we have designed and manufactured the following set of small scale mustard oil prodution line which should be the best choice for vegetable oil business starters or small sized oil factories.

Mustard Oil Manufacturing Process
Darkish yellow mustard seed plants, which also have to some extent a strong smell, are used in the production of mustard oil which is known as a fatty vegetable product. The mustard seed oil manufacturing process, normally applied, involves removing the oil from the mustard seed plants, as follows: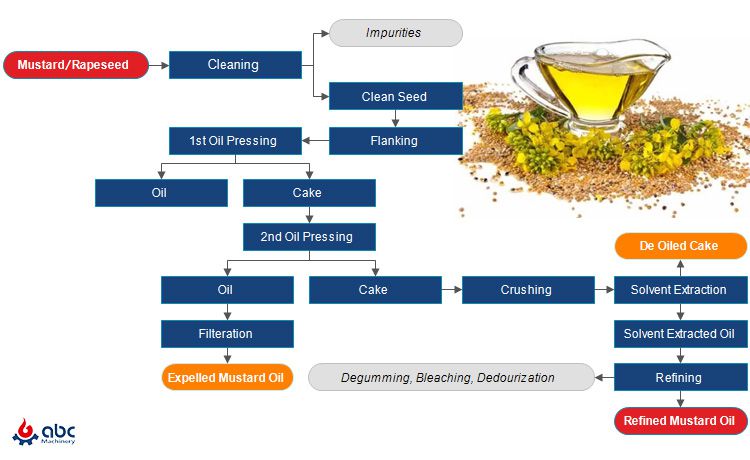 Complete Mustard Oil Production Process
The Mustard Seeds Pretreatment Process
To prepare the mustard seeds through drying, cleaning, cooking, flaking and more. Drying is needed for reducing the moisture content and improving the expelled oil quality. For small scale vegetable seed oil production, it is suggested to dry the seed in the sun without using a dryer to lower your investment. After drying, the seeds are cleaned to get rid of impurities. Cooking is needed for increase oil yield and improve the protein availability of mustard seed oil cakes for making animal feed.
To extract mustard oil from mustard seeds with mustard oil expeller. In most cases, twice-pressing process is adopted to increace the oil extraction yield as much as possible.
To remove the useless and unhealth substances from the crude mustard oil and get refined oil of high quality, refining process is added. (Read more about Edible Oil Refinery Plant Cost >>)
Mustard Oil Plant Project Reports for Reference
Mustard Oil Business in India and Global
TOP10 Mustard/Rapeseed Oil Producers: EU-27, China, Canada, India, Japan, United States Mexico, Russian Federation, Pakistan, United Arab Emirates.
The use of mustard oil in India can be traced back as far as 3,000 BC and there are many claims related to how taking mustard oil, which contains large quantities of Monounsaturated fatty acids (MUFAs), can improve a person's health. MUFAs, known as healthy fats, replace fats that are not considered healthy like saturated fats. Historically eastern food preparations have included the use mustard oil although the benefits have been recognized globally. In America, the oil's unique essence has been picked up by experienced chefs who are using it in their food preparation. As well as America other parts of the world use mustard oil. These include Latin America, Eastern Europe, Western Europe, Asia Pacific, the Middle East, and Africa. In the Asia Pacific, in countries like China and Thailand, there is a particularly high demand. (Latest article: Mustard Oil Business >>)

The Current Market Position of Mustard Oil in India
The numbers show that the use edible oils have considerably escalated during the past few years. In 2003-04 11.6 million metric tonnes were consumed. By 2012-13 this number had increased to 17.5 million metric tonnes. It'd an upward trend, which is expected to increase, although we should point out that 30 grams per day are the recommended daily allowance for oils and fats. In terms of the worldwide vegetable oil growing countries, India is ranked as the fourth largest in the world behind the USA, China, and Brazil. This makes India, with the worldwide demand for mustard oil on the increase, a perfect location to begin a mustard oil manufacturing operation. Click here to see the market price of mustard oil >>
Video: Mustard Oil Mill Plant in India (5ton/day)