With the support of our professinals on edile oil processing, ABC Machinery engaged in designing, manufacturing and exporting mustard oil mill machinery and oil expelling equipment for other vegetable seed. Our oil making machinery range finds immense utilization in edible oil milling plant, featured of durability and exceptional efficiency. To ensure that flawless oil press machines are delivered at desired destination of every client, our machines are checked on various parameters before shipping.


Screw Mustard Seed Oil Mill Machinery
If you are interested in our mustard oil mill machinery or want to get the latest price and more information, don't hesitate to let us know. Contact us anytime you are convenient. We are always at your service.
---
Small Mustard Oil Mill Machinery for Sale
Highlights: Wide application, labor saving, fewer land space, low cost / small investment.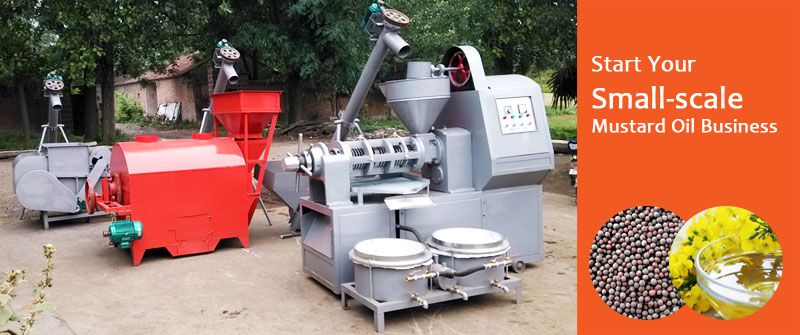 For the ones who want to step in mustard oil processing industry, setting up a mini or small scale oil mill factory for TRIAL OPERATIONS is the first choice. The following small scale mustard oil machienry is Hot Sale these years for small mustard oil mill bustiness. View the following details to know more about this small oil machinery.
This seed oil mill machinery which connects a series small oilseed processing equipment tegether is fully adopted mechanical driven. It is suitable for continous oil pressing production with higher oil yield and easier operation. This small oil machinery or you can call it small oil pressing line can deal with a great range of plant oil seeds (coconut, palm kernel, sesame seeds, sunflower seeds, cottonseeds, peanuts, soybeans and so on.)
Why Buy Our Small Seed Oil Mill Machienry
The semi-continuous can avoid the unstable material feeding caused by manual and make the worker safety more under the higher temperature working situation;

Wide application for a different kinds of oilseeds;

Easier to operate, install and commissioning;

With considerable design, it only needs 2~3 persons to running the oil mill;

Cheap than complete oil mill plant but with the complete function to achieve higher oil yield and make premium edible vegetable oil;
Market of Mustard Oil Mill Machinery
One of the most important things that will affect the flavor of your Indian food are the cooking oils that you utilization. The two most normal Cooking Oils in Indian nourishment are Mustard Oil (Mustard Oil Expeller) and ghee. This is utilized practically to the extent that a part of Indian Cooking Oil as ghee, and is the result of pressing mustard seeds. It is utilized an extraordinary arrangement all over northern and eastern India. It used to be considerably all the more regularly utilized before the appearance of efficiently processed choices, for example, rapeseed oil. It has a solid cabbage like odor and tastes hot and nutty when crude. At the point when warmed simply to its smoke point, the flavor mellows getting to be sweeter and marginally hot.


Mustard Seed Oil Mill Machineries - Medium Scale Automatic Plant
And in addition being utilized as a edible oil, it is utilized as a part of pickles, and, in the same way as ghee, it likewise has a social noteworthiness being utilized as fuel within mud lights at weddings, venerate and in the celebration of Diwali. Dissimilar to ghee, it has just 12% immersed fats and is to a great extent made out of mono-unsaturated fats (60%) and polyunsaturated fats (21%). It is additionally high in Omega-3, holds hostile to oxidants and is utilized as an additive. When figured unfit for human utilization in America, it is presently figured to be one of the healthiest cooking oils there is. (Read more: how to set up a mustard oil mill plant?)
About Mustard Oil
Mustard oil is produced from mustard seeds by use of mustard oil mill machinery and equipment. It is well known for its smell, flavor and sharpness. There are different methods for making this oil. It has medicinal values that are connected with it from the antiquated times. Mustard oil could be produced from either pressing the seeds or squashing of dark, tan and white seeds, and blending the pulverized seed with water, lastly differentiating then utilizing the methodology of refining. The sort of seeds utilized a re the dark ones, the tan ones and the white ones. The oil prepared by these seeds has a solid smell that is like that of cabbage. The taste is nutty.

Mustard oil is made from black, brown and white seeds in mustard oil machine. These seeds are rich in selenium and magnesium. Selenium and magnesium help ensure the different arranging capacities of the cerebrum that get muddled as an aftereffect of maturing procedure, instigate rest in menopausal ladies, helps support memory particularly in the matured and deals with aggravation of the respiratory tract and rheumatoid joint pain.
If you are planning to set up a oil milling plant to make small to medium scale mustard oil for edible purpose, ABC Machinery should be your best choice. We can offer customized plan depanding on your specific situation. Tell us you business plan and let us guide you from the perspective of professional.
Benefits of Edible Mustard Seed Oil
Benefits for Hair

: Regular items are constantly discovered to be gainful for male pattern baldness and hair diminishing issues. In case you're encountering ceaseless male pattern baldness and diminishing, group mustard oil with a tad bitof henna, and apply customarily. While henna in itself is a dynamite conditioner, this cure stages the hairdarker in presentation, and helps the hair develop at a snappier pace than typical. It is recommended that you rub your hair day by day in the night with astounding mustard oil, and spread your hair with the towel.Next morning, wash your hair with a cleanser and conditioner, to recognize that your hair looks silkier andbrighter right from the exact first provision.
Benefits for Skin

: The profits of mustard oil for skin are best recognized in the Indian subcontinent, where ladies knead themselves with mustard oil to dispose of sunburns, haul the heath out of the influenced regions, and keep the skin saturated in winters. Mustard oil cultivates skin sweating that brings down body temperature, and in this way, decreases abundance water and salt from the skin. It likewise builds blood course in the body, so the skin profits from the calming properties of the oil. Likewise, a snappy back rub with mustard oil before cleaning up might be of tremendous help in disposing of every last one of dryness and tingle created throughout winters, for mustard oil is known for its clean and antibacterial attributes. (Related products: Mini Soybean Oil Pressing Unit)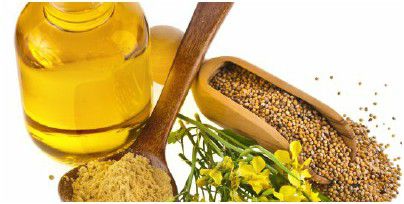 Mustard oil is made from pressing the seeds of black, brown and white seeds. This type has a very strong cabbage like smell. Before research was conducted, the uric acid content of this substance caused it to be considered as unsuitable for human consumption in countries such as Canada the United states. After successful research, it was found out that this oil when heated could be safely consumed by humans. When heated, the nutty taste and the harmful substances are greatly reduced in the it.
This type of oil is used as a preservative and for flavoring Western foods and Indian recipes. It can be used to flavor chutneys and pickles. It is not expensive and is commonly used in countries such as Bangladesh and India. it is not only economical but also helps prolong and maintain a person's good health.
---


Some of Our Small Vegetable Seed Oil Mill Projects
ABC Machinery has more than 10 years' rich experience in manufacturing of edible oil extraction and refinery machinery for various oilseeds and nuts, including mustard oil mill machinery. As your most trustable oil mill machinery supplier in China, we offer premium edible oil equipment with cost effective price and great service, All of our customers are pleased with our oil mill service. Any time you find interested in our machinery, please contact with us without think twice! We are constantly for your service!
Kindly provide the details of your mustard oil mill estimate and facilities which will provide by your side.
Thanks for your attention to our oil mill machinery.

Could you please inform the capacity(kg/h) you need? the plant will be setted in?
We have build the mustard oil project in Manipur India this year. Will send you the video for reference.
Pls tell me about mini mustard oil plant production capacity and price.
Glad to recieve your inquiry.

For the mustard seeds oil plant, we can make the machines according to the capacity you need. I mean you can tell me how many tons raw materials you want to press per day, then I can recommend you the suitable machines. The price will be based on the capacity too.

Pls confirm whether the 3phase voltage is suitable and what is it.
Dear Sir, it would be highly appreciated if could u send us your best quote the below request.10Ton/day seeds oil mill plant with refinery- seeds will be mustard and soyabeen. we want this project in Uttar Pradesh India.
Tks for your enquiry to our products. As for your raw material mustard and soyabeen, could you kindly advise what's the proportion of the two material. As we need to design and quote for you specialy.