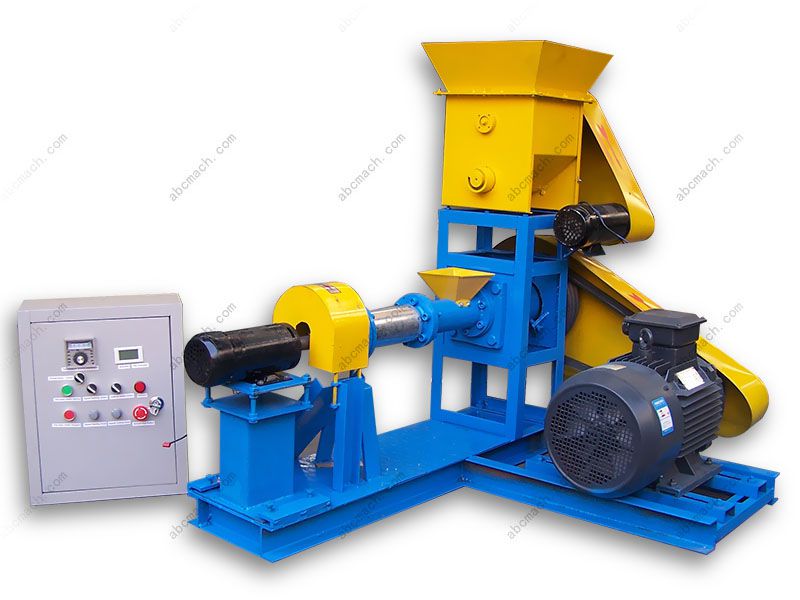 What we can offer? We are here to offer top-quality floating fish feed machine (30~2000kg/h) and customized project plan (production output can be up to 5 ton/hour).
Size of Feed Pellet: 0.9~15mm
The dry type fish feed extruder is an excellent equipment for those looking to make high-quality fish feed pellets. The dry type fish feed extruder is also at times called the fish feed pellet mill. It is widely used for making aquatic food for fish, shrimp, crabs, and other various types of aquatic species.
Advanced engineering that has gone into the design of equipment makes the product very easy to use and achieve a very dependable performance.
This high level of manufacturing craftsmanship makes it to have a low energy consumption.
The screw sleeve of the feed extruder machine is made of alloy steel which ensures a long service life.
There are many different types of extruding molds for making different size of feed pellets.
Yes! I am Interested!
Ask for Price
Details: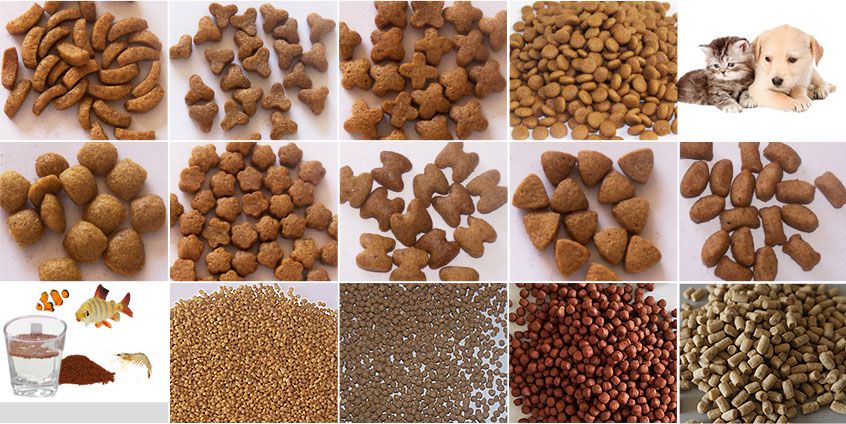 Some Feed Samples made by Our Extrusion Machine
Our aquatic feed extruder machine is based on screw design. After placing the order, we can provide you the technical formula for making premium floating fish feed pellets. Besides, we also include easy wear part in each order.

Feed Extruding Videos
The followings are two videos about the operation of our feed extruding machines. The fist video is about making floating fish feed, while the second one is about making pet food.
Main Parameters of the Equipment
You are welcome to contact us for detailed information and price list!
| Model | Capcity | Screw Diameter (mm) | Main Power | Package Size (mm) | Weight |
| --- | --- | --- | --- | --- | --- |
| BEM40-C | 30-40 kg/h | φ40 | 5.5 kw | 1400*1100*880 | 310 kg |
| BEM50-C | 60-80 kg/h | φ50 | 11 kw | 1450*1120*900 | 360 kg |
| BEM60-C | 120-150 kg/h | φ60 | 15 kw | 1470*1150*900 | 386 kg |
| BEM70-B | 180-200 kg/h | φ70 | 18.5 kw | 1500*1320*950 | 640 kg |
| BEM80-B | 200-300 kg/h | φ80 | 22 kw | 1800*1500*1000 | 790 kg |
| BEM90-B | 300-400 kg/h | φ90 | 37 kw | 2300*1640*1000 | 950 kg |
| BEM120-B | 500-600 kg/h | φ120 | 55 kw | 2330*2000*1200 | 1850 kg |
| BEM135-B | 700-800 kg/h | φ133 | 75 kw | 2330*2030*1200 | 2050 kg |
| BEM160-B | 1000-1200 kg/h | φ155 | 90 kw | 3100*2650*1800 | 3600 kg |
| BEM200-B | 1800-2000 kg/h | φ195 | 132 kw | 3100*2850*1900 | 4322 kg |
Features of the Floating Fish Feed Extruder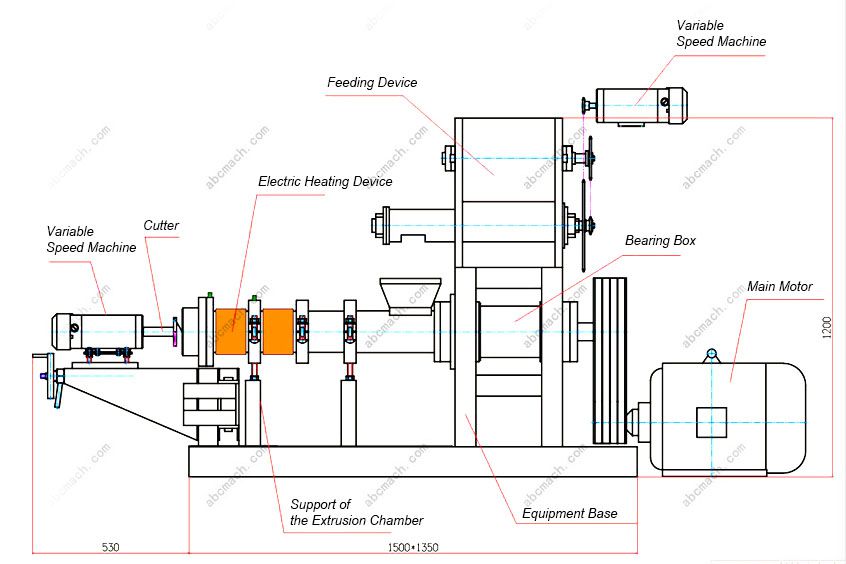 Schematic Diagram
The followings are main feathers of our expanded fish feed extruder, if you need more details or latest price, welcome send us an inquiry. You can get a quick answer in one business day!
Designed with auto feeding system.
The floating time can be controlled by adjusting the puffing degree.
It is equipped with electric heating device to improve production efficiency. High temperature cooking process help kill the salmonellosis and other bacteria, so that to make the feed safer and easier to digest.
Designed with auto-temperature control system which makes it convenient to control the temperature and also makes the parameter more exact.
How to Start a Fish Feed Extruding Plant?
The demand for animal fish feed pellets is rapidly increasing. Due to such increase, fish feed extruding machine and feed extrusion production line was developed to foresee that demand. Our equipment and plant has numerous specifications which are essential in the production of sinking fish feed, floating fish feed, and pet feed. The outputs for our fish feed machines come in various flavors, shapes, smooth texture and essential super nutrients. This differentiation is to meet the diverse fish-eating habits.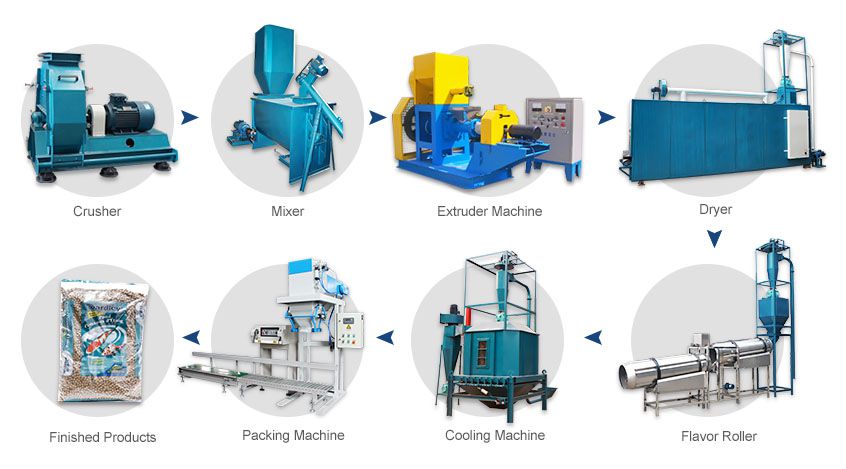 Generally, the production line of fish feed includes process of crushing, mixing, extruding, drying and packaging. There are various machines involved in the fish feed processing which includes grinder, mixer, fish feed machine (extruder), dryer, packaging machine.


Complete Fish Feed Processing Flow Design

---
Our fish feed extrusion machine and plant is fully automated to offer different sizes in high production rate. The feed pellets produced by our equipment is suitable for feeding Catfish feed, Carp feed, Trout feed, Halibut feed, and so on.
Common Raw Materials for Aquatic Feed Production
Both the plant protein and animal proteins are needed for manufacturing aquatic feed products. The plant proteins are obtained majorly from wheat, corn, peanut cake, corn, etc. The animal proteins are obtained from sea meals such as shrimp meals, fish meals, and crab meal among others. Besides, there is an allowance of addition of other ingredients which depending on requirement and eating habits of the animal.
Choose Sinking or Floating Feed?
The classification of fish feeds follows two major characteristics, can the feed pellets float or sink? So long as the feeds have all the necessary nutrients, they can provide sufficient growth and development. The feeds, both sinking and floating have their own set of advantages and disadvantages.
The sinking pellets will more often go to waste they accumulate at the bottom of the pond. In Comparison, floating pellets retain their original shape hours after being extruded. This mean most of them will be eaten up by the fish. The sinking pellets may prove expensive in the long run due to wastage.
The pellets that accumulate at the bottom of the pond will rot and create breeding locations for harmful microorganisms. This may expose the fish to disease. Floating feeds make observation easy. As a fish farmer, you can monitor the intensity at which the fish are feeding. This will make it easier to collect vital data on feeding rates and also plan for efficient feeding to maximize on fish growth. The sinking pellets may prove to be too difficult for fish to find at the bottom of the pond.