Project Name
: 5TPD Fish Oil Refinery
Raw Material
: Crude Sardine Oil and Tuna Oil, etc.
Factory Location
: Philippines
Construction Date
: November 26
th
2014
Application
: Produce refined fish oil for deep processing fish oil capsules.
---
This client is one of the main dried seafood product factory in Karachi, Pakistan. They have very rich deep-sea fish as their factory located in FISH HARBOUR which is closed to the sea. Their main material to make fish oil is: Sardine, Tuna, etc. The deep-sea fish is rich of Omega-3, UFA(unsaturated fatty acid), that's why the fish oil is very popular. (Related Project: 5TPD fish oil refining line built in Pakistan)
After they studied the market for long time they decided to explore the fish oil product. At the first stage, they plan to build the 5TPD fish oil refinery plant.

Mini Deep Sea Fish Oil Refining Process
The main process of a small scale oil refinery is: De-gumming, neutralization, decoloration, deodorization.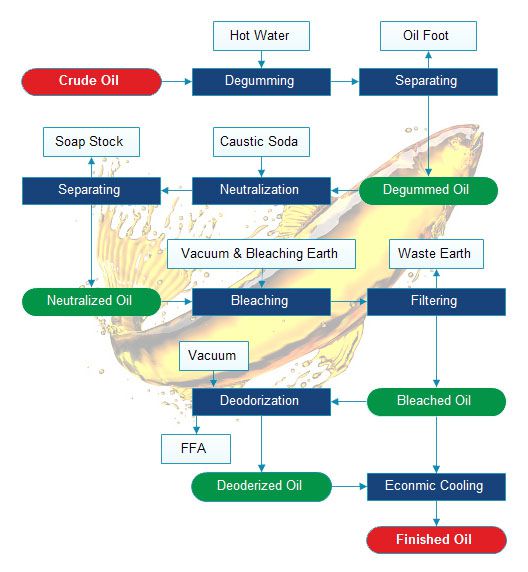 Fish Oil Refining Process Flow Chart
The de-gumming: Adding hot water to remove the gum in the oil. Make the oil more clean.
The neutralization:Add the NaOH to react with the FFA, then we can lower the FFA value, make the oil more suitable for human consumption.
The decoloration: Use the bleaching earth to absorb the dirties in the oil, make the oil color more beautiful, the oil more healthy.
The deodorization: Use high vacuum system to lower the peroxide value. Then there will no the serious smell in the oil. The taste will be good for consumer.
Thinking of the fish oil is easy to be frozen we also add the heating pipe in the bottom of the refining pot. It will be good for the completed process.
If you need more details of fish oil processing and refining, feel free to contact us! We can offer customized solutions for both small scale and large scale production line. We guarantee the best quality with lowest price!