ABC Machinery is the BEST oil pressing machine manufacturer and exporter. With years doing business around the world, we have gained great reputations in oil processing machinery. You can totally trust our machine quality as well as technical support and after services!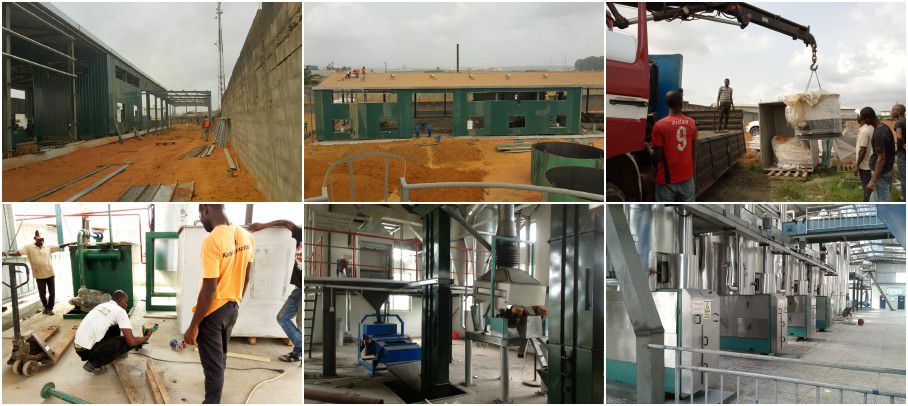 Some of Our Oil Pressing Plant - Turnkey Solution
Oil Pressing Mahcines for Sunflower Oil Production
For small scale and medium scale sunflower processing production, the following two oil pressing machines are recommended. One is general screw press, and the other one is multi-function oil pressing and filtering machine which is designed with vacumm filters. Both these two machines are good choice for mini, small and medium scale sunflower seeds oil pressing plant.


Sunflower Oil Pressing Machines for Sale
General Screw Oil Press Parameters
| Model | Capacity(T/24H) | Power(KW) | Dimensions(MM) | Weight(KG) |
| --- | --- | --- | --- | --- |
| YZS-68 | 0.8-1 ton/day | 5.5 kw | 920*390*750 mm | 150 kg |
| YZS-80 | 2-3 ton/day | 5.5 kw | 1540*540*620 mm | 370 kg |
| YZS-95 | 5 ton/day | 11 kw | 1920*550*765 mm | 480 kg |
| YZS-100 | 4-5 ton/day | 7.5 kw | 1910*610*765 mm | 550 kg |
| YZS-120 | 6 ton/day | 15 kw | 1970*700*780 mm | 680 kg |
| YZS-130 | 9-12 ton/day | 18.5 kw | 2320 *700 *780 mm | 820 kg |
| YZS-165 | 15-20 ton/day | 22-30 kw | 2290*750*1020 mm | 1600 kg |

Multi-function Oil Press Parameters
Model
Capacity(T/24H)
Power(KW)
Dimensions(MM)
Weight(KG)
YZS-80A
2-3 ton/day
5.5+0.75 kw
1860*670*1680 mm
1060*590*600 mm
780 kg
YZS-95A
5 ton/day
7.5+1.5 kw
2250*890*1820 mm
1230*640*570 mm
900 kg
YZS-100A
5 ton/day
7.5+1.1 kw
2270*750*1820 mm
1220*590*600 mm
900 kg
YZS-120A
6 ton/day
15+1.1 kw
2280*890*1775 mm
1350*700*600 mm
1000 kg
YZS-130A
10 ton/day
18.5+1.5 kw
2350*810*2000 mm
1350*700*570 mm
1000 kg
The general screw press is cheaper than the multi-function press in price, while the automatic multi-function one is featured of additional oil filtering device. For the ones who want to produce pure seed or nut oil at one time, our multi-function oil pressing and filtering machine should be the best choice. If needed, we can also help you establish a mini or small oil refinery plant to manufacture refined sunflower seed oil. (Related Product: Small Sunflower Oil Production Plant)
---
Natural sunflower oil is produced from sunflower seeds. It is one those ingredients that people use every day. It is a product that we all know of and we all use it. Whether you buy it because it is affordable cooking oil or because your recipe or meal requires it, it is an ingredient that is not going to disappear soon. So how is it manufactured? Let's look at the manufacturing process of this oil.
Sunflower Oil Pressing Process
Sunflower manufacturing process is a complicated process which sunflower oil pressing machine which presses the oil out.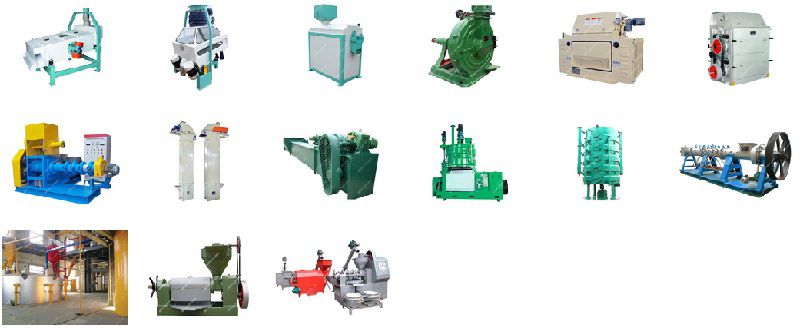 Common Vegetable Oil Processing Machinery for Oil Mill Plant
Cleaning: It usually begins by cleaning of the seeds before taking them to the crushing plant.
De-husking: The next process is de-husking whereby the husks are removed from the oil rich fibre. This is usually done by machines called husk separators.
Flaking: After de-husking, the oil rich fibre undergoes another process where it is pressed between two rollers. These rollers cause flaking of the fibres hence increasing the surface area.
Cooking: The next process is conditioning where the flaked material is heated to a temperature of 90 degrees Celsius by use of steam cooking machine. This makes the oil seeds to expand.
Oil Pressing: The conditioned material undergoes another process where it is fed through oil pressing equipment which crush it until about 50% of the oil is produced. This oilcake which is produced by this method contains about half of the oil that it initially contained.
Solvent Extraction: The next process is transportation of the oilcake to hexane solvent extraction plant a solvent which is hexane is used to dissolve the oil and recover the remaining 50% of the oil. The solvent is sprayed on the oilcake which makes the oil to dissolve in the solvent. After this, the mixture of oil and hexane is separated by evaporation and the hexane is recycled for reuse. This oil is then mixed with the other 505 produced by crushing.
Filtering and Storage: The oil is filtered and pumped to storage tubes and this oil is called crude oil. The crude undergoes other refinement process to make it edible and suitable for food industry. The refinement aims at removing unwanted substances such as soap, fatty acids, wax, glue and smells from the oil.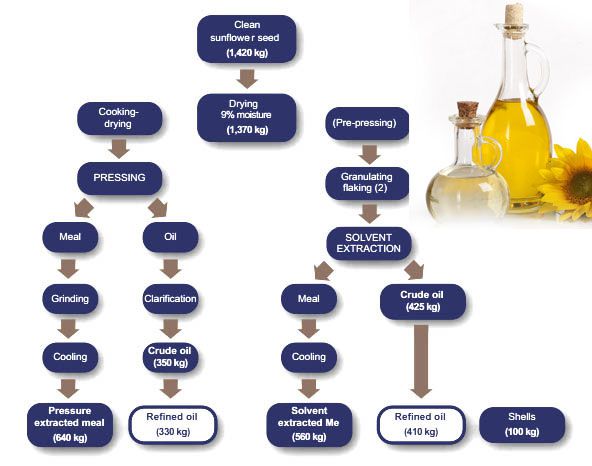 Sunflower Seed Oil Application
The end product of the above oil extraction process is used in food industry and cosmetic industry to make cosmetic products. The finished product is usually light in colour and clear. Sunflower oil is high in essential fatty acids. It helps to moisturize and condition the skin. Sunflower oil can be used as the primary oil within lotion, salt scrub, bath oil and massage oil formulations. It is also very useful in formulas, intended for mature, sensitive, dry or damaged skin. It contains more Vitamin E than any other vegetable oil. It is a combination of
monounsaturated and polyunsaturated fats with low saturated fat levels.

The versatility of this healthy oil is recognized by many home cooks and professional chef's internationally. Sunflower oil is valued for its light taste, frying performance and health benefits. It is common cooking oil that has high levels of the essential fatty acids called polyunsaturated fat. It is also known for having a clean taste and low levels of trans fat. Some Sunflower oils are classified as having monounsaturated levels of 80% and above.
I am interested to buy Sunflower seed oil press machine. Give specifications and price to Tanzania.
Hi, thanks so much for your enquiry. Could you advise what's your desired processing capacity, as the price really vary a lot. By the way, which area do you locat in Tanzania, we've several customers in your country who bought some pressing and refinery equipments in the past.You could visit them to have a look the plant if it's not so far.
We need a sunflower oil pressing machine.Give us details, including cost.
Hi, Thanks for your enquiry.As for your request, pls adivse us the following questions.
1. What's your processing capacity perday?
2. Is sun flower seed decoricated(shelled)or not?
3. do you need refinery also, or just pressing?
Pls confirm the above question, so we could design and quote for you accordingly.
Dear Sir,
I am writing from Lilongwe,Malawi and am interested in producing sunflower cooking oil like the one in the attached picture.
We send you the quotation with details. Of course if you have other requirement pls inform us.