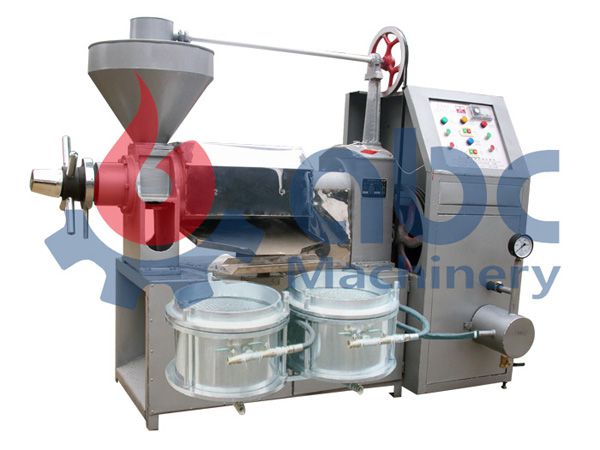 Model: YZS-120A Integrated Oil Press Machine
Capacity: 6T/24H
Power: 15kW+1.1KW
Voltage: 380V
Weight: 890KG
Package Dimensions: 2280x890x1775mm 1350x700x600mm
YZS-120A integrated expeller press machine, equipped with advanced oil press and vacuum filters, is ideal choice to extract cooking oil from the most majority of vegetable seeds. Model YZS-120A press machine is mainly composed of a motor, two vacuum filters, a heater and an electrical control cabinet. Such newly developed combination will greatly improve the oil output. When the crude oil comes out from the press machine, it will directly be filtered by the vacuum filters to remove the foreign impurities and finally obtain the oil for cooking purpose. If you are looking for expeller press machines for your own oil making business, you'll never regret to have YZS-120A expeller press machine.

The YZS-120A integrated expeller press machine is capable of processing a great variety of seeds and nuts, such as soybean, peanut, sunflower seeds, cottonseed, sesame seed, rapeseeds, coconut, corn germ,hemp seed, palm kernel and jatropha seed etc..

Features of YZS-120A Integrated Expeller Press Machine
Easy to operate, maintain and clean
Suitable to extract cooking oil from a wide range of plant seeds
Vacuum filters allow direct use of the final oil, reducing the cost of filteration
Made of high quality parts for long-term oil making performance
Cast iron machine base, gear reducer system and stable functions
Main Technical Data of Integrated Oil Press Machine
We have different types of cooking oil making machine to meet your different production requirements, here is the detailed technical data of other models. (You might also be interested in Cooking Oil Plant and Cooking Oil Refinery Plant.)
Model
Capacity(T/24H)
Power(KW)
Dimensions(MM)
Weight(KG)

YZS-80A

Integrated Oil Press Machine

2-3
5.5+0.75
1860*670*1680
780

YZS-95A

Integrated Oil Press Machine

5
7.5+1.5
2250*890*1820
900

YZS-100A

Integrated Oil Press Machine

5
7.5+1.1
2270*750*1820
900

YZS-120A

Integrated Oil Press Machine

6
15+1.1
2280*890*1775
1000

YZS-130A

Integrated Oil Press Machine

10
18.5+1.5
2350*810*2000
1000
Above table is the main parameter of our YZS series integrated oil press machine. These oil press machines are designed for different demands of oil making for different customes. please note if you expect to purchase large quantities of YZS series expeller press machines, discounts are available.
If there have any questions or advice, please feel free to contact us without any hesitations.
Hi, I'm in Canada, but my project is for Burkina Faso.We are looking for sesame oil for Edible/Vegetable Oil Refining, and the capacity we expected is an average of 250 kg/hour like the YZS-120A. We also want to make it in cold pressing and i made a lite stream map o the process you cn see bellow.
Hi, thanks for your inquiry. As for 250kg/h capacity, it's better to use hot pressing, which means you need to cook the sesame before pressing. It's not suitable to use YZS-120A for cold pressing, because the oil yielding rate is not good according to our experience. As for edible oil refinery, do you have it already or not? Usually, we use freezing and filtering for purification of the sesame oil in China. It could save the fragrance greatly by using this method. Which kind of sesame oil do you prefer, refined OR freezing & filtered ...?