If you are about to start your own soya oil extraction plant and invest in soybean processing business, don't hesitate to contact ABC Machinery for free guidance. We can not only help you on setting up a complete plant of soya oil extraction, but also can offer turnkey project plan including factory design, equipment manufacturing, onsite plant installation and commissioning, and operation training.
Starting Soya Oil Extraction Plant in Brazil
Brazil is the world's leading soybean oil exporter accounting for 30% of the crop's global production. Soybean farming is one of the primary bases of Brazil's economy with over 29 million hectares of land used for farming the crop in the country. According to the Food and Agriculture Organization (FAO), Brazil produced 114.5 million Tons in 2017 and is expected to expect to harvest over 116 million Tons in 2018. (Read More about small equipment set for mini soybean oil mill)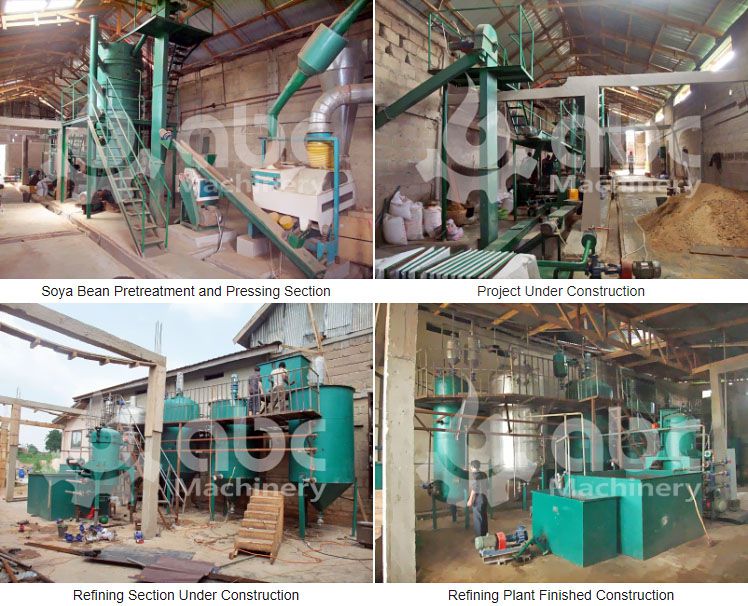 In addition, soybeans grown in Brazil have a higher oil and protein content compared to many other countries in the world. The high quality of Brazilian soybeans has helped shift buyer interest in the international market to Brazilian soybeans. ABC Machinery has built many successful soybean oil production plant around the world. The following table shows some of our soybean oil milling project for your references:
Referring to the soybean oil extraction plant cost, it is related to many factors including production output, process design, factory layout design and equipment quality and service quality of the equipment manufacturer. For starting a small production line of soya oil extraction, about 8000USD is needed. For more details of soya oil extraction machine and project cost, you are welcome to contact us!

Tips for Setting Up a Successful Soya Oil Extraction Plant
Have a Good Business Strategy / Project Plan
A good business strategy or project plan is always the first step in starting successful soya oil extraction business venture. Come up with a good soybean oil processing business plan. A business plan gives you insight into all the aspects of your soya oil extraction plant including; product development, marketing strategies, management bios, hiring, competitors and more. (Related Post: How to start cooking oil refinery plant?)
A business plan also outlines all the important information that lenders and investors may require. It is the starting point for approaching lenders if you need money for materials, products, and any other resources.
Soya Oil Plant Location set up and machinery
Selecting the right location for your soya oil extraction plant is essential. Consider a location with availability of qualified employees in the oil production industry and transport facilities. Your floor plan will need to provide for raw and finished products, storage, administrative workspace, production unit area, and oil cakes storage.
Make sure you choose a suitable manufacturer for the machinery so that your extraction plant will be of reasonable cost, safe, operating continuously and with the latest technology.
Learn More about Soya Oil Extraction Plants
Learn more about soya oil extraction and refinery in terms of capital, market opportunity, the latest technology, and competition. Consult experts with more knowledge on the economic scope and statistics of the industry. They will highlight potential problems and spot mistakes you may have missed.
Brazil's Soya Oil Extraction Industry
Soya Oil Production by Country (1000 MT)
China
16,576
United States
10,898
Argentina
8,390
Brazil
8,195
EU-27
3,154
India
1,692
Soya oil results from pressing and separating soybeans, a process known as crushing. The country has a crush capacity of 113,000 tons per day which is the second largest in the world after The United States. Due to the legacy of government intervention in the 1970s, Brazil's soya oil extraction industry comprises of smaller processing plants as opposed to the nation's soya oil export rivals; The United States and Argentina. The largest soya oil extraction plant in Brazil can process 3,800 tons per day. The country also has over 60 extraction plants which produce over 40% of the country's output.

Brazil Soybean Oil Production by Year (1983~2018)
The soya oil demand growth is most active outside the country. The international demand has led to Brazil contributing to 30% of the soya oil global market.
Associated economic impact, favorable government policy interventions, and geographic location give room for marketing opportunities for oil mill processors in the country. In addition, Soybeans widespread use and favorable logistics make them very conducive to trade in Brazil.
Factors Contributing to the Success of Soya Oil Production in Brazil
The remarkable success of soya oil production in the country is mainly attributed to subsidies and agricultural policies favoring the crop's production. The main factors include:
Establishment of a significant industrial soybean processing infrastructure;
Efficient mechanical harvesting;
Correction of soil fertility;
Reduced tax burdens;
Improvements in roads;
Brazil's rich soil;
Application of Soya Oil Processing
Soya oil, like all other oils from vegetable origin, does not contain cholesterol. It is primarily used as table oil although the modern search for alternative sources of energy has stimulated consumption of soya oil as a fuel. The oil finds its way into food products like cooking oils, salad dressing, margarine and industrial products such as biodiesel fuel and plastics.
Lecithin, which is extracted from Soya oil is a natural emulsifier and lubricant and can be used for everything from protective chocolate coatings to pharmaceuticals. After removal of the oil, remaining soybean flakes can be processed into soy protein foods and animal feeds.
Conclusion
Soy oil production in Brazil is an ideal investment mainly because of the world's increased use of vegetable oil as opposed to animal fats, policies in place favoring the oil's production and high global demand of the high-quality Brazilian soya oil. If you have any questions about mini soybean oil extraction plant, starting a soya oil extraction factory or need a customized project plan, contact us now and our service team will do the BEST to help you!