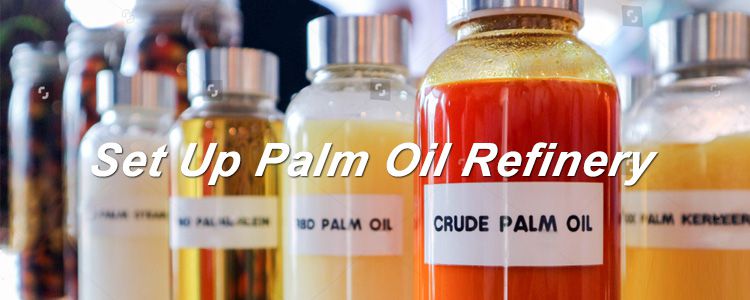 Start Palm Oil Refining Business
(crude palm oil, RBD palm oil, RBD palm oil olein, palm oil stearin)
Palm oil refinery, just as its name implies is used for refining crude palm oil to produce high quality edible refined palm oil. ABC Machinery is here to introduce our HOT Sale Small Scale Palm Oil Refinery Machine to you! It is the best palm oil refining equipment for small oil mill. The following is a brief introduction to the refining process and characteristics of small scale palm oil refinery.
Small Scale Palm Oil Refinery Machine for Sale
Equipment for Producing RBD Palm Oil: Refined Bleached Deodorized Palm Oil
You can get palm oil olein and palm oil stearin after crystallization at controlled temperatures in palm oil fractionation plant.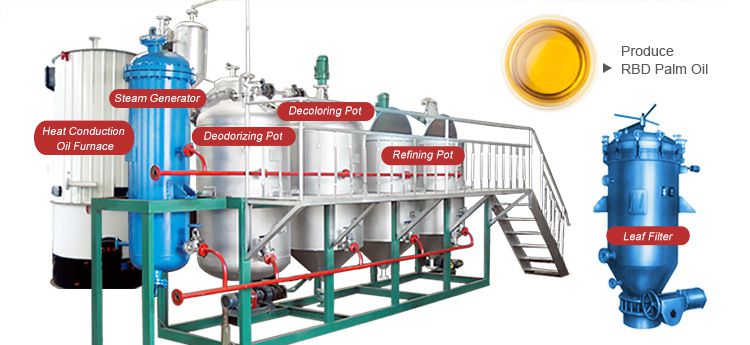 Complete Set of Equipment for 1-5ton/day Palm Oil Refining Production
This small refining plant consists of refining tank, decolorizing tank, deodorizing tank and filter, oil pump and electrical control system. It can realize palm oil degumming, deacidifying, drying, decolorizing, and deodorizing. (Latest News: palm kernel oil expeller exported to Nigeria >>)
Meet food processing machinery standards: Made of stainless steel, and polished.
Simple design, beautiful appearance and high customer satisfaction.
Easy operation: Ordinary staff can run the palm oil refinery smoothly after our onsite training.
It can realize the complete process of palm oil refining.
Palm Oil Refining Project Display
In order to meet the needs of small-scale palm oil extraction workshop, ABC Machinery has successfully developed this complete small scale palm oil refinery plant to achieve the integration of flow of dephosphorization, degumming, deacidification, dehydration and decolorization. The following photos are about one of our 1TPD
edible oil refining project
suitable for processing crude palm oil.


1ton/d Palm Oil Refining Project



Palm Oil Refinery under Construction
At present, this complete set of palm oil refinery equipment has been exported to Nigeria, Liberia, Lagos, Congo, Peru, Malaysia, Indonesia and other countries and regions, favored by local users. The refined palm oil processed by this refining equipment can reach the international edible oil standards and can be filled and sold directly. Just feel free to know more about palm oil production and get more about palm oil refinery plant cost!

Palm Oil Refining Process
Processing Flow of Small Scale Palm Oil Refinery: Crude palm oil → degumming (washing) → deacidification (alkali refining) → decolorization (clay adsorption) → dehydration (heating and drying) → deodorization (vacuum distillation) → refined oil


Palm Oil Extraction, Refining and Fractionation Process
After refining, the oil is featured of transparent color, long-term storage without precipitation, no foam and less smoke when cooking. If you are planning to start palm oil refining business in Nigeria, this machine set is definitely your first choice!
The above is a simple description of small palm oil refinery plant. Now you have a preliminary understanding of the process and related equipment. If you have any questions about palm oil refining or feel like to get a customized refining project plan, please feel free to contact us! Click here to read more about our cooking oil extraction machine for small business.
Equipment Selection for Setup Palm Oil Refinery Plant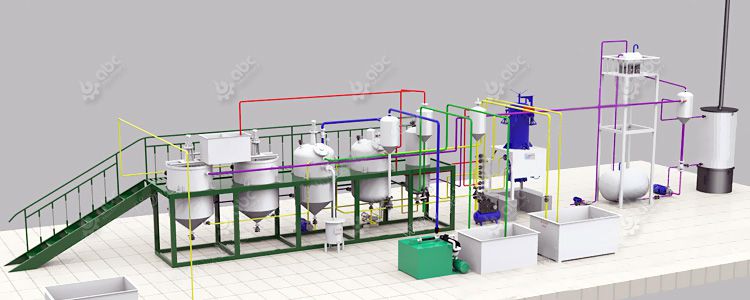 Small Palm Oil Refinery Plant Design
Choosing the right equipment can make your palm oil refining process easier and more efficient. It is also the very first step to start a palm oil refinery plant. But it's not an easy step. When buying oil refining machine, you will find countless manufacturers and different types of equipment. To avoid detours, we are here to give you some tips to help you buy the right equipment for your palm oil business. (Read more about starting palm kernel oil processing business >> )
It is critical to buy from reliable palm oil refinery machine manufacturer with strong technical support and after-sales service. Brand influence it the valuable wealth accumulated by the equipment through the test of the market and users. It is the intuitive response of equipment quality. You are recommend to buy from formal factories and famous brands, so the equipment quality is guaranteed.
Pay Attention to Refining Performance
Equipment material, structure design and manufacturing technology can all effect the palm oil refining performance. Besides, for palm oil extraction machine, the oil yield and residual oil ratio are also key points to get more profits.
Palm Oil Refinery Plant Cost
The price of palm oil refinery machine is also one of the main concerns of users, but it can only be a reference factor. Do not only look at the price and ignore the quality. Or it will result in no guarantee of later benefits, but more loss. Choose ABC Machinery to get cost effective equipment for your palm oil production business. Contact us now to get the promotion details and the latest price list of our machinery.
Care more about the Service
For the ones who are planning to establish palm oil refining factory, the follow-up service and technical support is very critical. The decline in brand power of many palm oil processing machine is the result of poor service and a loss of market credibility. Only manufacturers with perfect service can survive in the market. ABC Machinery concerns more about service. We always adhere to the user's point of view, timely and thoughtful help them on palm oil extraction and refining problems, so that to ensure the palm oil refinery machine play a greater value in their hands.
These are the main factors you should take into consider when buying palm oil refining equipment. You can take them as a reference when choosing palm oil machine manufacture or supplier for your oil mill plant. If you have any questions, please feel free to contact us, we are always by your side!