When it comes to healthy options for vegetable oil, palm oil tops the list as it the most heavily produced, consumed and exported oil globally. It terms of ranking it stands next to rapeseed oil and soya bean oil which are also produced in large quantities and supplied all over the world. It is widely used for cooking food, is used commercially for public kitchens and in formation of chemical compounds infused with fats in factories. On a global level African and South Asian regions have been top producers of palm oil, generating about 88% of total amount produced.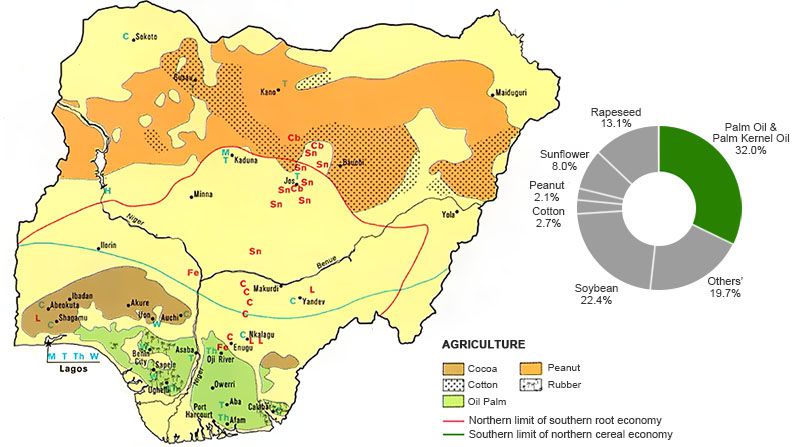 The Economic Distribution of Nigeria
Because the Nigerian land holds feasibility for proper conditions setting up a business for palm fruit or a palm kernel oil production industry can turn out to be a profitable business. To understand more about the entire business, we headed to Nigeria to find out more about palm oil requirement for the locality and meet the financiers and other professionals. The main aim for our visit was to guide the native financiers with knowledge regarding favorable circumstances and help them enhance and increase palm oil business activities throughout the country. (Related News: 20 tons per day Crude Palm Oil Refining and Fractionation Plant Exported to Nigeria)
Three professionals named Tina, general manager at ABC Machinery accompanied Chief Engineer Dr. Li and the company's Sales Manager, Mr. Steven to Nigeria for business purposes. It was a two week trip which lasted from March 14, 2018 to March 28, 2018. Our team headed to six major cities of Nigeria which are Abuja, Asaba, lbadan, lseyin, Enugu and Lagos to attend meetings with the local investors and was well versed with necessary knowledge regarding palm oil production within the country.
Palm Fruit Oil & Kernel Oil Production in Nigeria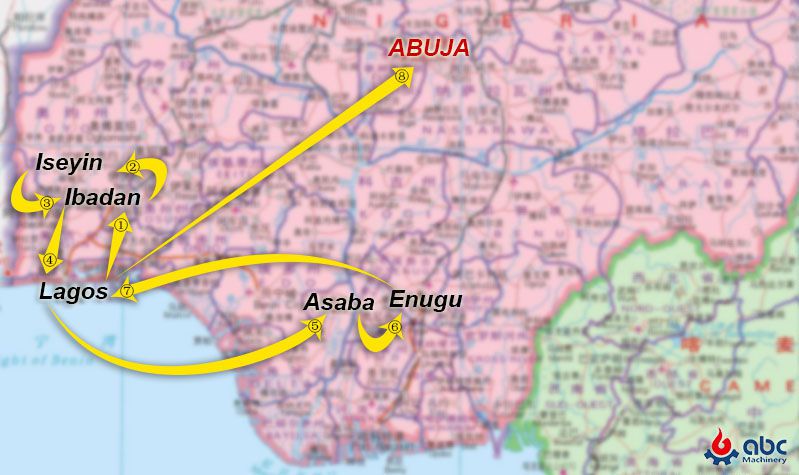 About the Trip in Nigeria
Lagos
Our team's first stop was Lagos where they showed up on March 16th and met with a business person interested in setting up a palm oil mil to produce 20 tons per day.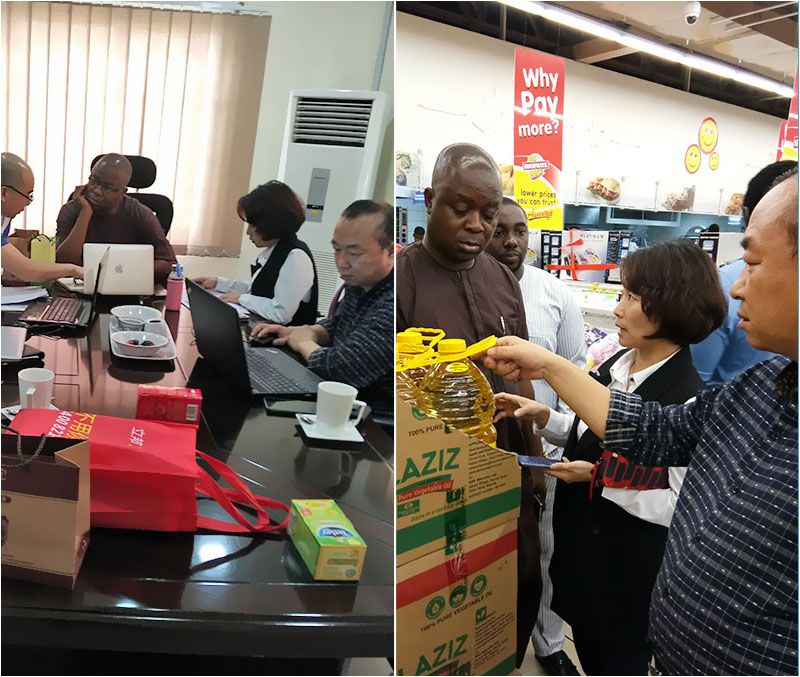 Discussing the Processing Plan (left), Market Research (right)
Reports from the National Palm Oil Association, state that Nigeria churns out 1 million tons of palm oil on an yearly basis but the actual for the natives reaches up to 2.? million tons a year. That's a major difference of 1.? million tons a year. But if reports from the Nigeria Manufacturing Association are to be believed, the difference is only 700,000 tons. You maybe also interested in: 10 tons per day Palm Oil Refinery and Fractionation Plant Exported to Cote d'Ivoire

Business Talking with Our Clients
Palm oil prices saw a major boom of 284% by rising to 25000 naira from the initial 6500 naira price for a 25 liter bottle whereas the smaller version of the bottle was sold with an increase of 227%, from the earlier price of 220 naira to T20 naira, as reported during January 2016.
lbadan
Next our team landed in lbadan and witnessed the land where a castor oil was likely to be established and met with a person who intended to start a production business.


Visit the Site for Starting Castor Oil Processing Plant



Discussing about the Castor Oil Project Plan
Asaba
The team met Cyril, who was a client of our palm oil extraction and refinery plant, which was under construction and will likely produce 10 tons of palm oil per day. Dr. Li socialized with the local businessmen and hand drew details of parts of the production plant. Later in afternoon, they met Mr. Brown and Joy who want to invest in a 3 ton per day palm oil production plant and a friend of Joy's who was interested in setting up a palm oil refining plant of his own.


On Site Visit
The team then met the clients who are planning to start a complete oil extraction plant of palm oil that produce 100 tons a day and refine 60 tons a day.


Photo with Our Clients
Enugu
In Enugu, they attended an exhibition and was interviewed by a local television station and answered some questions.


Local Exhibition
They also met an investor of a 1000 ton per day palm fruit processing line along with another person on Victoria islands who wanted to establish a 20 ton per day production plant.


Business Talking about Palm Oil Processing


Abuja
They met a client of our palm oil mill, but the installation has not begun yet. Our team gave sound advice to the locals on efficient fund spending and establishment. They met more clients with similar interests on March 25.


A Client of Our Palm Oil Mill



Some of Our Other Clients in Nigeria


---
ABC machinery deals in tools and equipment for palm oil extraction and refining which enhance production activities at affordable costs.
We can be contacted directly for services and pricing details.