Established in 1997, ABC Mahinery is reputed in setting up complete oil extraction and refinery plant projects and service provider, engaged in supplying turnkey solutions for cooking oil extraction and refinery, including rice bran oil machines. Our expertise and experience in cooking oil processing machine is well recognized all over. The project engineering competence of ABC Machinery is special as it leverages the strength from the in house and tied up technologies with specialists to offer turnkey solution to the customers. Our rice bran oil machines are featured of reliability, efficiency and operational economy. Contact us now for detailed rice bran oil processing solution, equipment list and cost (info@abcmach.com).


Oil Extracton and Refinery Project Installed by ABC Machinery
Rice Bran Oil Facts
Multiple countries around the globe are famous for their two to three seasons of rice production every year and along with this plenty of rice bran is produce as a result. The same rice bran is either utilized as fertilizer or burned for fuel purposes. The rice bran production plant and machinery is a leading and emerging industrial sector in China, Bangladesh, India, Thailand and other countries rich in rice production of the world.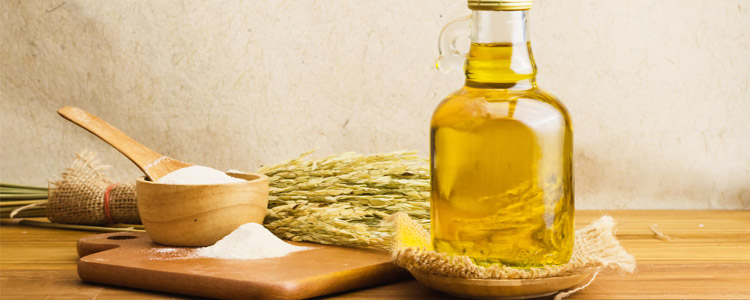 Rice Bran Oil
The same rice bran amounts to about 16% to 20% of oil and it is termed to be one of the three healthy oil as recommended by World Health Organization (WHO). Comparatively, the cost of rice bran is greater than normal oils available in the Market. Therefore it is important that you are able to extract maximum oil from the available bran. Our outstanding featured Machinery for bran oil extraction from rice and advice of the expert team can be availed to enable to extract the maximum amount of oil from the available rice bran and turn the left-over rice bran into the fortune.
Ingredients
Composition (g/100g)
CO¹
PO
RBO
Corn oil
50
0
0
Palm oil
0
50
0
Rice bran oil
0
0
50
Types of Rice Bran Oil Machine
For rice bran oil production, there must rely on rice bran oil processing machine. Generally, rice bran oil machine serves for rice bran pretreatment, rice bran oil pressing or extraction, rice bran oil refinery.


New Type Rice Bran Oil Machine at Factory Price

Rice Bran Oil Making Process
To produce high qualilty rice bran oil, a series of rice bran oil production process should be involved. Generally, there are two oil extraction methods for rice bran oil, oil pressing for small scale rice bran oil production line, expellering-extrusion and solvent extraction for large scale rice bran oil mill plant. The detailed process is listed below for reference.
Rice Bran Oil Pressing Process
Rice Bran → Selection → Mixing with Rice → Adding Water → Steaming or Cooking → Pressing → Crude Rice Bran Oil Filtration → Crude Rice Bran Oil Refining
Rice Bran Oil Expellering-extrusion and Solvent Extraction Process
Rice Bran → Cleaning → Tempering → Extrusion → Drying and Cooling → Solvent Extraction → Crude Rice Bran Oil Filtration → Crude Rice Bran Oil Refining


Small Rice Bran Oil Production Line



Rice Bran Oil Extraction Plant



Rice Bran Oil Refinery Plant
Our company offers completely tested, QC passed, cost effective and superior quality machinery for rice bran oil extraction and refinery plant with varied capacities based on the requirement of our customers. In addition to these features, our rice bran oil making mahcines requires fewer maintenance issues and is equipped with a user-friendly mode. Moreover, our rice bran oil extraction machine or rice bran oil mill plant is furnished with the latest technology which helps customers in energy proficient as compared to the other offerings in the market. (Related articles: Set up a Rice Bran Factory >> )
Notes for Rice Bran Oil Extraction
Considering the special property of rice bran as the raw materials for oil extraction, there are some of the characteristics of rice bran oil extraction, which should be taken into consideration when set up rice bran oil extraction plant.


Small Scale Rice Oil Expeller Machine
Rice bran contains more starch, so it is easy to powder, then cause gelatinization and blocking during the oil squeezing process.
The lipolytic enzyme of rice bran is active and easy to be rancid, so it is not suitable to be stored for a long time. Therefore, rice bran oil production requires the processing of new bran or the killing of lipolytic enzyme before oil extraction (such as puffing, dry or wet heat drying, radiation deactivation and other methods), and then the rice bran can used for oil processing.
Rice bran powder degree is large, the capacity is small, the rice bran molding for oil extraction can improve the permeability.
Rice bran and rice bran oil have complex components and high viscosity, so comprehensive utilization should be considered in refining. In the rice bran oil refining process, comprehensive utilization is carried out to extract other useful substances, such as oryvins, calcium phytate, inositol, wax fat, etc.
The refining process of rice bran oil must be designed with dewaxing process.
Why Choose Our Oil Machinery and Package Unit?
Apart from producing normal quantities, in the case of larger capacities, our machinery and complete plant are available to help out the customers in this regard. At our company, best and most appropriate solutions are available for the customer's rice bran oil manufacturing requirements. Along with proper stringent quality measures, our company assures the delivery of finest and ideal machinery rice bran oil extraction and refinery. Our corporate products are extremely cost-effective and durable for performing the extraction of bran oil from rice. Our oil milling plant ensures advanced production yield exclusive of any interval. Also, the design of the plant is such that the plant is comfortable to handle for your staff.


Buy Rice Bran Oil Machine from ABC Machinery
Cooking Oil Refinery Plant Installation Video
Our expert team is available to provide you further information about the desired plant specifications and any further information about rice bran oil producing and other kinds of cooking oil extraction and edible oil refinery. Please feel free to contact us for detailed info and quote of our rice bran oil machines.

We are interest oil mill for Rice bran oil pls let us know in detail posibilty cooperation with you company
Generally, the rice bran oil is extracted from the rice bran through the solvent extraction method. If you use the screw oil expeller, the oil yield will be quite low. Hope my interpretation is helpful to you.
We are planning for implementing a RICE BRAN OIL MILL PROJECT in Bangladesh. In this course of initiative we have source out your reputed company. Please let us know the costs of the various availible sizes (capacities)of complete rice bran oil extraction lines.
Thank you for your wish to cooperate with us, and we have the confidence to offer the high quality equipments and best service to you. So, pls tell me the capacity of the rice bran oil plant you need. Then I can recommend you the suitable equipments.
Rice bran oil expeller 3 TPD. PRICE OF MACHINES
Pls allow me to tell you actually the best method to get the rice bran oil is the solvent extraction, but for the small capacity if you want to take the press method I recommend you our YZS-95 oil expeller. Pls check the following items for the features of this type:

Model: YZS-95
Capacity: 4tons/24hrs
Power:11kw

So if you are interested in this type pls tell me your suitable voltage, then I will quote you the best price.
Any questions pls tell me freely, I will try my best to help.