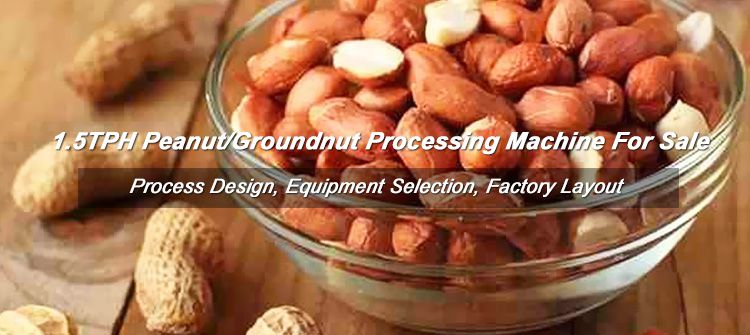 Groundnut Peanut Processing
ABC Machinery is an integrated enterprise that mainly providing equipment for grain and oil processing, and biomass pellet and briquette machine. We can process the complete equipment or single equipment to process various raw materials. Our core services include equipment manufacturing, installation, commissioning and training. Our oil mill project, flour mill project, pelletizing & briquetting projects are built around the world. If you have needs, don't hesitate, please contact us!
1.5TPH Groundnut Peant Processing Plant Purchased by Italian Client
Recently, ABC Machinery successfully exported a set of 1.5TPH peanut processing machine to Italy. The customer of this order is our new customer who sells peanut products, such as shelled peanuts, peeled peanuts, and roasted peanuts. (Read more: Peanut Oil Machine >>)


Groundnut Processing Plant
Buyer: An Italian Customer
Capacity: 1~1.5 tons per hour
Raw Material: Uncleaned peanuts with shell
Final Product: Cleaned peanuts with shell, but classified according to size
Technological Process: Conveying → Cleaning→ Color Sorting→ Grading and Packaging
This groundnut processing line is used to process raw peanut with shell. It has peanut cleaner to remove impurities, peanut color sorter to separate bad peanut out, peanut classification machine to separate different sizes. Finally peanut go to big bag for package. If you are interested in our peanut processing machines and want to get the detailed parameters and price list, please contact us directly!
The advantage of our peanut processing equipment is that it can remove various impurities in raw peanuts, such as: iron, stone, soil, plant stems and leaves, etc. The impurity content of raw peanuts after cleaning does not exceed 0.2%. According to the needs of customers, different sizes of grading holes can be set to classify the shelled peanuts, so that the peanut size is basically uniform, and the subsequent peeling and drying effects are uniform. (Read more: Groundnut Oil Processing Plant Cost >>)
Peanut Processing Machine for Sales
Wide Uses of Peanut - Peanut Processing Business
Peanut is a legume crop and is one of the main oil varieties of high-quality edible oil. The market demand and prospects are very impressive. Especially in recent years, with the economic development and population growth, the demand for peanut oil and peanut butter is also increasing. The global consumption of peanuts and their products has risen year after year, so demand has continued to increase, as has production and supply. The output per unit area and total output of peanuts continue to increase. And the demand for peanut related products, such as roasted peanut, peanut oil, peanut butter, are also increasing. Peanuts need to be pretreated when making oil, protein or peanut export. Pre-processing equipment for peanuts includes cleaning, grading, peeling, drying, stripping, crushing, softening, rolling, steaming and frying, etc. (Related project: 160L Defatted Peanut Flour Production Project >>)
If you are doing peanut processing business, or need any peanut processing equipment, please contact us directly and details your specific needs, our sales team will soon offer you the exact equipment quotation and parameters for your referece!
Global Peanut Producers
| Country | Production (Tons) |
| --- | --- |
| China | 16,685,915 |
| India | 6,857,000 |
| Nigeria | 3,028,571 |
| United States of America | 2,578,500 |
| Sudan | 1,826,000 |
| Myanmar | 1,572,407 |
| Chad | 1,040,077 |
| Argentina | 1,001,113 |
| Cameroon | 747,677 |
| Senegal | 719,000 |