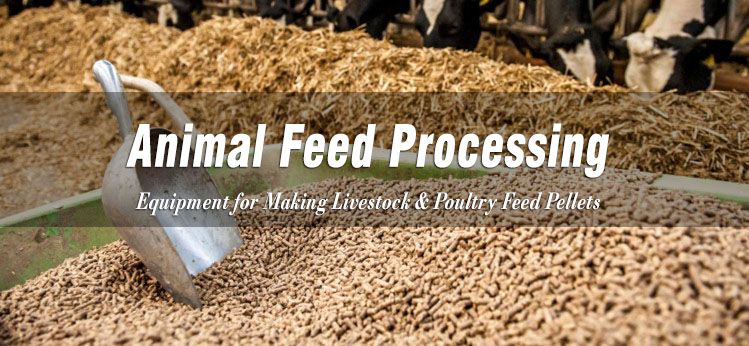 Things You Should Know about Animal Feed Processing
About Animal Feed Processing
Animal feed processing requirements are rapidly changing to food processing standards. In the selection and design of feed processing equipment, product quality, safety, process reliability and low operating cost are important aspects. ABC Machinery always take these aspects into account when designing and setting up your animal feed processing plant.
If you are looking for suitable animal feed processing equipment manufacturer or supplier to set up your own feed pellet plant, please let us know your requirements (info@abcmach.com). The typical application of our feed processing equipment includes:
The size of animal feed usually depends on the type of animal the feed is being produced for, generally starts from 2~10mm. The types of materials being used is also primary factor in creating the correct feed for increasing quality of the feed produced. The raw materials for animal feed processing includes corn, wheat, soybeans and more. (Related Product: small animal feed machine for cattle and poutlry )
HOT Sale Animal Feed Processing Equipment

Animal feed processing is a complicated process and involves several machines, which has also become a matter of research to improve the quality of the product produced and maximize profits. The main point to increase profits and quality of feed is to create a hygienic feed that is easy to digest and provide a well-balanced meal. (Click here to see more feed mill plant project reports)
Main Equipments for Setting Up a Animal Feed Processing Plant
The animal feed processing requires a series of equipment for specific process, including grinding, mixing, pelleting, cooling, cleaning, conveying and package. (Read more about feed manufacturing plant cost >>)
It is used to crush the raw materials into required sizes of required animal feed.
It is used to mix the raw materials with fat and additives so as to ensure the quality and nutrition of produced animal feed. BESET mixing machine for animal feed processing should avoid the cross-contamination.
It is used to produce the animal feed pellet. Here is an article about the utilization of oil cake for animal feed production.
Feed Pelletes Cooling Equipment
It is used to cool the feed pellet that coming from the pelleting machine since its temperature may reach 70~90℃. And cooling machine can help to reduce the feed pellet to a temperature that is suitable for storage, about 5℃.
It is used to ensure the feed pelleting process is safe, which is very important when setting up a complete animal feed processing plant.
It is used to transport materials between different animal feed processing sectors and equipment.
It is used to pack the final produced animal feed according to the required standards and demands.

Read more about how to make animal feed pellets in small scale. For a complete animal feed processing plant, high quality equipment in every processing sector is extremely crucial for the final quality of the produced feed pellets. You may also want to know how to choose the BEST animal feed processing equipment.
Buy from the BEST Animal Feed Processing Equipment Manufacturers


Equipment for 2-5 ton/h Feed Processing Mill
ABC Machinery, headquartered in China, is one of biggest poultry feed machinery producers and suppliers in China. It produces and exports the animal feed processing equipment all over the world, including America, Ecuador, Ghana, Chile and more. We are never stopping to explore and improve the technology of feed pelleting with the aim to provide the most cost effective animal feed production machine for our customers. (Related Post: How to Setup A Poultry Feed Production Factory in Nigeria?)
Video: How Feed Pellets are Made in Feed Mill?
The following video shows about the operation of a small to medium scale animal feed mill plant. Feel free to contact us for detailed information and the costs of starting such a complete feed processing mill in your country.