Sesame seed oil has a stable global market comparatively. Especially in Asia, sesame oil production has been so widely used as a traditional seasoning that there is a great market requirement in China, Japan, and Korea. As people are becoming more health conscious, sesame oil, a healthy fat and rich in unsaturated fatty acids and vitamin E, is becoming more and more popular among health care people. In addition, with people's living standards improving, they are pursuing a diverse diet. Sesame oil has also attracted a lot of interest outside of Asia due to its distinctive flavor. As a result, the increase in market demand makes many people start their own sesame oil expressing factory and explore new commercial sesame oil processing technology.

How to Make Sesame Seed Oil by Harnessing Oil Press Machine?
Sesame Oil Extraction Process Demystified
How to make sesame seed oil? No matter what method is used to extract sesame oil, sesame oil production line in sesame oil processing plant roughly contains the following oil extraction steps in the process.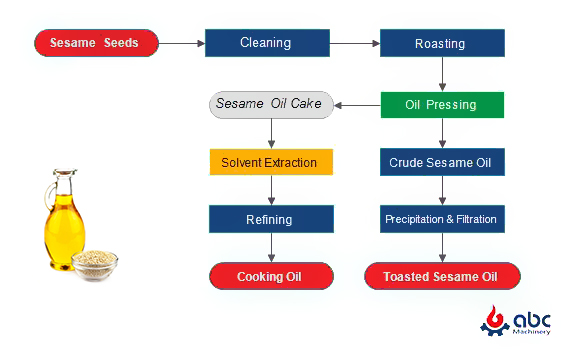 General Sesame Oil Processing Process
Procuring Premium Sesame Seeds: Choose high-quality sesame seeds with excellent taste. The quality and price of the final product depends on the quality of the raw materials.

Cleaning and Sorting: Thoroughly clean and sort the sesame seeds, ensuring the removal of impurities and substandard seeds to meet safety and hygiene standards.

Drying of Sesame Seeds: Remove excess moisture from the sesame seeds to reduce water content and prevent mold formation.

Hull Removal: Remove the outer husk of the sesame seeds to increase oil yield, reduce sediment, and improve the quality of the oil.

Roasting Sesame: Roast the hulled sesame seeds in an oven or a frying pan to enhance the delightful aroma of the sesame. Roasting the sesame seeds in this process increases the oil yield and reduces the cost.

Grinding and Oil Extraction: Soak the roasted sesame seeds in a specialized soaking tank and then extract the sesame oil using the sesame oil extractor. This step is the most central step in the production process.

Filtering and Clarification: Filter and clarify the extracted sesame oil using mesh screens or filtration devices to remove impurities and suspended particles.

Refining and Purification: Refine and purify the sesame oil to eliminate impurities and enhance its quality. Through this process, the maker gets high quality oil that sells for a high price.

Storage and Packaging: Store the refined sesame oil in suitable containers, ensuring proper sealing and packaging to guarantee freshness and quality for sale.
Various Sesame Oil Presses for Different Quality Oils
Sesame oil processing machines mainly include traditional stone and wood sesame oil mills, screw sesame oil presses and hydraulic sesame oil press machine.
For generations, traditional sesame oil processing methods such as stone grinding and wood pressing have been used to extract this rich and aromatic oil. Stone milling is the process of crushing and grinding sesame seeds into a paste using large, heavy stones. The weight of the stone and its circular movement aid in the release of oils, resulting in a pure and fragrant sesame paste. This paste is then pressed with wooden presses that provide pressure to extract the oil. The use of hardwood presses allows for a slow and delicate extraction procedure, preserving the oil's natural flavor and nutritional value. The combination of stone milling and wood pressing creates a unique and distinctive sesame oil that showcases the rich flavors and aromas inherent to the seeds. However, traditional oil expeller is difficult to achieve high profit and output, although it requires less investment.
Screw Oil Press: High Speed Production

Screw Pressing Machine for Sale
Mechanical sesame oil making machine is a highly efficient technology that extracts oil from sesame seeds using mechanical devices such as screw sesame oil extraction machine. When compared to traditional approaches, this procedure provides advantages such as speed, scalability, and greater production. It involves cleaning and preparing the seeds before subjecting them to pressure, which separates the oil from the solids. While mechanical extraction is widely used in commercial factories due to its efficiency and cost-effectiveness, it may not yield the same distinctive flavors and qualities as traditional methods. When building a plant to start your oil extraction business, screw press is a must-have piece of equipment. And as an oil press machine supplier, ABC Machinery will provide you with different models of oil expeller to meet your needs.

If you want to learn more information about mechanical oil press expeller, you can click on our Product Page, or consult us for free!

Hydraulic Oil Press: High Speed and High Quality

Hydraulic Oil Extraction Machine in Plant
In order to improve the efficiency of sesame oil machines while retaining the flavor of traditional sesame oil, ABC Machinery Company, a professional sesame oil extraction machine manufacturer, has developed a new type of oil press - Hydraulic Oil Press. Hydraulic sesame oil machine is a new type of sesame oil cold press machine for sesame oil extraction recently developed by our company for sale. It is now the most widely used sesame oil making machine in sesame oil factory since the sesame oil extraction process is pure cold pressing and physical pressing.
Hydraulic oil press machine has the advantages of beautiful appearance, small footprint and simple operation. In addition, the hydraulic oil press uses high pressure extraction, which can effectively separate the oil from the oil, improving the efficiency of oil extraction. At the same time, zero damage to the nutrients of the finished oil and oil cake can largely retain the natural nutrients in the oil, such as vitamins, minerals and antioxidants. Therefore, if you plan to buy some sesame oil expellers to setup your plant, it is also the best choice for high-end vegetable sesame oil pressing machine.
(More Information About Mechanical Oil Press Plant)