Project Name: 300~500TPD Wheat Milling Plant
Year of Construction: 2003
Grain: Half Chinese wheat, half Australia wheat
Flour extraction rate: 70-75%
Workers: It needs 3 shifts per day; every shift needs 6-8 workers.
Wheat Milling Plant Cost (Machinery Only): Around 1,200,000 USD
Client: shuang fu company (Project in China)
Capacity: Process 500T wheat per day.
Final Flour: For bread making, human consumption
Power: About 1700KW, power consumption per ton wheat: 68KW.H.
Workshop Size: The customer use one 6 floors building. The length of the workshop is 40m, the span is 12m, and each floor height is 4m.
---
It adopts 20 sets of 100mm style double mills, 4 sets of 1250mm style double mills. Till the year 2016, this flour mill has been running for nearly 14 years. The owner of this flour milling factory is a well-known flour supplier in China.
ABC Machinery is leading company in the field of grain processing machines. We are specialized in manufacturing and exporting different types of flour making machines for various grain seeds and beans. We also offer customized complete set of flour plant like wheat milling plant, corn / maize milling plant, rice milling plant etc. ABC Machinery is your trustable flour milling machine manufacturer and supplier in China. We guarantee the greatest service and the most competitive price! Contact us now to get more about our wheat processing projects and detailed information!
General Wheat Milling Process
Close your eyes and think of your favorite food! Nine times out of ten, the item you have thought of is made from wheat flour. Ever wonder about how wheat flour is made in wheat flour milling plant or factory? What does it mean to have fine flour and bran separated? Let's have a look at the process of milling / grinding wheat flour.
There are five main steps, followed to make wheat flour, in wheat milling plants:
Preparation of wheat, Cleaning, Tempering, Gristing and Milling.
Preprepation: Wheat produced by farmers is inspected for presence of impurities, possibly mold and other adulterants. Once the grain passes inspection, it is weighed and graded for quality.
Cleaning: Once grading is done, physical impurities like stones and other stuff that should not be eaten is removed from the grain (read more: Grain Cleaning and Hulling Production).
Tempering: A clean batch of wheat is then 'tempered' by exposing the grain to moisture. Now, although this sounds a bit off, this step helps to soften the bran. Bran is the outermost golden brown covering of the wheat grain. Tempering allows the separation of bran from the rest of the flour. This is where bran from the bran muffin is obtained from wheat.
Gristing: Tempering is followed by gristing, where different types of wheat grains are mixed to obtain flours of specific consistency. This step is perhaps the most important step that will determine whether your pancakes are going to turn out well or not!
Wheat flour milling: Milling of wheat is the final step in the making of flour. Wheat grains are passed through mechanical rollers of roller flour mill machine that break up the grains. Broken wheat is passed through the milling plant again until a coarse powder is obtained. This powder is sifted and passed again through the rollers. After several rounds of grinding and sifting, bran, white flour and wheat germ are obtained as separate products.
After wheat flour is made, bran and fine white wheat flour are mixed in desired proportions to make specific flour like whole wheat flour.
As per UK laws, vitamins, minerals and other nutritional supplements are added to make enriched wheat flour. Sometimes, the entire batch of wheat can be milled to make whole wheat flour.
Facts about flour
The flour milling industry in UK is represented by nabim- www.nabim.org.uk. Nabim has 31 flour milling companies as members and together they operate 53 flour milling plants in the UK. Wheat is an interesting cereal grain. Did you know that about 350 ears of wheat can yield enough flour to bake an 800 g loaf of bread? Or that one grain of wheat equals to 20,000 particles of flour?
A matter for pride for Britons is that nearly 85% of wheat milled in the UK is also homegrown wheat!! These indigenous varieties of wheat are blended with a small fraction of imported wheat to produce specially formulated flours. According to some recent data, 5 million tonnes of wheat were milled in the UK to produce 4 million tonnes of wheat flour, in 2014-2015! Additionally, 1.5 million tonnes of wheat were milled to make starch and also to be used as feedstock for biofuel production. Over 60% of flour milled in UK is used for producing bread-making flour. Estimates suggest that our consumption of wheat flour stands at 61.5 kg per person, in 2015. Wheat flour is definitely not as simple as being just plain flour. It can be graded into several types, based on the method of preparation.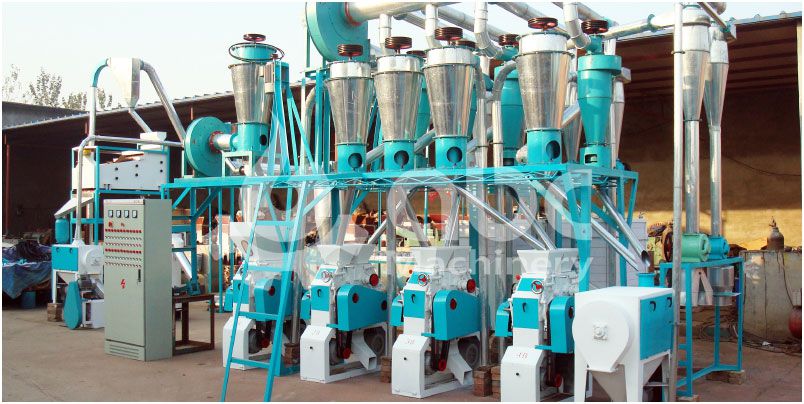 20 Tonnes per Day Mini Wheat Milling Complete Equipment
For the ones who want to start a tiny flour making workshop, our Small Wheat Flour Milling Unit should be your best choice! It is small in size, cheap in price and fully in functions. If you are interested in knowing the detailed cost of building a mini flour mill, welcome to send inquiry (info@abcmach.com)!
Types of flour
If you are planning for setting up a
wheat flour milling plant
, you may also interested in know about the flour types which are listed as follows.
Whole wheat flour is just what as sounds like- wheat grains milled to a uniform consistency with nothing added and nothing reduced.
Brown wheat flour, on the other hand, has reduced bran and wheat germ content. Approximately, 85% of the original grain constituents are retained in brown wheat flour.
White flour, on the other hand has most of the bran and wheat germ removed from it. It is only 75% similar to whole wheat flour.
Wheatgerm is the term used when either brown or white flour is enriched with added wheat germ, obtained from the milling process.
Wholemeal flour or brown flour with added malted grains is labelled as malted wheatgerm flour.
When wheat is ground between two stones, in an old-fashioned stone flour mill, the flour that we get is specifically marked as 'Stoneground' flour. Stone grinding is used to conserve all the natural vitamins and minerals in wheat.
Organic wheat flour, as the name suggests, is made exclusively from wheat grown without synthetic pesticides and fertilizers. All organic farmers of wheat and as well as millers who make organic flours have to be registered with specified agencies and have to follow norms of growing and handling wheat, in order to get the 'oroanic' tad.