Project Name: 160 Tonnes per day wheat processing plant (160T/24hrs) (Related project: 160TPD wheat flour plant built in New Zealand)
Company of the Client: NZ Flour Mill Ltd
Construction Year of the Flour Manufacturing Factory: 2015
Structure of the Mill: 4 floors
---
With years of parctical experience in wheat and corn flour milling field. ABC Machienry can help you design and set up your own customized flour milling company for both small flour making worshop, complete set of turnkey processing plant. Our flour machines have been exported to many countries around the world, including Australia, Argentina, Nigeria, Chile, India etc.
The following shows the 4 storeys steel frame workshop built for a 160TPD Wheat Processing Mill in North Island, New Zealand. It is set up in 2015. We also offer other capacities flour mills according to customers' needs.

Only steel frame workshop is allowed for all projects in New Zealand, because of frequent earthquake and typhoon. To make the plant strong enough and easy to install, storey steel and plates are built by welding work and workshop frame beams are connected by bolts. In New Zealand, the Workshop Structure Welding requirement is strict. Only International Welding Certificate is required for all welders. Besides, after the project finished, there will be a test done by government officers. The client won't get Business Certificate withou good result.
Other of Our Flour Manufacturing Projects
Feel free to inquire the details of our flour milling unit or cost of turnkey wheat flour milling plant. You will get a quick answer in just one business day!
Facts of Wheat Flour Mill Plant
Wheat is one of the essentials of the food and acts as a basic constituent for a number of other products. Wheat processing plant or wheat flour mill is used to grind the wheat and convert it to flour, which is then utilized in making products like bread and other associated products. However, wheat is not the only grain used for making flour. Other grains such as rice, barley, oats and rye can be grinded to produce flour, which is to be utilized as a basic component of food that provides immense nutrition. In UK, most of the flour produced is made by grinding wheat whereas other grains are also utilized for this purpose. The basic component of grain is starch. The process of opening the grain to release this starch from its center is known as milling. The starchy part is utilized in making the flour whereas the outer layer of the grain that is tougher is utilized for other purposes. For example, animal feed and breakfast cereals are made up of bran. (View more about our grain processing plant >>)
Process of Wheat Processing Plant
Here are the stepwise processes involved in processing wheat through wheat processing plants (wheat into flour):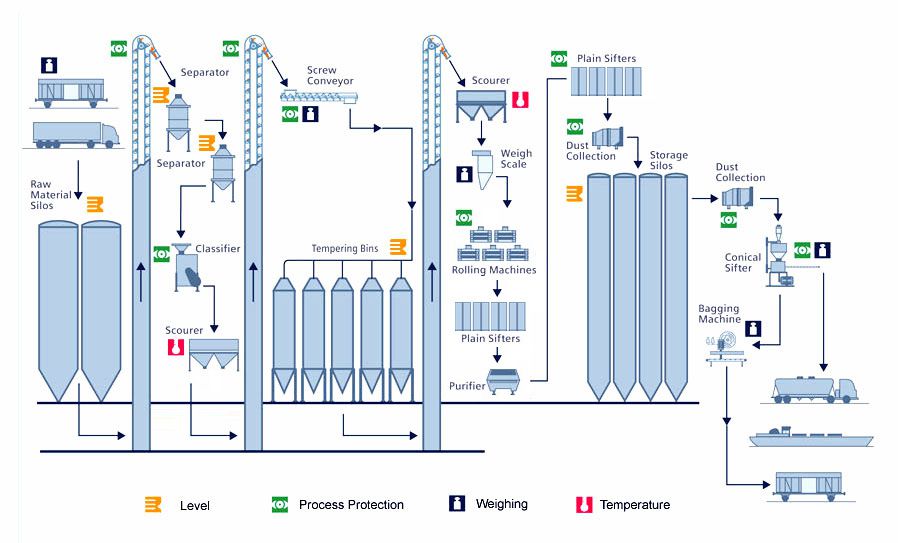 This chart is greatly simplified. The sequence, number and complexity of different operations vary in different mills.
Capacity of Flour Mill Range from 10T/D to 1000T/D
Wheat Seeds Cleaning: the first step involved in this process is cleaning. Raw wheat contains dust, metals, grit, and other impurities in it. In order to remove these impurities, magnets are set in place to remove the metallic material, aspirators are used for the removal of light dust, and scourers are utilized for rubbing the attached dust from the grains of wheat.
Conditioning: In this process, water is added to the cleaned wheat grains. This makes them softer and easier to be used in the further processing.
Breaking: At this stage, rollers are used to open the wheat grains so that they can be processed further.
Sieving: The breaking of grain in the last process divides it into three components i.e. endosperm, germ and the bran. Endosperm, the starchy part is filtered further through various sieves and rollers.
Different Types of Flour
Following are the main types of flour that cab be extracted by flour milling machinery:
White Flour (75%), consists of endosperm only. Germ and bran are removed from it in the processing.
Brown flour (85%), major portions of germ and ran are removed from this type of flour but it still contains a few traces of it.
Whole wheat, wholegrain, or whole meal flour (100%), this type of flour contains all the three components of wheat and nothing is taken out of it. Extraction rate has been mentioned in brackets to show the percentage of whole grain for the production of flour.