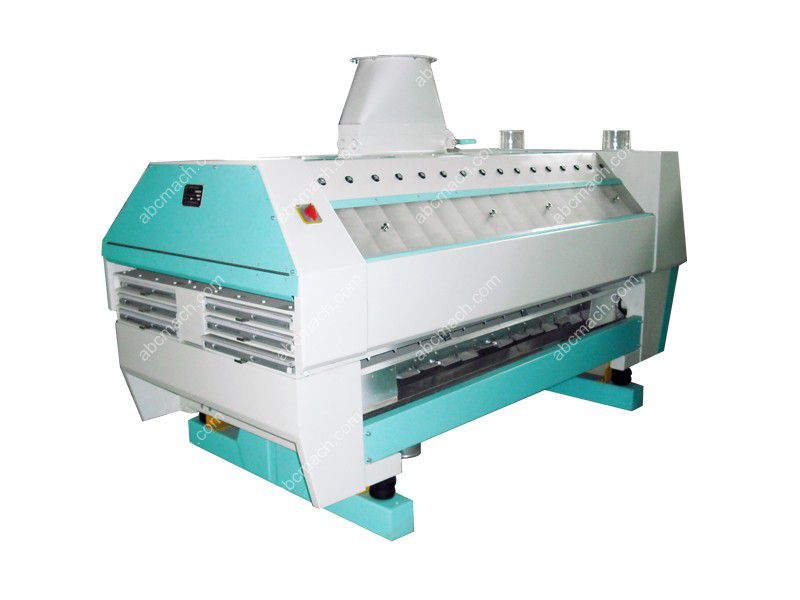 FQFD Type purifier is one of the main equipment of wheat mill plant. The purifier is applied for purifying and grading of semolina and middling semolina, wheat flour. It is widely used in wheat, maize and corn mills. 
Adopt high quality cold-rolled steel;
Both steel and aluminum plate is made by laser cutting machine and CNC bending machine molding to ensure high precision;
Smooth appearance, good looking;
All of the steel plates adopt Panasonic CO2 shielded welding.
Imported rubber spring;
Polished stainless steel slider;
Aluminum surface oxidation;
Yes! I am Interested!
Ask for Price
Details:
Type
FQFD3
8×2×3
FQFD4
9×2×3
FQFD6
0×2×3
Capacity (kg/h)
Semolina 800-1200
Flour 600-1000
Semolina
Flour
Semolina
Flour
Power (KW)
2x0.18
2x0.25
Amplitude ( Frequency/min )
8.5-9
Covers Angle
590
Air (m3 /min)
35-65
40-70
55-90
Size (mm)
2190*1085*1510
2700*1300*1700
2700*1500*1700
Approx. weight (kg)
800
970
1100
Purifier is mainly composed of feeding device, screen box, sieve frame, discharging device and suction system. Through the combined effect of winnowing and screening, separate pure endosperm, bran with flour and mashed bran, and send them to different grinding system for milling. Bran goes to break system; bran with flour goes to scratch system; flour goes to reduction system.
The Purpose of Purification
Purification is the combined effect of sieving and suction. Purification can reduce the bran content, so that to help improve the quality of flour in high-grade flour milling production. It can decrease the temperature of the material. Compared with the wheat mill plant without purifier, both the color and quality of final flour will be greatly improved after purification.
Get In Touch
24/7 Support
We receive enquiries in English, Español (Spanish), Русский язык (Russian), Français (French) and العربية (Arabic) . Our professional team will reply to you within one business day. Please feel free to contact us!