Maize is one of the most important food in Africa, Asia and other regions. Setting up flour mill project for maize flour in Africa or exporting maize flour to Africa have been popular business. As a leading flour mill plant manufacturers, ABC Machinery has complete analysis about global maize flour processing industry and we have wide range product catalogue that can meet different customers' requirements for maize flour milling business. Welcome to contact us to get more real cases of maize flour milling machines and we promise the most favorable price!

5TPD Mini Corn Maize Milling Plant for Sale
5TPD Mini Maize Flour Milling Plant Ordered by USA Customer
Recently, one customer from America purchased a set of mini maize flour milling plant for his corn flour production business. Before, the customer always bought corn flour and then sell it to Africa. But, now he wanted to setup his own flour production line to produce corn/maize flour for sale. (Read more: Corn Processing Plant Cost >>)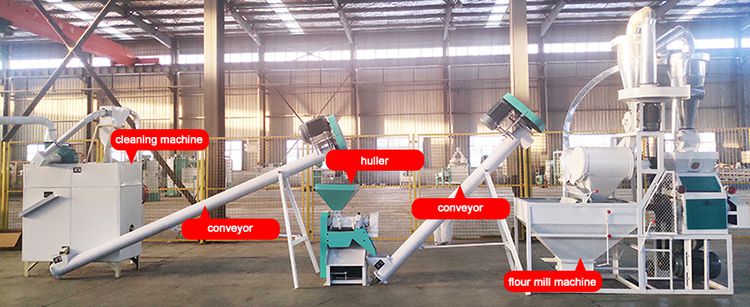 5TPD Mini Maize Flour Milling Machine Set to USA
According to his requirement and flour mill investment cost, we recommended him to buy our new type mini maize flour milling plant that consists of a combined cleaning machine, screw conveyor, maize/corn peeling machine and FC-40 small flour milling machine. The final product is 20-30 mesh maize/corn flour that will be sold in African market.
The complete set of this maize flour milling machine was carefully checked by our engineers at our factory before shipping to the United States. (Read more: Price of Maize Milling Machines in Uganda >>)

Advantages of Mini Corn/Maize Flour Milling Machine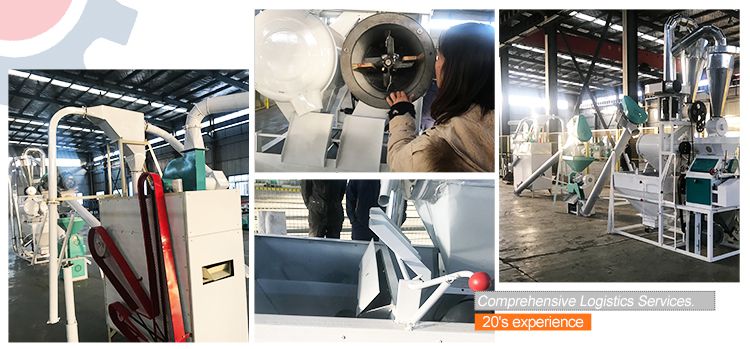 Mini Maize Flour Milling Machine for Sale
The stream lined modular design adopts the processing technology of grain cleaning, two peeling and one polishing, and the entire processing process is automated.
The main components of the equipment are made of patented alloy materials that meet export standards, which guarantees production efficiency while also taking into account the long-term stability of maize flour milling equipment, so that no much cost is spent on repairs.
The maize flour milling machine is designed with small power, high efficiency, and simple operation, low cost and convenient maintenance, very suitable for the new starters to start new business. (Read more: Small Wheat Grinding Machine >>)
The maize flour milling machine involved in this complete maize flour milling plant is our company's patented corn grains and alone equipment. The machinery has not only gained the trust of domestic users, but also broke through the barriers that domestic machinery cannot enter the European and American markets due to low technical levels. The products are well received in the United States, Italy and Russia.
If you have any idea of buying our small maize flour milling machine, please contact us, we are offering the best service for you!
Corn/Maize Flour Milling Process
To set up a mini maize flour milling plant for business, knowing the maize flour production process is necessary, which can help you get clear ideas how to buy your own maize processing machinery according to your actual conditions. (Read more: 80TPD Maize Flour/Grits Processing Plant in Uganda >>)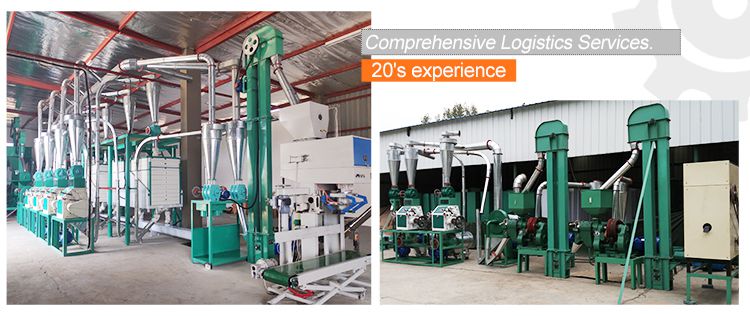 Setup Maize Flour Milling Plant
Maize Impurities Removal Process
When the corn kernel enters the machine, first go through fine sieve, the sand or other impurities smaller than corn will be screened out and discharged from the taphole. Then, it enter coarse scren to screen out impurities that are bigger than corn, like corn cob particles, these impurities are also discharged from taphole.
Maize Breaking & Embryo Process
On the outlet of storage barrel, there is a baffle to adjust discharging flow. When corn get out, they will enter slag mill for milling, so that some corn skin is separated from embryo. After that, broken corn is delivered by the elevator into embryo selection equipment. Inside it, corn skin and embryo are separated and expelled from different outlets.
Finished Maize Flour Classification
The corn flour milled by flour milling equipment is sucked by suction fan and delivered into double bin sieve for sieving, and the corn flour that meet standards will be ejected by suction fan for weighing and packaging. While the corn flour that does not meet crushing standard will be screened out from double bin sieve and then delivered by suction fan into corn flour mill for further grinding.
Complete Set of Small Maize Flour Milling Plant for Sales
5TPD mini corn maize milling plant set sold to USA – buy high quality corn/maize flour machine for maize flour making: HOT sale mini maize flour milling plant offered by maize milling machine manufacturer or supplier, guide on process of maize flour production and how to start maize flour milling business with limited cost in Tanzania, Egypt, Morocco, Ghana, South Korea, etc.