Changes to global supply chains brought on by the crisis in Ukraine, as well as increased demand across Europe, have seen United Kingdom producers and suppliers urgently switch to alternative sources of imported wood pellets to ensure minimal impact on the biomass heating market, a sector that currently sees U.K. demand for premium grade wood pellets reaching 600,000 tons per annum. In order to prevent shortage in the next year, UK should to take measures to get more wood pellets, which provides an opportunity for wood sawdust pellet manufacturing business. As a leading biomass pellet machinery supplier, ABC Machinery also keep an eye on the global situation and is ready to provide more supports. (Read more: 1TPH Wood Pellet Production Line Setup in UK >>)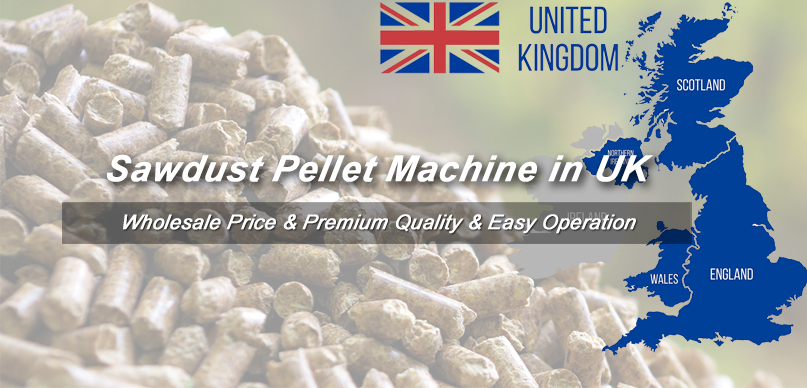 Wood Sawdust Pellet Milling Machine for Sales
If you are doing a significant amount of woodworking of any kind, you probably have an abundance of sawdust. At best this can be a mild inconvenience, at worst it could be a fire hazard or potentially jam machinery. You should consider getting a sawdust pellet mill to automatically turn your sawdust into useful pellets that can be used or sold for heating and other purposes. With the increasing interest in "low-carbon life," being green and saving energy, wood pellets are an ever more increasingly in-demand heating fuel. You might even want a sawdust pellet mill not to get rid of unwanted sawdust but purely to make pellets. (Related post: How to Make Wood Pellets from Sawdust?)
Sawdust Pellet Machine for Sale in UK
There are many different biomass pellet machinery for UK market, from industrial ones that can pelletize ten tons per hour to portable small sawdust pellet machine that can process between 50-600 kg (110-1322 lbs) / hour. For home or small business use, you probably want one of the smaller portable sawdust pellet mill due to cheaper price and easy operation. (Latest news: Customized Sawdust Pellet Machine for Sales >>)

The portable sawdust pellet machine is flat die designed pellet mill, and can be powered by electric motor, diesel or gasoline engine, or power-take-off (PTO). A portable flat die sawdust pellet mill is small and relatively light in weight, which allows you to move it to whichever saw-dust causing machine is currently in use, or out of the way when not in use, or even to someone else's facility to pelletize their sawdust.


Sawdust pellet mill is an extremely useful piece of machinery anyone that either has a lot of sawdust or needs a lot of pellets should have on hand. To produce a large amount of sawdust only to allow it to blow around and get in the way is clearly wasteful when it can be made into a valuable product. Similarly, why continue to buy pellets at a high price when you can make them yourself and even sell them for that same high price? In this hard-pressed time, having another product to sell, pellets, is an appealing prospect to any business.

Reasons to Buy Small Sawdust Pellet Mill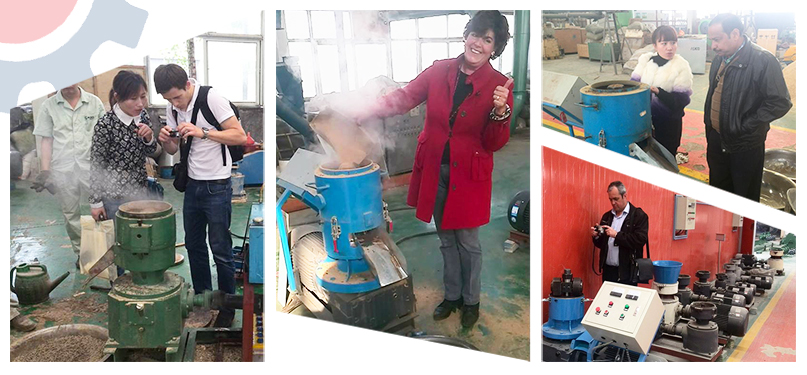 Sawdust Pelletizer Machine Manufacturer for UK Customers Visits
Simple construction, easy operation, high capacity, low energy
Screw-center adjusting pressure structure, which makes the small mill practical
Visible chamber makes it easy to see if there's a jam or just note the progress
Equipped with a clutch and accelerating/decelerating device for adjustable speeds
Adjustable compression rate to meet different pelletizing requirements, such as coarser material.
Dependable continuous operation.
Low energy consumption and maintenance requirements/costs
Sawdust Pellet Machine Applications
Small sawdust pellet machine is the core equipment to set up a small scale biomass pellet plant for farm or business use. It can help to lower the biomass pellet project cost to some extend.
Small scale pellet production;
Wood pellets can be used heat a stove or boiler, or for animal bedding;