Project Name: Wood Pellet Production Equipment Line
Plant Location: Redruth of Cornwall, UK (the United Kingdom)
Raw Material: Wood Wastes from local wood processing factory, along with some grass wastes
Production Output: produce 1 ton wood pellets per hour
Pelletizing Process: Wood chipping and crushing, drying, pelletizing, pellets cooling and packaging.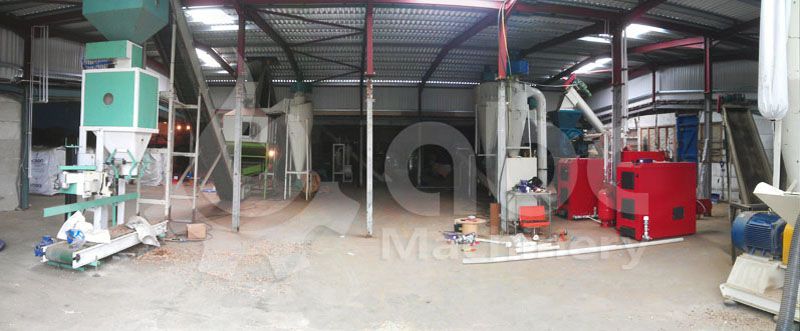 Full View of the Wood Pellet Production Line

Photos of the Wood Pellet Production Project
The following wood pellet production equipment is designed and manufactured for one of our clients in UK. His raw materials are getting from the local wood processing plant. According to the client's specific situation, this project adopts wood chipping and crushing all-in-one machine and new type double-cylinder drum dryer, so that to reduce initial investment cost and occupied area. (Similar Project: 1 TPH Wood Pelleting Plant in Italy)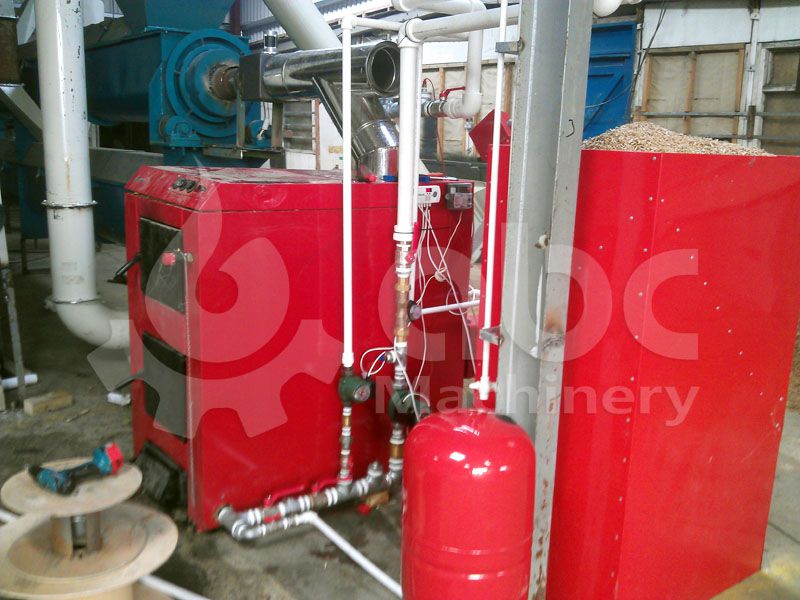 Wood Pellets Boiler for Drying System

Facts of Wood Pellet Production Equipment
Energy pellets are alternative solid fuels produced from various types of lignocellulosic materials (biomass). Biomass includes material from the exploitation of forests, wood industry, agriculture, as well as cuttings from vineyards and orchards. This, increasingly important energy product, significantly gained its popularity in the past few decades, due to its environmentally-friendly character and renewable nature.

In order to obtain solid and high-quality pellets from these materials, all raw materials must be crushed, dried and pelleted in pellet production machines. During the mechanical pressing process, permanent irreversible thermoplastic material deformations occur.
There are several different types of biomass pellet equipment. Similarly, there are various biomass pellet production machines. They depend on the pellet machines technology, type of materials used and required product outputs in terms of quantity and type of the product. Generally, it is important to understand the production technology in order to choose the best pellet machine for your wood pellet plant.
Ring Die Vs Flat Die Pellet Machine
There are two main types of the biomass pellet machines: ring die and flat die.
Flat die pellet machines are usually smaller and cheaper than the ring die ones. They are lightweight and easy to maintain. On the other hand, this type of machines is not suitable for large-scale production. They consume less energy than the ring die machines, but the productivity is lower as well.
On the other hand, the ring die pellet machines are generally more productive and energy efficient in the same time. Buyers choose them if their production preferences are large-scale. They are more expensive, but more durable as well.
Flat die machines have the adjustable pressure option, while this feature is rather limited when it comes to the ring die machines.
In conclusion, the most important thing when buying a wood pellet production equipment is the capacity, i.e. targeted output and the material used. Families and small producers who prefer using flat die type. Large-scale producers should always opt for ring die machines.