Project Name: 80 Tonnes per day wheat seed processing plant
Client: Sunrise flourmill company
The size of workshop:30m*8m*3m three storeys
Processing Grain: Ethiopia wheat
Flour Extraction Rate: 70-75%
Cost of the Whole Plant (Equipment Only): Around $200,000
Construction Year: Built in 2011 (It had been running for more than 5 years till 2016)
Power: About 260 KW, Adopts 7 sets of FMFQ60 roller mill machine.
The number of the workers: It needs 3 shifts per day; every shift needs 6-8 workers.

---
This is one of our Ethiopia Clients who are plan for a turnkey flour mill project plan for small wheat seed processing. View the following description to get a basic understanding of this project, or you are welcome to get in touch with us for detailed info (info@abcmach.com).

Cleaning Section
The cleaning part of this wheat seed processing plant adopts 3 sifters, 2 scourers, 2 stoners, 1 washer, 2 magnetic selectors and add up to 10 courses of technological process.
Milling Section
"4B5M1S1T" systems and has 14 courses of technological process of grinding.
Set Up Your Own Small Wheat Seed Processing Plant
Wheat is a kind of cereal that is produced originally from Levant region of the Near East. It gained the third place in the most-produced cereal after maize and rice. The ratio of the production is huge covering tons of the daily capacity less than 100 tons after the small scale of wheat flour. There are lots of ways to finalize the production and this include the sifting of raw wheat, destoning, wheat scouring, magnetic separation, wheat washing, and wheat dampening. The process had its first touch in entering the mill chamber, the clean wheat seeds are then be grinded followed by the classification of the qualified wheat flour for its final plan sifters.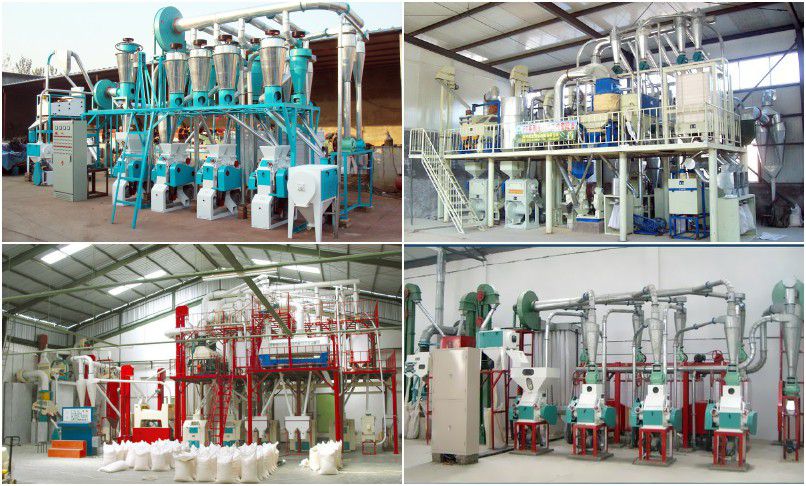 Some of Our Small Wheat Flour Processing Plant
Don't hesitate to contact us if you are interested in grain processing machine or plan to start you own wheat / corn flour making business. We are always at your service!
Features of Our Wheat Seed Processing / Flour Milling Plant
Advanced and mature technology. ABC Machinery had reached its 20 years of production experience in wheat flour including the equipment craft manufacturing and tens of production lines at home and abroad.
Equipment runs stably and has low failure rate. Failure rates are very low because of the adoption of high engines in manufacturing of corn with special equipment. Also is the performance of bearing and motors in an international famous brands.
Long lifetime of processing equipment.
Turn-key project. This is a turnkey wheat flour manufacturing / milling solution includes a professional remote real-time technical guidance and fault maintenance services in addressing the demand of the customers.

We are also in charge with designs, manufacturing, installation, and commissioning and training of the whole production line.
With the said processes of small automatic flour mill plant for wheat seed, the quality of the service is in demand. It meets the requirements of the user resulting to a quality finished wheat flour product. In line with the wheat seed processing plant, features could also be considered having advanced technology, reasonable and perfect equipment combination, low ash content, high flour yield rate, low power consumption, and totally satisfying user's demands. Definitely the most sensitive operation yet a sweet one.