ABC machinery is a comprehensive enterprise specializing in the manufacturing of Flour Mill Machinery, which integrates design, production, manufacturing and sales. Our main flour processing equipment are all kinds of grain grinder machine, flour milling machine, grain cleaning machine, etc.. Our company, with unique design concept, excellent equipment, advanced grain cleaning and milling technology, strive to meet the different needs of all walks of life. Our wheat processing machine can help you to gain a place in the fierce market competition. (Related Post: Wheat Flour Mill Business Plan >>)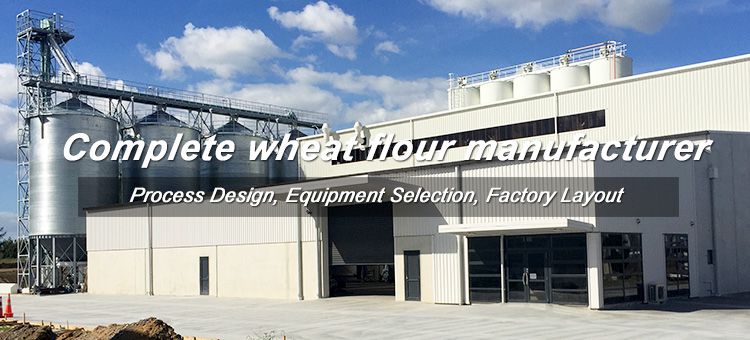 Complete Wheat Flour Production Line
Wheat Flour Production Process and Machinery
At present, the common method of wheat flour production in the world is to break wheat grains, grind them gradually, scrape off the endosperm part of the bran, and grind the endosperm into flour of certain fineness. The endosperm was separated from wheat skin and wheat embryo. Due to the tight and tough tissue structure of wheat cortex, and the relatively loose and soft tissue structure of wheat endosperm, under the same pressure, shear force and cutting force, the particle size of the two after grinding will be different. Screening is to distinguish the cortex and endosperm flour with different particle size, so as to achieve the purpose of removing bran and preserving flour. (Related Post: Cost of Setting up a Flour Mill >>)

Wheat flour production process in wheat flour mill plant mainly includes wheat cleaning section, wheat flour milling section, flour packaging section.

Wheat Flour Production Process
Main Wheat Flour Production Machinery
The machine for flour production has cleaning equipment, flour milling and packaging machine. It is impossible to produce wheat flour by a single wheat flour making machine because the wheat has to go through the cleaning equipment before grinding. The main wheat flour production machinery
Wheat cleaning equipment in the complete wheat flour mill production line includes vibrating sifter, rotary sifter, destoner, washer, tempering machine, etc.. In order to ensure the profits of wheat flour milling business, it is recommended to equip wheat cleaning equipment for the factory.


Direct selling cleaning machine

Wheat Flour Milling Machine
Wheat seed processing plant for flour milling usually has pneumatic mill, high plan sifter, purifier, bran finisher, impact detacher, etc. These equipment are extremely important to guarantee automatic and efficient flour milling production process.(Related Post: Wheat Flour Mill Plant Layout >>)


Hot Sell Flour Mill Machine
Wheat Flour Packing Machine and Auxiliary Equipment
Produced wheat flour is generally packed with automatic quantitative packing machine for storage and sales. In the wheat flour mill plant, bucket elevator and screw conveyor are the most commonly used equipment for materials transportation.


Ex-factory Price of Packing Machine
Complete wheat flour mill production line requires different wheat processing equipment to ensure the production efficiency and final quality of produced wheat flour. For many people who are lack of experiences in wheat flour processing, getting understand the complete set of wheat production equipment would be difficult. If you have any questions, please contact us, our engineers and sales will try the best to help you!

Rheoloical parameters of wheat flour, at the mixing stage of the mixolab

| Flour | Substitution (%) | Water absorption (%) | Development time (min) | Development (CI)(Nm) | Stability (min) | Mechanical weakening (Nm) |
| --- | --- | --- | --- | --- | --- | --- |
| wheat | 0 | 61.93±0.1b | 6.21±0.09b | 1.12±0.03a | 8.58±0.41b | 0.08±0.01a |
Wheat Flour Production Plant Setup Cost - 10~300TPD
The price of a complete wheat flour production line is determined by the combination of wheat flour production equipment. The price of mini wheat flour mill machinery is about $3,000 around, and the price of complete set of small and medium sized flour mill plant is about $10,000 and higher. The price of complete set wheat flour mill production machine is determined by the equipment model and the corresponding supporting cleaning equipment. (Read More: Flour Mill Project Report >>)

10~300TPD Wheat Flour Mill Processing Plant by ABC Machinery
► 10~30TPD Small Scale Wheat Flour Mill
► 30~150TPD Medium Scale Wheat Flour Production Line
► 10~300TPD Large Scale Wheat Flour Mill Processing Plant

When you consult the price of a complete set of flour mill production line, it is better to declare your requirements clearly to get the accurate equipment price. If you are interested in our complete wheat flour mill production line and want to know the exact setup cost, please contact us for details!


Working Video of Complet Wheat Flour Mill Plant
Solutions for Main Wheat Flour Production Problems
How to Ensure Wheat Flour Processing Equipment Efficiency?
Wheat flour production machine is a kind of equipment with high degree of automation. In the process of wheat processing, it is used more frequently and worn more often, so it is likely that the temperature will rise. When high temperature occurs, we need to solve it, otherwise our flour processing equipment will be interrupted, which has a great threat to our production and development. The high temperature of the flour mill plant of flour processing equipment, which may be caused by the insufficient lubrication effect and the increase of friction times of the equipment. So, we need to make proper sealing and lubrication. Only reasonable lubrication and sealing can ensure normal operation. At the same time, good maintenance can also make its life longer and save production costs.

How to Solve Low Output of Wheat Flour Machine?
The low yield of wheat flour production machine has many reasons, here we listed three of the main reasons that casues low output of wheat flour milling machines.
Uniformity of wheat grains: When there is a big difference in the granularity of the flour machine, some small grains will not be ground, so the yield will decline.
The mesh number of grinding is too high: Because the mesh number of flour is required to be too fine, the bearing capacity of flour machine is increased, and the subsequent flour screening also increases the bearing capacity of the sieve, so the resulting flour output is reduced and the time is lengthened.
High Water Content: Too high water content of wheat will also cause the decrease of flour yield.
How to Control the Quality of Wheat Flour?
In the milling process, according to the different adjustment of the screen, the quality of the processed flour will be different: if there is more screen, the flour is finer, if there is less screen, the flour is thicker. In addition, if the gap between two rollers is large, the processed flour particles will be larger and the fragrance will be stronger; if the gap between two rollers is small, the processed flour particles will be smaller, and some nutrients in the middle will be destroyed under the action of mechanical force and high temperature, such as carotene. In order to improve the nutritional value of flour, low-speed and low-temperature grinding is recommended. Although the efficiency will be reduced to a certain extent, the nutrients contained in wheat grains can be fully retained at low speed, and the structure of flour grains will not be affected due to heating, thus preserving the original nutritional ingredients and taste of wheat. Whether the flour processed by the machine is delicious or not is not only related to its rotation speed, but also closely related to the milling accessories of the complete equipment of flour milling machine.