Openning a flour mill is known as a hot business project with high returns in recent years, especially in big wheat producer. The TOP 10 wheat producers are China, India, Russia, United States, France, Austrialia, Canada, Pakistan, Ukraine and Germany.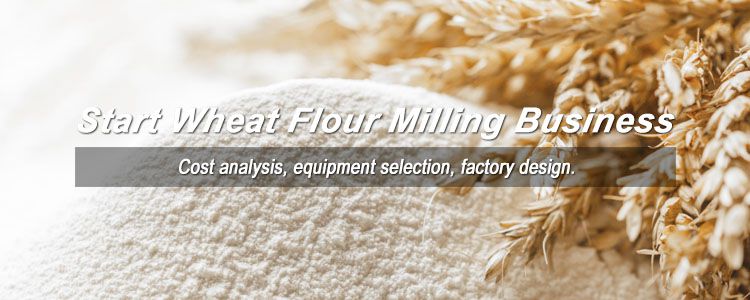 Guidance on Starting Flour Mill Business
In order to become a popular and top wheat flour factory and supplier in your local area, there are many thins you should do or need to know when starting your business plan. Before starting grain processing or wheat flour milling business, it is necessary know about the global wheat planting distribution, price trend, wheat milling process & technology, local wheat flour market and investment situation of establishing a wheat flour making plant, so that to minimize the production cost and maximize your earns after your flour mill goes into operation. (Read more about how to start wheat flour mill factory? )
Cost of Setting Up A Wheat Flour Mill?
The amount required to start a flour mill is greatly related to the production output. Setup an industrial scale flour mill cost a lot more that open a small flour mill. For 10ton/day small wheat flour milling unit for Farmers, the equipment price is about $9200 (including the cost of grain milling machine, steel frame, electric control cabinet and cable laying). Read more about wheat flour mill setup cost here >>
Photo Display: Wheat Flour Mill Project Reports
For the ones who want to know more about flour mill layout design and equipment selection, here are some commercial flour mill project reports for references. Just feel FREE to contact us for any questions of running wheat milling business or inquire for the latest price of our wheat flour making machine!


10-20 ton/h Wheat Flour Mill Machine for Small Business



Industrial Flour Milling Factory



Equipment Details
As an experienced flour milling equipment manufacturer, we have help many clients start their flour making business. See more flour mill projects and grain processing plant we have built (including project for durum wheat, soft Wheat, maize, cassava, etc).
Video Display: Running of 160ton/day Fully Automatic Wheat Flour Mill
How to Start Wheat Flour Mill Business Plan?
Starting wheat flour mill business plan or openning a mini flour mill is actually not an easy task. Here ABC Machinery will give your some tips on how to start a profitable wheat flour milling plant step by step!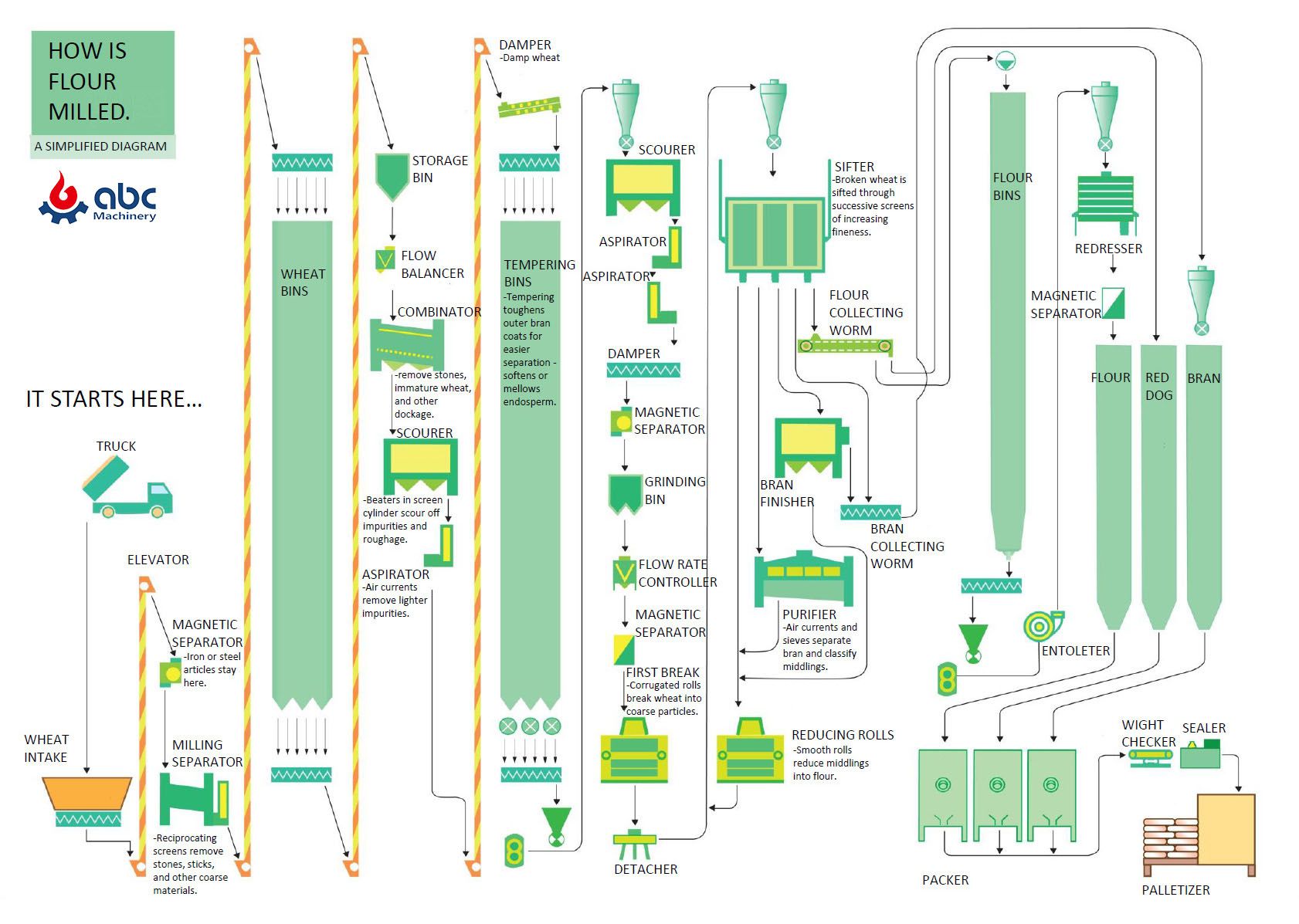 Modern Flour Milling Process Flow Chart
Many businesses fail when they are started only because the owner started the business without having a good business plan. If you are out there and you want to start a business, you must, first of all, have a good business plan. There are a few information you need to put into consideration if you want to start a wheat mill business. First of all, you must have a wheat flour mill business plan that will guide you. To come up with a good wheat mill business plan, you must consider several factors:
You must research thoroughly on the trends of a wheat mill business. You must check out the price of buying the wheat and also the cost that you will incur when producing the wheat flour mill. Go on and check out some growing wheat mill company and find out how they sell their product and where their customers are located.
Also, investigate on their method of production and see the machines they use so that you may not buy old and outdated machines. Once you have seen where your consumers are it is upon you to go and check the best place where you will be buying your raw products within your cost range.
Choose a Suitable Location
If you want to make some profit, then you need to choose a suitable location where there are wheat consumers. You may opt to set up your company near to a bakery, and by doing this, you are bringing the product nearer to the consumer.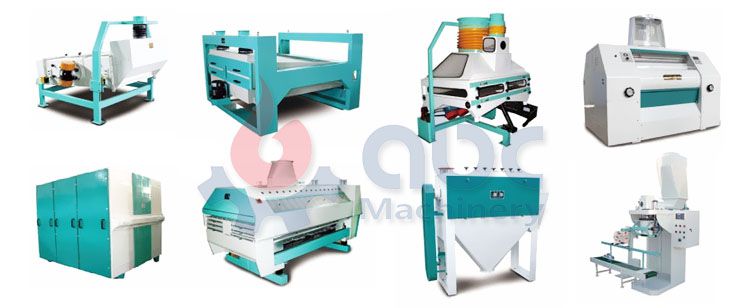 Wheat Flour Machine for Business
When choosing a location make sure you consider your customers and also consider yourself too. It is not appropriate to bring the product near to your customer yet you will incur more cost for transporting the raw material. So when choosing make sure there is a lot of consumers, and there is a place you can get continuous raw materials to sustain your business.
State the Roles and Responsibilities of Every Employee
That is a very crucial thing. If you want to gain profit from your wheat processing plant, every employee that you employ must have his/her duties and responsibilities. In case of a loss, you will quickly identify which department is not doing its work well.
Having done that, you will be able to identify your strengths, weakness, opportunities, and threats. Before employing people, you must have a specific number of employees that you want to hire. Employ by merit to get good results.
If the place your wheat firm is there is stiff competition, you must have a unique way that you will use to outdo the other firms. You must have a competing tool that is you may sell your products at a lower price than the other firms or sell your product on credit to trustworthy customers. You must also have a suitable method of advertising for your product depending on the budget plan you have.
Before starting up any business including wheat flour mill business, you must have a goal that will motivate you. You must know what you want to achieve after starting up. Have a mission and a vision that you want to accomplish after starting the wheat flour mill business.