As economic report indicates that poultry feed has great market potential in Nigeria, especially with the support of local government. So, it is great opportunity to have poultry feed milling business in Nigeria, or if you are in poultry industry, it is also cost-saving effort to make high quality feed for your own poultry. But how to make high quality poultry feed? Where to buy efficient and low-cost animal feed processing machine for poultry? There must have many questions about how to start feed mill plant for poultry. (Read more: Animal Feed Production Business Plan >>)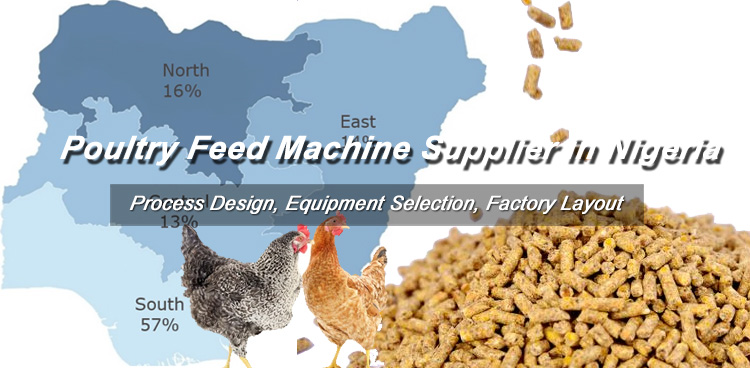 Start Poultry Feed Milling Business in Nigeria
Reliable Poultry Feed Machine Manufacturer in Nigeria – ABC Machinery
As the leading animal food processing machine manufacturer, ABC Machinery always stand with our customers. Our poultry feed machine has won good reputation in Nigeria market. In order to better help our customers to solve problems that may occur in their real poultry feed production in Nigeria, our professional engieers have been visited Nigeria in 2019.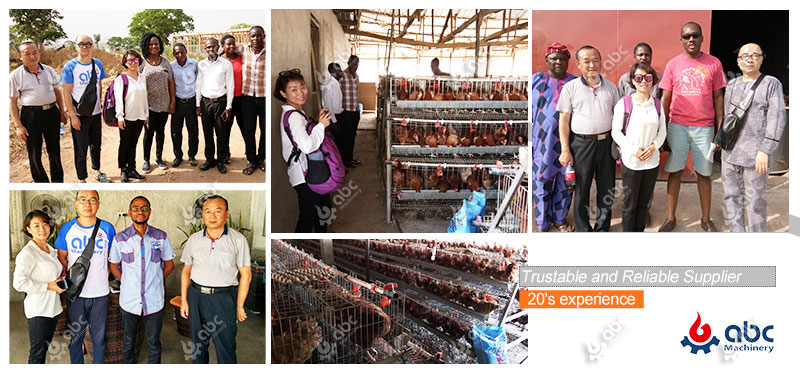 ABC Machinery Visited Nigeria Poultry Producer
Every year, we will export animal feed production machine to Nigeria, some were bought by distributors, some were purchased for setting up complete poultry feed mill plant for business, some for customers' own farms. If you are also interested in poultry feed making, just contact us to get professional suggest and accurate quotation!

Poultry Feed Pellet Production Plant Exported to Nigeria
It is small poultry feed pellet mill plant that is designed with full pelleted feed production process: crushing, mixing, pelletizing, cooling and packaging. It was bought by our customer to make chicken feed pellets for its poultry farm with the aim to lower poultry production cost and improve the quality and growth of chickens. Below offers some details of this poultry feed machine price for your reference.

1TPH Poultry Feed Pellet Mill Plant to Nigeria
Capacity: 1 ton per day
Raw Materials: grass and grains/cereals
Purpose: for poultry farm
Price: $24,000 around
Equipment: crusher, mixer, pellet mill, cooler and packaging machine.

Chicken Feed Making Machine Exported to Nigeria
This order was placed by one of our customers who is a distributor for our animal feed pellet machine in Nigeria.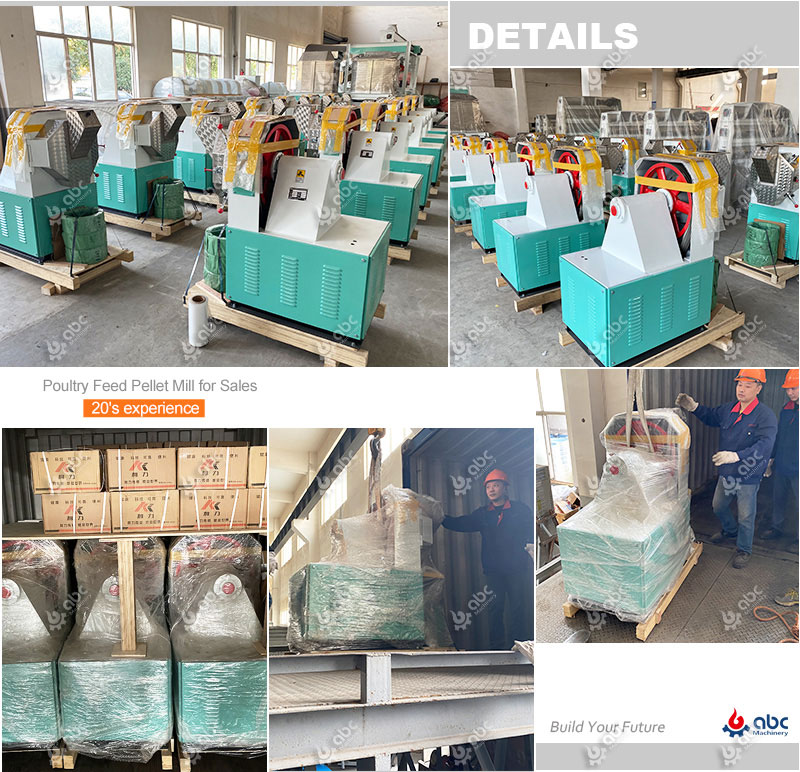 Chicken Feed Making Machine for Sales in Nigeria
Equipment: SZLH25 ring die pellet mill
Raw Materials: corn, bran, soybean meal and more.
Purpose: for sale
| Model | Capacity | Main Motor Power | Feeding Motor Power | Conditioner Motor Power | Diemeter of Ring Die | Diameter of Final Feed Pellets |
| --- | --- | --- | --- | --- | --- | --- |
| SZLH25 | 1.0~2.0T/H | 11KW*2 | 0.75KW | 2.2KW | 250MM | 2~10MM |

Business Opportunity: Nigeria Poultry Feed Market
In an effort to boost domestic egg and poultry meat production, expand the domestic poultry market and encourage the recovery and increased production of chicken, egg, turkey and poultry products, the Nigerian government has recently introduced a series of industry regulatory measures, particularly in poultry feed production, handling, packaging, labelling and marketing. The Nigerian Institute of Animal Science (NIAS), the country's national body, has issued new guidelines aimed at streamlining Nigeria's US$2 billion animal feed industry. NIAS estimates that poultry feed accounts for nearly 70% of the total cost of running a poultry business. Nigeria hopes to use the 2017 feed processing regulations to streamline the manufacture, importation, advertising, marketing and distribution of feed to ensure compliance with international poultry industry standards, thereby contributing to increased production in the poultry market.
Despite efforts to improve the performance of the poultry feed market, Nigeria has increased its egg and poultry meat production to 650,000 tonnes and 290,000 tonnes respectively and remains one of the most expensive countries in the world for poultry feed, just like countries such as Haiti, Cuba, Yemen, Seychelles and Armenia. With increased levels of compliance with feed processing regulations in 2017, increasing restrictions on the import of chicken and poultry products have created market opportunities for Nigeria to help overcome the challenges facing its poultry industry, such as low feed conversion rates linked to a lack of quality ingredients and the uneven distribution of eggs and poultry meat across the country's 190 million people.