Milestones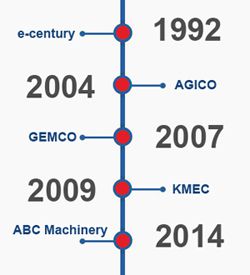 1992 AGICO grew out of Henan E-century Electronic Commerce Co., Ltd., the main business scope was to assist manufacturing enterprises in expanding international market.
2004 Anyang General International Co., Ltd. (AGICO) was set up in 2004, mainly engaged in import and export of grain & oil processing equipments, biomass energy equipment, and agri-food. AGICO is also an agent of import and export business.
2007 Established in 2007, Anyang Gemco Energy Machinery Co., Ltd. (GEMCO) built modern factories, concentrating on the R&D and manufacturing of pellet mill, briquetting machine and other related biomass densification equipments, transforming agricultural and forestry waste into sustainable green energy which can be a substitute for coal, oil, and natural gas.
2009 Henan Kingman Mechanical & Electrical Complete Plant Co., Ltd. (KMEC) was founded in 2009, concentrated on providing total solution of turnkey projects for edible oil milling, flour milling,feed milling and grain processing.
2010 Henan Anson Steel Co.,Ltd Co., Ltd. (ANSON) was founded in 2010, mainly engaged in import and export trade of steel and its deep processing products.
2014 Northern Henan Cross-border E-commerce Industrial Park: By operating the Northern Henan Cross-border E-Commerce Industrial Park in 2014, our mission is to promote more products from the small and medium-sized enterprises (SMEs) in Anyang to international market through E-commerce way.
ABC Mach (GEMCO & KMEC)
Anson & Ourway
Food & Chemical Department
New Product Department
Cross-border E-commerce Industrial Park