ABC Machinery, as a leading pellet mill machine manufacturer in China, has been in pelletizing technology since 1997. We have built professional team in R&D, production, sales, installation and commissioning. Our scientific and strict management system has heped us to supply complete turn-key projects in biomass pellets manufacturing and feed pellet processing. We sincerely welcome customers from all over the world!


Buy Pellet Mill from Reliable Manufacturer
Since establishment, our pellet mill machines have been sold to over 80 countries and we have successfully helped our customers set up complete biomass pellet mill plant in at least 30 regions. Now, we have clients throughout the world, especially in the United States, UK, Latvia, Russia, Slovenia, France, Italy, Portugal, Uruguay, Bulgaria, Australia, Colombia, Chile, Brazil, Morocco, Vietnam, Thailand, Malaysia, Singapore, Indonesia, Tunisia, Algeria, Uganda, Kenya, etc. If you are interested in saving cost on setting up biomass pellet plant or just buying single pellet mill at factory price, please contact us for detailed technical parameters and price list!

Flat Die & Ring Die Pellet Mill Manufacturer
Flat die pellet mill is a small pellet mill press machine that adopts two-stage transmission with belt and worm gear to ensure smooth and low noise rotation. Its feeding relies on the material's own gravity to avoid blockage, the speed of the spindle is about 60rpm, the linear speed of the pressure roller is about 2.5m/s, which can effectively remove the gas in the material and increase the tightness of final produced pellets. (You may also like: Portable Pellet Mill for Sale >>)
Compared to flat die pellet mill, ring die pellet machine is different type of pellets production equipment. It has higher production capacity and more suitable for industrial pellet mill plant setup. (Read more: Wood Pellet Production Line Price >>)

Differences between Flat Die Pellet Mill and Ring Die Pellet Machine
Feeding method: The ring die pellet mill dopts mechanical forced feeding, high-speed rotation and centrifugal distribution into the pellet chamber, and the material is distributed by the scraper, and the feeding is uneven; The Flat Die Pellet enters the pressing chamber vertically by the weight of the material itself, and can feed the material evenly.
Pressure: In a mold with the same diameter, the diameter of the ring die pressing wheel is limited by the diameter of the ring die, so the pressure is limited; the diameter of the flat die pressing wheel is not limited by the diameter of the die, which can increase the space for the built-in bearing, Use large bearings to enhance the bearing capacity of the pressure roller, which not only improves the pressing force of the pressure roller, but also prolongs the service life.
Discharging method: The ring die belongs to high speed, and the breakage rate is high when the material is discharged; while the flat die belongs to low speed, and the breakage rate is low.
Pressure wheel adjustment method: The Ring Die Pellet uses two screws on the eccentric wheel in the middle of the pressure wheel to adjust the pressure; The Flat Die Pellet adopts the central adjustment mechanism of the screw thread, with a jacking force of 100 tons, stable falling, soft touch and uniform pressure. There are two ways of rotating manual and hydraulic automatic adjustment.
Biomass Pellet Plant Supplier
ABC Machinery has many strengths in the biomass pellet equipment industry in China, especially in the development and manufacture of pellet mills, spare parts manufacturing and conveying design. We currently have a large scale die forging workshop, the most advanced vacuum quenching furnace for ring dies in China and a complete production chain consisting of several auxiliary equipment manufacturers.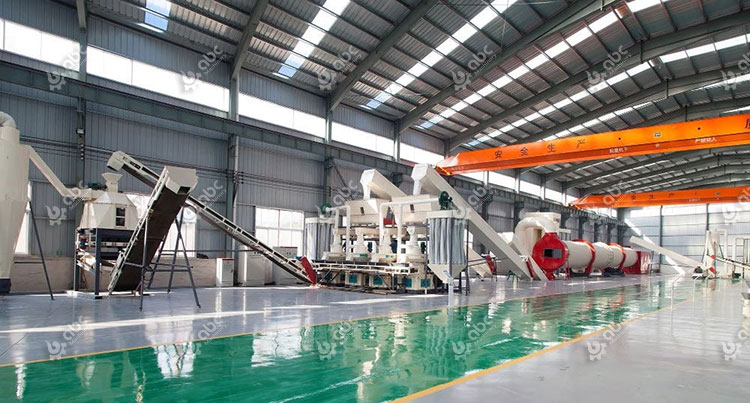 At the same time, we have built a first-class team to help inexperienced customers in biomass pelletizing field to achieve independent production. We can help customers on biomass pellet plent setup, including factory design according to their specific requirements output, raw material use, site conditions with our complete service package of project evaluation, installation, training and maintenance.
Biomass Pellet Mill Plant Project Undertaken by ABC Machinery
ABC Machinery is your partner for high quality and high-performance biomass pellet mill. Additionally, we offer technical support for household and commercial wood pellet manufacturing with professional advises in project plan, factory design and investment cost analysis, etc. People who are interested in biomass fuel pellet production can contact us or visit our factory anytime.