Biomass pellets, an emerging source of biomass energy, are comparable to coal and are becoming hot investment project around the world. Its uses include:
1. Civil heating and domestic energy: clean, non-polluting, easy to store and transport;
2. Industrial boilers and furnaces: replacing coal and gas, solving environmental pollution;
3. It can be used as fuel for gasification and thermal power generation.
So, how to make wood burning pellets for industrial or home use? How much money required to make your own pellets for home or what is the total investing cost to start biomass wood pellet manufacturing business?


How to Make Pellets from Biomass Waste?
The raw material for biomass pellets manufacturing is very wide: crop straw, peanut shells, fruit shells, grass, wood chips, logs, branches, leaves, wood processing plant waste material, etc. are all good materials for biomass pellet making. (Related post: Making Wood Pellets for Profit >>)
If you are going to make your own wood pellets for home uses in small capacity, only one or two sets of biomass pellet processing machines can achieve, including crusher and wood pellet mill. (Read more: Guide for Building Small Pellet Mill Plant >>)
If you are going to start wood pellet manufacturing business or produce wood pellets in medium or large scale, the production of biomass pellets is not possible with one piece of equipment alone, but requires a complete set of wood pellet processing equipment. The complete set of biomass pellet equipment includes crusher, dryer, pellet mill, cooler and more. If a larger output is required, then we also need a conveyor, a cooling machine and a packaging machine.
For more information about biomass processing, both biomass pellets and biomass briquettes, just contact us to get complete product catalogue and price list for reference!

How to Make Biomass Pellets? Steps & Machines
First Step to Make Pellets: Raw Material Crushing
The size of the crushed raw material is required to be below 5mm. To ensure that the size of the raw material can not exceed the size of the diameter of the pellet to be made and the size of the die hole of pellet mill machine. Otherwise, it will affect the output of the biomass pellet mill, or even not discharging material.
Second Step to Make Pellets: Materials Drying
The crushed raw materials will be dried, the moisture requirement is 8-15%. Too much moisture or too little moisture will affect the pellet forming rate, so that produced pellets can't be sold in the market or can sell at good price. If you feel bad about this control, you can buy a moisture testing instrument, which is very cheap and easy to use. By the way, we can offer FREE moisture testing instrument, welcome to contact us for more details.
Third Step to Make Pellets: Pelletizing
Thirdly, after the raw material has been processed, it is time for the pellet making stage. We have two kinds of pellet making machines, one is a flat die pellet machine and the other is a ring die pellet machine.
The flat die pellet mill is suitable for pressing materials with strong adhesion, such as crop straw. And, it is designed for small capacity wood pellets production, like farm use, home use or small scale business use.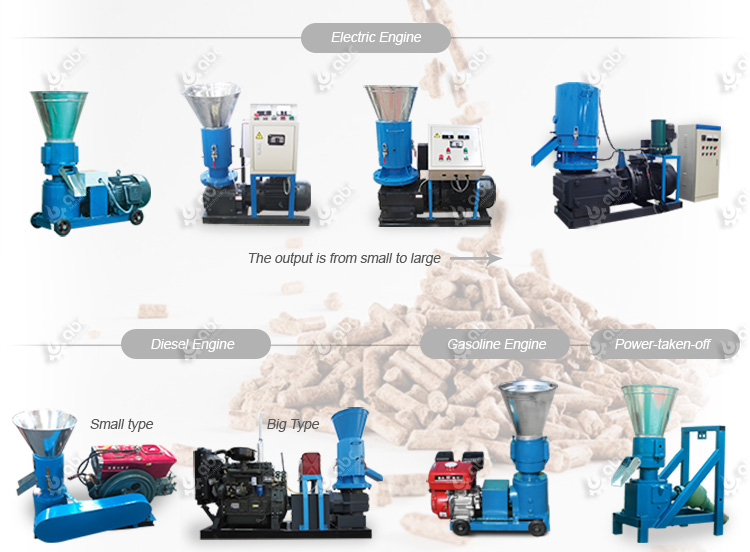 The ring die pellet mill has a strong pressure and is suitable for pressing materials with poor adhesion, such as wood chips. Additionally, it is designed for commercial biomass pellet manufacturing. The capacity usually ranges from 1~40TPH.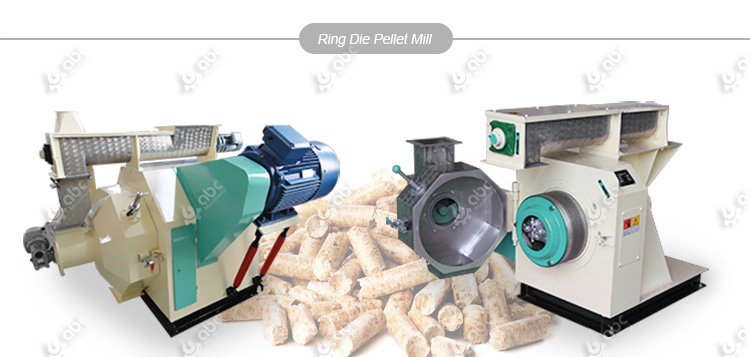 Regardless of the type of pellet mill, it is worth noting that the speed of feeding must be even, too slow will affect the output, too fast will be easy to block or dead machine. (Related post: Wood Pellet Production Line Price >>)

Fourth Step to Make Pellets: Pellets Cooling
The next is the cooling, wood pellets just made has high temperature, but do not use cold wind blowing, since it is easy to blow up, and do not stack, the pellets themselves are fuel plus their own temperature, it is easy to start a fire. The best way is to cool yourself, if the production is too large, you need to use the cooling machine for cooling. The cooling speed of cooling machine is very fast, which can ensure intact pellets. so it can sell well.
Final Steps to Make Pellets: Packaging
If you are using it for yourself, not for business purpose, just collect it directly after cooling, there is no need for packaging. If it is for sale, it will be weighed and packaged. Our packaging machine is a weighing and sealing multifunctional equipment, that is to say, the granules from the inlet into the outlet out of the mouth is already weighed important and has been bagged and sealed the finished product, very convenient. (Related equipment: Automatic Bagging Machine for Sale >>)
Wood Pellets Making Video

Cost of Wood Pellets Making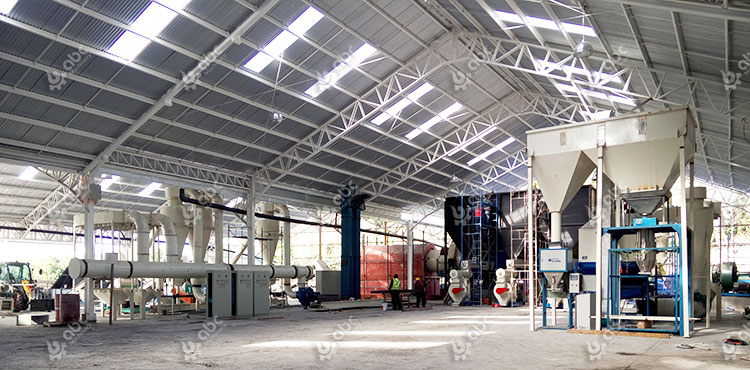 Commercial Wood Pellet Mill Plant at Low Cost
Although wood pellet machinery can be easily found in the market, the cost to setting up a complete wood pellet production plant is not cheap, especially for large production capacity. In generally, the total cost on wood pellet milling business involves cost for equipment, raw materials, energy, labors, equipment maintainence, etc. The cost of pellet mill plant designed and manufactured by ABC Machinery usually is expect to about $68,000 or more for per ton-per-hour capacity. However, this price is not absolutely, if you want to get an exact cost evaluation, just contact us and describe your detailed requirements, then our engineers will offer the quotation soon!
ABC Machinery, as leading wood pellet machine manufacturer, has helped our customers to set up wood pellet mill plant project in many countries to deal with different raw materials, including Thailand, Japan, Korea, Chile, Peru, Ghana, Russia, Morocco, Egypt, etc. Welcome to visit our factory and our project!