Corn Oil Making Machine Price In China
A suitable corn oil extraction machine can improve production efficiency, saving time and costs. Efficient corn oil making machine can process more corn, increasing yield and reducing production cycles. Moreover, if the press machine is equipped with advanced automation control systems and high-speed components, it can also reduce labor costs and maintenance expenses. And the quality of corn oil is closely related to the performance of the chosen extraction machine. Selecting a high-quality press machine ensures high-quality oil extraction, free from impurities, with excellent taste and nutritional value. And the quality of the oil directly impacts the market competitiveness and profitability of the products.
Types of Corn Oil Extraction Machines
Screw Oil Pressing / Expelling
Screw oil press is a common type of oil extraction equipment, which is suitable for extracting oil from all kinds of oilseeds. Its working principle involves separating oil by pressing the oil material through a rotating screw shaft. Large screw extraction machinery(Left) are usually capable of processing a large quantities of oilseeds and are suitable for corn oil processing plant. Small screw extraction machinery(Middle) can make smaller amounts of oilseeds and are more suitable for home or small-scale production use. Automatic screw oil extraction machine(Right) contains three functions, including heating, pressing and filtering. It is a combination of screw press and vacuum oil filter.


Sale Different Sizes And Automatic Oil Press Machine
| Type | Capacity | Net Weight (KG) |
| --- | --- | --- |
| Oil Mill(Left) | 30-1000TON/DAY | 10000 |
| Screw Oil Press Machine(Middle) | 40-800KG/H | 600 |
| Automatic Oil Press Machine(Right) | 40-800KG/H | 800 |
Solvent Extraction
Another method of corn germ oil extraction is solvent extraction. The method usually includes the following steps:
Pulverization: The corn kernels are ground into a powder form to increase the surface area.
Solvent Extraction: The corn powder is mixed with a solvent and undergoes the extraction process. The solvent dissolves the oils and extracts them from the corn.
Solvent Evaporation: The solution obtained through solvent extraction is evaporated to remove the solvent, leaving a concentrated solution containing corn oil.
Oil Separation: Through further processing, the residues in the evaporated concentrate are removed, producing pure corn oil.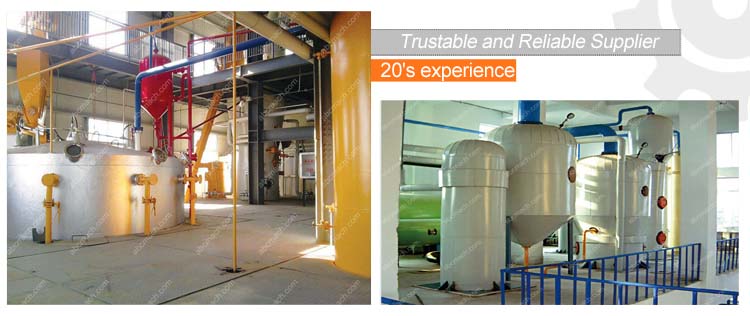 Corn Oil Rotary Extraction & Evaporation Process


Factors to Consider Before Buy a Corn Oil Extraction Machine
There are several important factors to consider before buying a corn oil extraction machine. These factors will affect the model and specifications of the corn oil extraction you choose to ensure optimal performance and adaptability:
First consider the type of oilseed you will be processing. Understanding the characteristics of corn, such as moisture content, oil content, seed coat hardness, etc. and buying an adaptable oil extraction equipment can make the extraction process more efficient and smooth.
Processing Capacity and Output Requirements
It is important to consider your processing capacity and output requirements. You need to determine the amount of corn oil to be processed daily or hourly and the required oil yield. This will help you buy the right size oil mill and ensure that it can meet your target output.
Productivity and Energy Consumption
The productivity and energy consumption of an oil press machinery is critical to operating costs and efficiency. Understanding the efficiency of the machinery, such as the amount of oil extracted per hour, the corn oil content of the residue and other indicators, can help you assess its productivity. At the same time, focusing on energy consumption and energy utilization and choosing an energy-efficient corn oil extraction machine is also a viable consideration.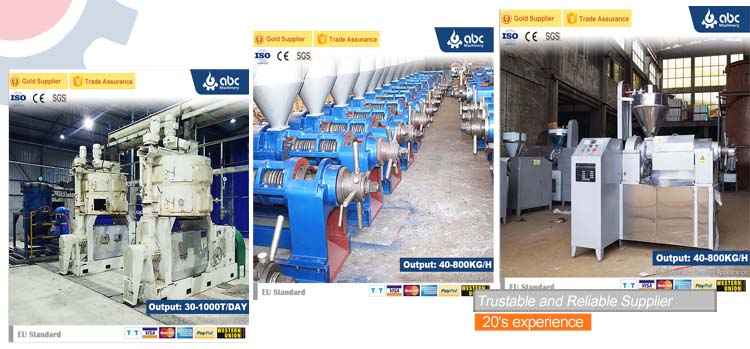 Edible Oil Press Machine For Sale
Oil quality and Process Requirements
If you have specific requirements for oil quality, such as low acid value, clear and transparent oil, or special aroma, you need to buy a corn oil extraction machine with corresponding process and technology. Some advanced equipment may have additional treatment processes such as filtration, deacidification, deodorization, etc., which can help improve the quality of corn oil.
Equipment Quality and Reliability
Buying a durable, high-quality oil press mill is important for long-term operating costs and maintenance costs. Find out the reputation, user reviews and after-sales service of the oil extraction machine manufacturers to ensure quality and reliability of the mill. It is also important to consider the ease of repair and maintenance of the equipment for future maintenance and repairs.
Budget and Cost Considerations
Finally, you need to consider budget constraints and return on equipment investment. Especially for small-scale production and setup, ensure that you buy a corn oil extraction equipment that fits your costs while considering the benefits of long-term investment.


ABC Machinery, the only oil extraction machine manufacturer with a 30-year history in China, is a well-regarded equipment manufacturer and supplier in the vegetable oil production industry. We are known for our quality and service, and we offer competitive prices on screw oil presses, multifunction screw press, and refining machines. We have built many successful projects around the world, including in Ghana, Zambia, Tanzania, Ivory Coast, Australia, and the United States. We are fully confident in providing the BEST guidance for your corn oil manufacturing business to succeed.