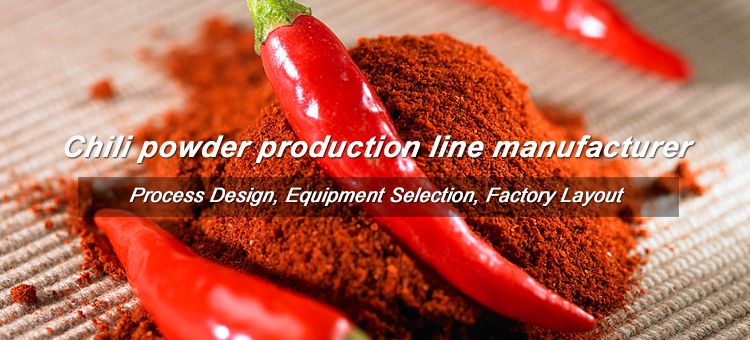 Chili Powder Production Business

Chili is the fruit of plants that are members of the Nightshade family. The original distribution of this species is from Mexico to Colombia. But it is now widely cultivated all over the world. Asia is the largest region of chili powder production, especially China. The capsaicin and other compounds in the chili causes the "hotness" after eating it. Nowadays, chili has been a delicacy for a lots of people. For spices processing business, chili powder production would be a great choice to enter this industry. If you are interested in chili powder production/grinding business, it is necessary to understand the chili powder production process and equipment. (You may also like: Running a Small Cassava Milling Business >>)
Chili Powder Production Line
The chili powder production plant offered by ABC Machinery is designed with scientific structure, process and equipment. It takes up small areas and can be easily installed. In addition, the chili powder milling process adopts the internationally advanced pneumatic milling machine for the coarsely pulverized materials, which ensures stable performance, high yield and guarantee the colouring of chili powder.
Chili/pepper powder production line includes dry cleaner, de-seeding machine, grinding machine, sifter, etc.. For new comers, starting a complete chili powder processing plant for commercial purpose is not easy. We offer the customized plan, factory design, equipment selection, installation and commissioning, and operators training service, etc. Most importantly, we have our own manufacturing factory, all the core equipment in the chili powder line is delivered from our factory directly, which promises you the most favorable price and the reliable quality.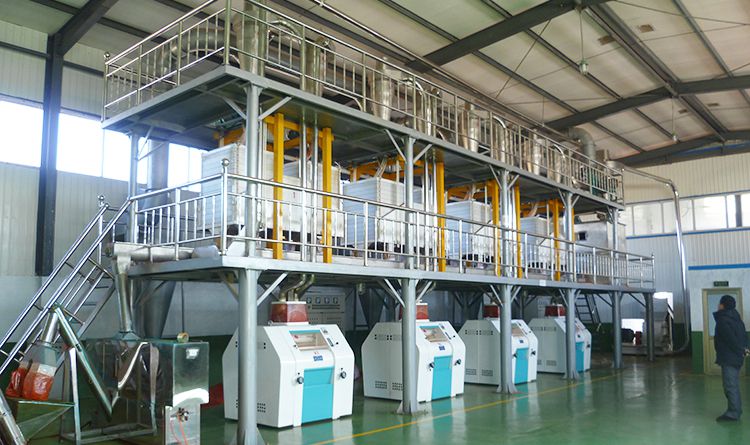 1tpd Chili Powder Mill Line
If you are interested in the automatic chili powder production plant, please contact us for more details. We are now the largest manufacturer and supplier of grain processing equipment.

Chili Powder Production Process


Chili Powder Production Process

Chili Powder Making Machines
Chili Powder Making Machine
Chili Cleaning Machine - Dry Cleaning
ABC Machinery provides various types of Grain Cleaning Machine. Chili cleanning machine is mainly used to clean the dust on the surface of chili, chili leaves, rope heads, plastic cloth fragments, small sand and other impurities contained in raw materials. The final cleaning effect can reach the standard of water washing. This is an indispensable equipment for chili/pepper cleaning. It can process more than 1000 kg per hour. Chili cleaning machine adopts wind power to transport materials, which is well sealed, and the dust is filtered by the bag blower, thus improving the working environment.
The chili/pepper de-seeding machine is mainly used to separate the seeds and skin. It is suitable for all kinds of chili/pepper seed skin separation. The whole chili/pepper can be seeded, and the separation pieces of chili/pepper skin and seed are big and clean. Chili/pepper seeds can be directly bagged. It is a necessary supporting equipment for chili/pepper deep processing. The temperature will not rise during the processing of the chili powder production line, which can completely avoid the loss of the price of the chili powder caused by the high temperature of the machines.
Chili Powder Milling Machine
Our chili powder production machine is characterized by high automation, simple operation, low labor intensity, low power consumption and high output. The chili powder milling machine has several processes, including crushing, screening, dust collection and other processes, to complete powder processing. The processing process is divided into coarse crushing and fine crushing. The material is crushed by the opposite rotating toothed roller, which will not change the color of chili powder and grain due to the high temperature generated during the processing. It adopts wind to transport materials, with good sealing performance. The dust is filtered by high-pressure pulse dust collector, which greatly reduces the irritating smell and dust produced in the production process, greatly improves the working environment, and is an ideal equipment for chili or other spices processing. (Related Equipment: Flour Grinder Machine >>)

Every equipment for chili processing in the whole chili powder production line is greatly important for its efficiency and output. Therefore, if you have any questions about our chili powder making machines, please contact us directly to clear up your doubts. We are very happy to have feedbacks from you.

Chili Powder Production Plant Working Video
World's Top Chili/Pepper Producers
The main production countries of chili/papper are China, Mexico, Turkey, Indonesia, India, etc.
| Rank | Country | Production (Millions of Tonnes) | Rank | Country | Production (Millions of Tonnes) |
| --- | --- | --- | --- | --- | --- |
| No.1 | China | 16.1 | No.4 | Indonesia | 1.9 |
| No.2 | Mexico | 2.7 | No.5 | India | 1.5 |
| No.3 | Turkey | 2.1 | No.6 | Spain | 1.1 |