Corn flour milling is a procedure in which whole maize/corn is converted into flour that can be used for a variety of purposes, such as for household use or business use.


Corn Milling Business
ABC Machinery aims to provide customers the BEST equipment according to their actual requirements and budget. So we have developed the small scale flour mill machinery very early. After nearly 20 years of market testing and correction, the 10~30TPD small scale corn flour mill plant has been the HOT sale equipment in many regions, like Nigeria, Kenya, Uganda, Mexica, and etc. (Read more: Maize Milling Business Plan in Uganda >>)
10~30TPD Maize/Corn Flour Milling Machines for Sales
The 10~30TPD corn mill plant is flour mill machine for small business. The complete set of corn flour milling machine adopts advanced peeling and sterilization technology. It can produce both corn flour and corn grits, which offers more flexibility to meet the local market demands. (Related project: 80TPD Maize Processing Plant in Uganda for Maize Flour & Grits >>)

For farmers or small scale businessmen, setting up a small flour mill plant for corn flour or corn grits production would cost too much, but can quickly get considerable benefits. The installation and operation is relatively easy and the maintenance is also lower. Therefore, this is no hesitations to buy one set for your business if you are really interested in flour milling industry. Welcome to get in touch with us for latest promotion price!
Technical Parameters of Small Corn Mill Plant
| Capacity | Power | Size of Factory |
| --- | --- | --- |
| 10 tons per day | 53 KW | L10m*W6m*H4.5m |
| 15 tons per day | 50 KW | L16.5m*W6m*H4.5m |
| 20 tons per day | 64 KW | Customized |
| 30 tons per day | 90 KW | Customized |
Since different customers have different requirements, we usually will offer a customized plan based on customers' conditions. And the price and equipment list for complete corn flour production line may have difference. Just massage us your detailed requirements if you are looking for buying high quality corn flour milling units!
10TPD Mini Small Maize/Corn Flour Milling Factory for Small Business
Setup 10~30TPD corn flour milling plant with eases – factory price corn milling machines for flour production: Buy corn flour milling machine from flour mill machinery manufacturer or supplier at factory price, get FREE technical instruction of corn flour milling process and business plan to set up corn flour milling project in Kyrgyzstan, Pakistan, Bangladesh, Uzbekistan, Saudi Arabia, etc., at low cost.

Corn Flour Milling Process Introduction
The corn/maize milling process consists of several steps. Different maize flour milling machines are used in each step to produce a consistent end product. The whole flour milling process can be divided into different steps such as sieving, cleaning, peeling, crushing, milling, and packaging. (Latest news: 5TPD Mini Maize/Corn Milling Machine Shipped to USA >>)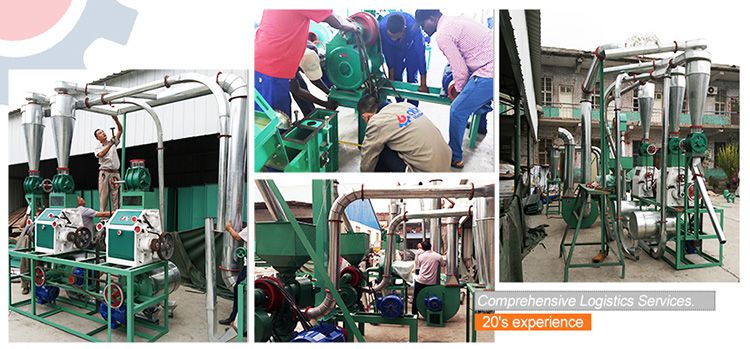 Corn Flour Milling Machine Supplier
Corn seeds come with different foreign materials such as dirt, oat, weeds, etc. These must be removed first to make good quality flour and keep the machine operating for long. Lighter impurities such as dry weeds etc. are removed with the help of a draft of air. After this, seeds are shaken vigorously in metal beaters that separate dirt, stones attached to the seeds. Magnetic separators are also used to separate materials like steel, iron, etc. that can stick to magnet leaving behind the corn seeds. (Read more: Grain Cleaning Equipment for Sale >>)
Conditioning and Crushing
In this step, maize seeds are conditioned which helps in the separation of bran and germ from endosperm. Seeds are moisturized and put aside for some time. Barn absorbs water, toughs up, and peels off when seeds are crushed prior to corn flour milling machine. If bran and germ are not separated and are made a part of flour, they reduce its quality and the person who eats them feels full. (Read more: Grain Grinding Machine Manufacturers >>)
Large steel rollers are used to crush or crack maize seeds. It removes the germ and bran from the endosperm. Once they are separated, the air is passed which parts impurities away from the endosperm. This separation is very crucial as it affects the quality of flour in many ways. It changes its color and oil content. (Related post: Small Grinding Machine for Home Use >>)
In this step, a corn flour milling machine is used to convert maize into flour. It converts it into fine particles. Once seeds are converted into flour, it is passed through sieves and rollers of different sizes. Large-sized particles are separated from the flour and are passed through the flour mill machine until their size is reduced completely. (Read more: Maize Milling Machine Price >>)
Once the flour has prepared, it is passed through the packing machine which makes packets of different sizes. The packed flour can be either used for household use or it can be sold in the market.