Chicken feed pellets is getting more and more popular among poultry farms due to its outstand and superior advantages, like comprehesive and full nutritions, good palatability, longer storage, easy transportation, etc. And more and more poultry farming owners are seeking to buy efficient and high-quality animal feed pellet machine, better at reasonable price, for their chicken farming business. (Read more: Poultry Feed Manufacturing Plant Cost >>)


Feeding Chicken with Poultry Feed Pellets to Improve Production
Highly Efficient Animal Feed Pellet Mill for Poultry Chicken Feed Making
The most efficient and high output chicken poultry feed machine in the market is ring die feed pellet mill that is designed with feeder, modulator, pelletizing part, motor, supporting frame, etc. Its scientific structure and advanced pelletizing technology allows high output, low power consumption, smooth transmission and making it the right and best choice for small, medium and large scale chickens farms to make high quality chicken fee pellets to lower the production cost and increase the production efficiency.


Buy Poultry Feed Machine at Factory Price
For poultry feed pellets making, raw materials, like corn/maize, soybean meal, straw, rice husk, grass and more, are compressed into small size pellets. Generally, chicken feed pellet making machine manufacturer or supplier can offer customized service for your poultry feed pellet production requirements.
Poultry Feed Machine Technical Sheets and Price List – ABC Machinery
ABC Machinery, as the leading animal feed pellet mill manufacturer, has been focusing on animal feed pelletizing for at least 20 years. We have various types poultry feed mill equipment that can fits different customers' request. Our BPM series poultry feed machine has been proven extremely efficient for chicken feed pellet making. It adopts double layer modulator, so its performance is unmatched by other chicken feed mill machines.
Poultry Feed Making Machine Manufacturer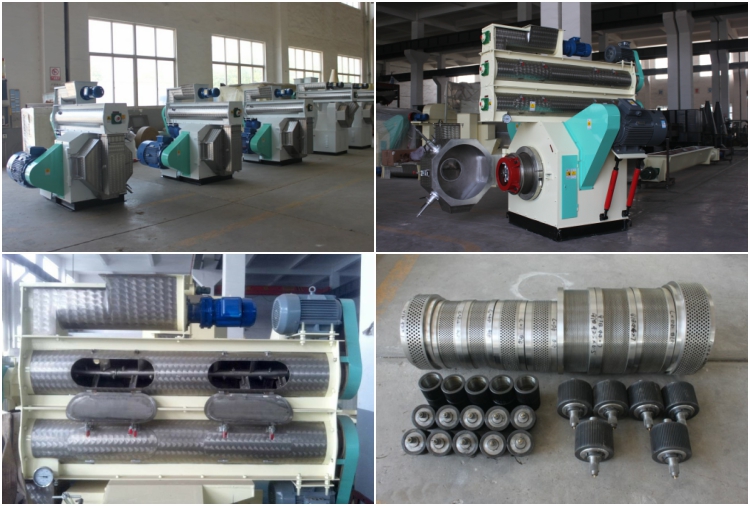 Poultry Feed Machine Manufacturer - ABC Machinery

Chicken Feed Pellet Mill Machine for Sales
| Model | BPM350 | BPM400 | BPM450 |
| --- | --- | --- | --- |
| Main Motor Power | 30kw×2 | 45kw×2 | 55kw×2 |
| Capacity | 3-7 t/h | 4-10 t/h | 6-15 t/h |
| Ring Die Inner diameter | 350 mm | 400 mm | 450 mm |
| Feeder Power | 0.75 kw | 1.5 kw | 1.5 kw |
| Conditioner Motor Power | 2.2 kw | 4 kw | 4 kw |
| Size | 2100× 2000× 1850 mm | 2200× 2000×2150 mm | 2300× 2350× 2150 mm |
| Weight | 2400 kg | 2900 kg | 3500 kg |
Latest Poultry Feed Machine Price
We have various types of chicken feed pellet machine for sales and they also varies from capacity and price. Mini poultry feed machine price may only needs hundreds of dollars, but it usually has lower production capacity, just like our flat die feed pellet machine, the lowest price one may need about $500. For high capacity feed pellet machine, it usually will cost more. Above mentioned BPM series poultry animal feed machine price will cost about $15,600 or more. If you are interested in getting the latest promotion price list of our poultry feed pellet machines, just contact us anytime!
How Poultry Feed Pellet Machine Working - Introduction at ABC Machinery Factory

Why Should Buy Poultry Feed Making Machine with Double Modulator
The purpose to design double modulator into poultry feed machine is for better feed conditioning. Feed conditioning is especially important for poultry feed making:
Conducive to feed pelleting
Improve the digestion and absorption rate of feed
Increase the stability of aquatic pellet feed in water
Increase pellet output and reduce power consumption
Reduced wear on dies and rollers
Destroy and kill harmful agents
2~3 kinds of liquid components can be added during the conditioning process
How to Produce Poultry Feed Pellets with Ring Die Feed Machine?
Making poultry feed pellets involves a series of poultry feed manufacturing process and final produces the feed pellets in size about 2mm to 8 mm. The chicken feed pellets making steps mainly has raw materails treatment, mixing, pelletizing, packaging and so on.


Setup Chicken Feed Mill Plant at Low Cost
Raw Materials Processing: raw materials (corn meal or soybean meal) for poultry feed making should be removed impurities and crushed into fine powder with feed hammer mill.
Materials Mixing: all the powered materials are mixed within the mixing machine evenly and continuously.
Feed Pelletizing: mixed materilas are conveyed into poultry feed machine for pelletizing.
Feed Pellets Cooling: then the compressed chicken feed pellets are discharged and transportated to cooling machine to lower the temperature to room temperature, about 5℃。
Pellet Packaging (Optional): final produced chicken feed pellets are screened and packaged.
Above detailed feed pellet production process is also available for other animal feed production plant, like cattle feed processing plant. In these years, we have helped our customer designed and setup many animal feed pellet plant projects in Australia, Philippines, Nigeria, South Africa, Kenya, Thailand, Japan, Jamaica, Ethiopia, etc., if you are interested in knowing all the details about the equipment configuration and project cost, just send us inquiry, we will soon get back to you!

Poulty Feed Machine Highlights
Simple structure, wide adaptability, small footprint and low noise.
Dry material processing, produces feed pellets with high hardness, smooth surface and internal ripening, which can improve the digestion and absorption of nutrients, and the particle size can be changed by changing the mold.
Powdered feed, grass meal can be pelleted without or with little liquid addition, so the moisture content of pelleted feed is basically the moisture content of the material before pelleting, which is more convenient for storage.
Chicken, duck, fish, etc. can obtain higher economic benefits than mixed powder feed.
The granule formation process can denature the pancreatic enzyme resistance factor in grains and beans, reduce the adverse effects on digestion, kill various parasite eggs and other pathogenic microorganisms, and reduce various worms and digestive system diseases.