Offer customized feed factory layout design with moduel designed livestock feed processing machine. Start you feed manufacturing business from making high quality livestock feed pellets with ABC Machinery's innovative machine. The advanced livestock feed processing technology used in ABC Mahcinery's feed plant also help avoid cross contamination efficiently, reduce the production cost and shorten your cost recovery cycle.
Common Types of Livestock Feed – Pelleted Feed
Livestock feed is used for feeding a stock of animals such as cow, cattle, sheep, camel, deer, pig, rabbit, etc. These animals are bred and raised for their milk, meat, fur, wool, and meat by the people. Raising these animals for getting the maximum benefit is only possible if they receive proper nutrition. For this, you can feed the livestock animals with feed pellets. Read more about our small cattle feed pellet making machine at factory price. You maybe also interested in mini cattle feed plant cost.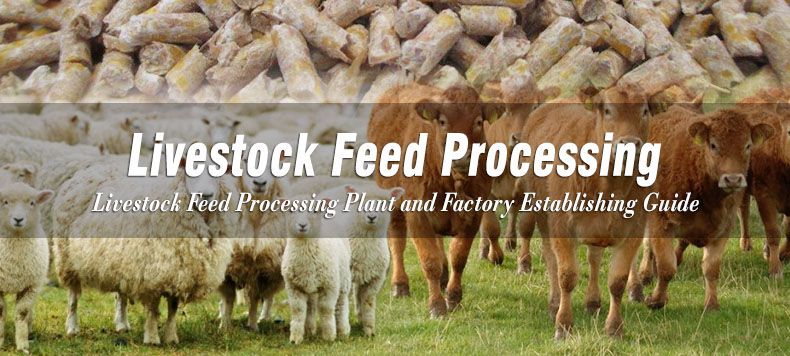 Livestock Feed Processing
The feed pellets are very high in nutritional levels and are composed of certain elements that help in proper digestion, absorption of nutrients and better conservation. This way you can reap higher economic benefits by using feed pellets. In addition, transporting and storing feed pellets is quite easier when compared to the traditional roughage (coarse fodder). (Click here to learn about poultry feed manufacturing process)
4 Major Types of Livestock Feed Pellets
There are four major types of feed pellets — complete feed, remix feed, concentrated feed and pure forage grass feed pellets. Let us know a more about them.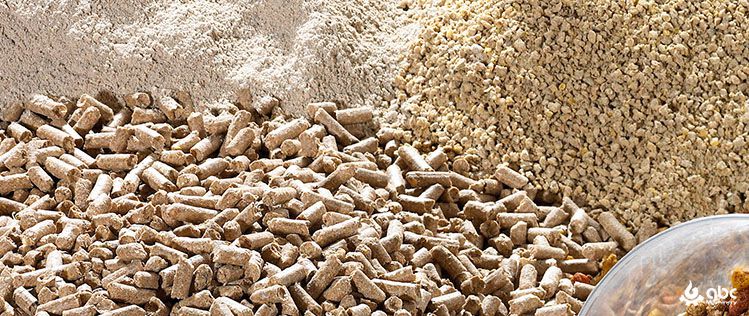 Different Types of Livestock Feed Products
This is a complete combination of all the vital elements the livestock would need. It includes proteins (fish, beans, oil cake, etc.), energy (corn, wheat bran, etc.), coarse (corn stalk, pasture, wheat straw, etc.), and additives (vitamins, minerals, bone powder, salts, microelements, etc.). This feed helps in gaining all the nutritional values for a healthy and fast growth. Here is movable low cost mini cattle feed plant for those who have limited budget to start their feed production business.
It is also known as feed additive premix and used as feed additives. This feed pellet is further classified into three categories viz. nutritive additives (vitamins, a small trace of elements, amino acids, etc.), drug additives (a preventive measure against diseases and promoting long, healthy life), and general additives (mildew proof, incense enhancer, etc.). The most important part is that premix feed pellet should only be used around 1 percent to 6 percent in basic feed daily (depending on the animal species and their growth stage). This type of pellet in only produced in factories and you can also start your own factory with proper assistance. You maybe also interested in this article about making animal feed from oil cake.
Concentrated Feed Pellets
This is similar to the complete feed with energy, protein, mineral, and additives feed. It is mostly used as a supplement along with the basic coarse feed, silage, and green fodder for the herbivorous livestock animals such as sheep, rabbits, and cattle. This supplement feed helps in fulfilling all the essential nutrients lacked in animals because of eating only the grass or silage feed.
Pure Forage (Grass) Feed Pellets
As the name suggests, it is made up of only forage grass, grain straw, alfalfa, stalk, hay, etc. These are the purest form and can be easily made and stored.
Factory Establishing Guide: Livestock Feed Processing Plant and Machine
The following photos are about a small livestock feed processing plant we built for one of our clients. The feed production output ranges from 1 ton/h to 3 ton/h. If you are planning to setup a pilot cattle feed mill, you can take the factory layout design for reference! Welcome contact us for detailed project report, latest equipoment price and construction cost!
ABC machinery brings you the best and high-efficiency livestock feed processing machines with assured reliability. Their approved technology ensures minimum contamination of the feed by either foreign substances or microbes. It has enabled tracking of the feed information throughout the entire process of production.

We also supply turnkey project plan for livestock feed processing plant together with full training and after sale services We have the state of art technology machines and systems for processing livestock feed for all kinds of ruminants including cattle and sheep. Having in mind that ruminants like sheep and cattle have a very different digestive system, nutritional and the general body requirements to that of poultry and pigs, their feed is rationed and prepared differently. Depending on your livestock feed preference, we can havejust for you the most appropriate techniques for processing.
Production Process of Livestock Feed
Learn about the related equipment to establish a complete industrial scale
livestock feed production plant
. The project plan can be different for different feed formula, so don't hesitat to contact us to get a customized animal feed manufacturing business plan for free.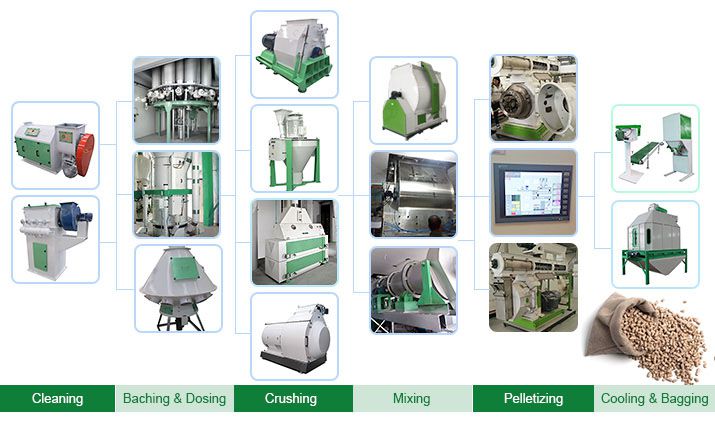 Complete Livestock Feed Manufacturing Equipment and Process Design
The following is the scientific required procedure for producing livestock feed pellets. However, some of the stages are less necessary and therefore skipped in the real livestock feed production line.
1. Receiving and storing of raw materials
There are different types of starting material for livestock feed. This includes stem materials like maize straw, grains say millet, maize corns, cakes like cottonseed meals and mineral additives among others. These material vary in nature hence have different storage requirements. For instance, a huge amount of grains require storage silojust like cakes and additives will need special storage to prevent contamination. It is in these storage facilities from which the raw materials will be taken to the succeeding stages of the production line.
2. Cleaning the feed materials
Most of the livestock feed raw materials are grown crops hence contain foreign matters thus need to be cleaned before being processed. This is because foreign inclusions in the materials will lower the purity and quality of the feed. Moreover, the dirt may interfere with the processing equipment as well as well exposing the operator to injuries. The extreme case of this is clogging the machine hence damage resulting in down times which is undesirable as it interrupts the production. This calls for cleaning to be done prior. Animal feed pellet plant have a cleaning equipment that screen and use magnet to remove impurities. Screening removes sizeable impurities like stones whereas the magnetic separator is used to remove magnetic (steels and iron) impurities.
Depending on the variety of feed and the fineness requirement specifications, the process of crushing raw materials is done accordingly. This is also determined by the type of raw materials to be crushed so it can be a single stage, two stages or continuous crushing process. Crushing can also be carried out according to batching combination form whereby it can be first crushing after which batching is done or first batching followed by crushing.
4. Feed Proportioningl Batching process
Currently, there is a manual batching process, one warehouse one scale batching process and volumetric batching process among other. For the small scale to medium scale production of feed pellet ranging 1-15 tons per hour, manual batching is used. Here, weighing and pouring of feed materials into the mixing machine is done manually. Since the entire measuring and rationing process is done by workers, the need for equipment is less as well as the cost of production but there is accurate measuring and its ease to make changes.
This is achieved either by continuous mixing or batch mixing. In batch mixing, all the feed components are blended with respect to the feed formula then after, it is periodically mixed in a machine called batch mixer. Due to its convenience in replacing feed ration with less intermixing between succeeding batches, batch mixing is widely employed nowadays. An automated control is used in this method due to its complex starting and stopping operations.
On the other hand, the mixing process continues as feed components are added to the stream of already mixed proportion. This creates a uniform flow as new streams are continually entering the mixer. This is process is advantageous because the mixing is continuous and the flow is uniform with granulation of the feed. However, there occurs intermixing whenever a new formula is introduced into the mixing line.
There are two kinds of feed pellet plants each of them using a different pellet machine. Flat die feed pellet machine is used in small (600-1000 kgslh) feed pellet plant while ring die feed pellet mill is used in medium (1-15 tonslhr) feed pellet line.
This is a flat die design feed pellets making machine widely used in
small nimal feed pellet mill plant
. Feed the already cruded and mixed fodder material inside. The material is then pressed by a flat die and a rotating roller after which it passes through holes on the die forming granules of cylindrical in shape. These pellets or granules are then cut by blades and finally discharged outside the machine.

It is employed in medium to large scale livestock feed processing mills where temperature conditioning of the feed material is mandatory for quality pellets. This pellet mill has a temperature conditioner at the top which adds some water to feed usually in powder form giving it the required content of moisture. Now with the required moisture content, the feed material is evenly laid between the ring die and a roller that presses it out through the holes of the die. Out of the holes discharged pelletized feed pellets.
The pelletizing process induces high humidity and temperatures into the feed pellets. Further pressing of pellets increases the temperature and moisture content to about 80 an and 17% respectively. These conditions would lead to deformations, bonding and even rotting of the pellets in the storage, hence necessary to lower the temperature and moisture to below 8aII| and 14% respectively.
8. Feed pellets crumbling
This is necessary when processing feed pellets for young ruminants. Normally feed pellets are produced in moderate sizes which allow breaking them into smaller sizes whenever it is required. The initial size is done before to save on power, improve the quality as well as enabling high production.
9. Pellet Sievingl Screening
This is achieved by feed pellet cooler in small plants however for the case of medium to large scale feed pellet mills that have incorporated crumbling in the process, pellet sieving machine becomes a requirement.
This machine separates powdery feed pellets from properly and uniformly sized pellets. From here, the uniformly sized feed pellets proceed to the packaging whereas the powdery ones are taken again through the production line.
10. Feed pellets packaging
This the final process in the feed pellets production. Feed pellets are packed in various packages according to the end use, composition, and weight among other criteria.