Project Name: Complete Set of Poultry Feed Equipment
Production Output: 600,000 ton/year (equal to 100 ton/hour)
Application: This project is designed for processing both poultry feed and livestock feed, including chicken, duck, goose, pigeon, rabbit, alpaca, camel, cattle, deer, donkey, sheep, goat, horse, etc.
---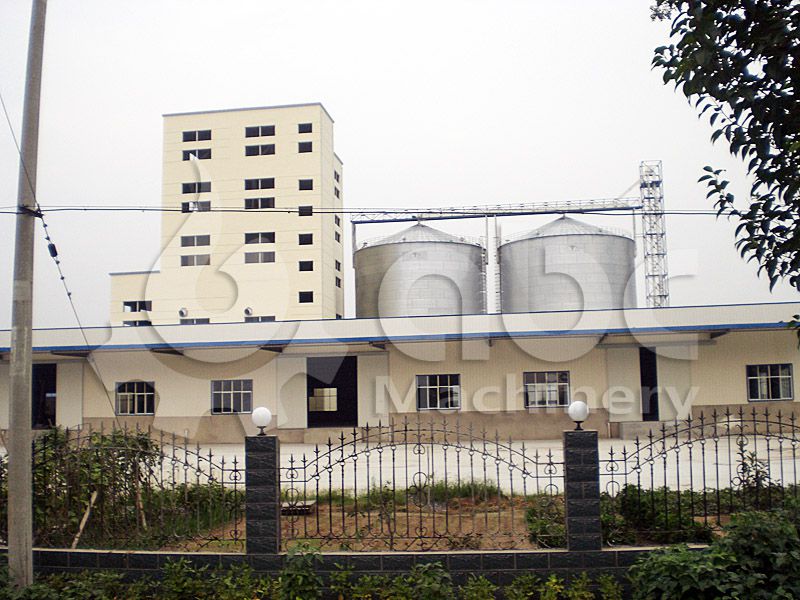 Finished Feed Processing Factory
This production line is of turnkey project service from factory design, equipment manufacturing and onsite installing and commissioning. The plant capacity is 600,000 tons per year which is equal to 100 tons per hour. If you need detailed project plan and cost list, feel free to get in touch with us! We are always ready to serve you!
Livestock & Poultry Feed Equipment Details
View the photos below to have a brief understanding of the feed mill and included feed equipment. You are welcome to inquire for more details and cost list! (Other Project: 120,000 ton/year Animal Feed Processing Line )
Concentrated Animal Feed Production
Feeds are basically classified in three categories in feed production industry:
Roughage feed: It has more fiber approximately 21-24% content and less digest-able material.
Concentrated feed: Less fiber content and more digest-able content approximately around 60-65%.
Food Supplements: they are non- nutritive additives used for boosting external properties of feed.
Thus we can say concentrated feed is a concentrated source of nutrition and energy. So often served to the cattle due to its enhanced nutritive value compared to a roughage feed. It contains macro- nutrients of energy and protein which if necessary for production of good livestock. While concentrated feed is an important nutrition source,one also has to care about the digestibility of the feed. As due to some unfortunate reason their may be some damaging elements present the feed causing hindrance to digestion processes. Thus it is very important that their is proper processing of the feed before consumption. (New Product: Small Feed Pellet Production Unit for Sale)
Processing of Concentrated Feed Pellets


Turn Feedstuff into Feed Pellets
The animal feed processing includes some important steps like:
lt is a basically a cleaning method. It is done to remove big size impurities like dust particles or toxic substances present on the surface of feed. Soaking the feed softens it making it easily chew-able. Moreover it also suppresses the bitter taste in some cases.
After the cleaning of feed by above methods and it is crushed to a suitable size. The size of the feed is decided by certain factors like way of consumption, type of feed etc. The size should be perfect as too small or too large both will cause hindrance in digestion and assimilation.
lt is basically done to improve the palatability of the food. Palatability simply means enhancing the pleasure given by food and fluids by working upon it's aroma and tastes . It thus helps in attracting the livestock towards the feed by it's fragrance or color. Besides it also adds a little nutritive value too.

As evident from name it is the process of molding the feed in the form of small pellets. It is done to avoid feed waste. Often pelletizing also enhances the digestibility. (Related Product:
Ring Die type Feed Pellet Machine
)
lt is usually done to intensify the nutritive value of the feed by fermentation unlike the case of then roughage feed where it is done the destroy the excess fiber content . In the process of fermentation often vitamin content increases and also enzymatic functions become better . All this is helpful in the latefattening period and works efficiently of sick cattle too.