Potential Investment on Biomass Milling Machinery
Biomass pellets are a great energy source that can be used to run turbines, produce electricity, heat ovens, boilers, and stoves, etc. The use of this eco-friendly energy resource is increasing with time as people are getting more aware of its advantages.

It is reported that 22 million tons of pellets were produced in the year 2021 to fulfill energy demands in many countries globally. Since then its production has been increasing constantly. All these facts show that investing in biomass pellet making business is a great opportunity for anyone who wants to invest in a profitable business that has the potential to grow even more in the future. (Related Post: Complete Wood Pellet Business Plan in Africa)

Must-know Things Before Startup Biomass Pellet Production Plant
Generally, there are many types and models of pelletizing machines for biomass pellet manufacturing, either for commercial purpose or home use. The most popular types are flat die pellet mill and ring die pellet mill, which are both suitable for the starting of biomass pellet plant. Surely they have some differences in price, capcity, working principles.
Flat Die type Homeuse Pellet Machine Vs Ring Die Commercial Pellet Machine


Flat Die Small Pellet Mill for Sales(Electric & Diesel Type)
In most cases, flat die type small biomass pellet machine is more suitable for small scale pellet mill plant, just the small scale biomass pellet business or just for household use. However, the ring die pellet machine is designed for large scale or industry scale biomass pellet manufacturing. If you are interested in investing biomass pellet industry and have the enough capitals, ring die pellet machine is great equipment for biomass pellet machinery for business.


Ring Die Large Pellet Mill at Factory Price
In addition, other raw material processing equipment is also required in order to produce high quality pellets at high efficiency, including crusher, dryer and so on.
Build Your Own Wood/Biomass Pellet Mill Plant [Cost-effective]
Pellet Production Capacity: 1 - 40tons per hour
Cost Estimation: $6900 (Different process & layout design, different cost)
Typical Biomass Pelletizing Process Technology: chiping, crushing, drying, pelleting/extruding/pressing, cooling, bagging/packaging, ready to sale.
This complete pellet mill plant is updated with new process of pelletizing and polishing, which can completely solve the key technical problems for biomass pellet business, such as the low addition of organic raw materials, the difficulty of crushing, drying and pelletizing of raw materials. The wood pellet production line reduces friction and energy consumption, increase output, which finally will benefit the investors.
When it comes to pellet production, there are really few reasons not to choose a ring die pellet machinery for large scale production. However, it is still vital that you choose a manufacturer who produces high quality equipment and can provide good support with spare parts. If you would like to learn more about the wood pellet production process or need some suggestions about wood pellet mill company setup, just contact us for more details.
Study Success Projects Befo​re Building a Biomass Pellet Plant
Wood / Biomass pellet production lines built by ABC Machinery have been successfully run in many regions and areas, including Canada, USA, UK, Australia, Europe, Germany, NZ, Georgia, Philippines, Thailand, Japan, Chile, Russia, Indonesia, Italy, Ghana, South Africa, Tanzania, Portogual, etc.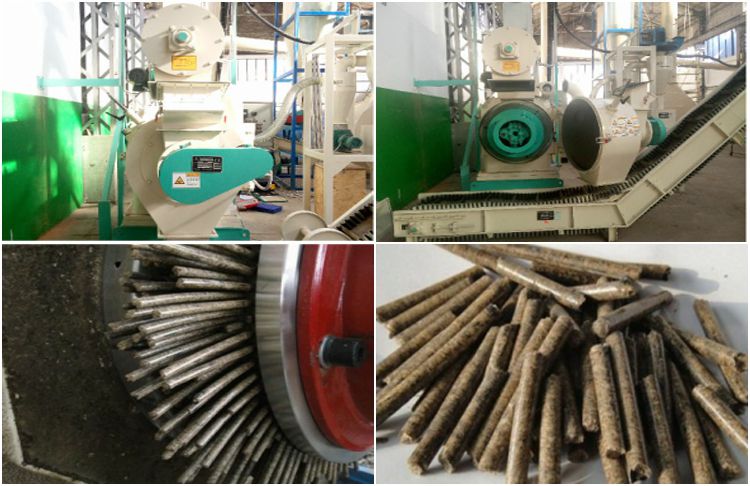 Wood Pelletizing Plant Project Setup
Feel FREE to send an inquiry for more equipment details and latest promotion price list! As a professinal wood pellet mill machinery manufacturers and supplier, we can offer one-to-one advisory services on customized pellets making solutions. Aboves are some of our wood pellets projects for references. Welcome to contact for equipment and cost details!
Why Should You Invest In Biomass Pellet Machinery & Plant

A few more reasons why starting a biomass pellet making business is a great investment opportunity are given below.
Raw Material of Biomass Pellet Manufacturing is Easily Available
One of the main reasons why you should invest in the biomass pellet making business is that the raw material required to produce pellets is quite easily available. Especially, if you belong to an agricultural country, you will have easy access to the raw material during the harvesting season. The most common raw materials used to make high quality biomass pellets are hardwood, sawdust, pine wood, oak wood, sugarcan bagasse, cotton stalk, coconut shell, palm tree branch, palm fiber, EFB, rice husk, hay, coffee husk, dried leaves, branches, roots, grass, miscanthus, hops, etc.
Maybe you are also interested in hardwood pellets making process >>
Abundant and Cheap Biomass Resources
As the raw material used for making biomass pellets is actually the waste material of different industries so it is relatively inexpensive. It means this business will give you an opportunity to convert inexpensive waste into useful energy sources. During the harvesting season, the raw material gets even cheaper making it more feasible and suitable for starting a business with an average amount of investment. (Read more about making wood pellets for profit >>)
Eco-Friendly Biofuel — Great Market Potential
With the more development of industries, the world is getting more and more polluted every year. Various health-related organizations are putting more emphasis on using eco-friendly energy sources such as biomass pellets rather than using traditional energy sources that produce harmful gases. Because of this reason, many countries are trying to use biomass pellets as an energy source which has increased its global demand. So, biomass pellet making business which is growing every year and is expected to develop even more in the future is a great investment opportunity for all the entrepreneurs out there.
Most Valuable Project for Investment —— Best Alternative for Traditional Fuels
Nonrenewable energy resources such as coal, natural gas, and oil, etc. are being used in various industries due to which they are getting depleted at a faster rate. To prevent the complete loss of nonrenewable energy resources, industries are now moving towards renewable energy resources to fulfill their energy requirements. This has also increased its demand on the industrial level. Due to which establishing a biomass pellet making business has a chance to grow more in the future. So, if you are interested in investing in a business then the biomass pellet making business which has a lot of potentials is a great opportunity for you to make your name in this rising business.