Why Setup A Pilot Production Line Before Starting A Wheat Flour Mill?
As an important part of the grain processing industry, the wheat flour mill needs to ensure stable production processes, excellent product quality, and compliance with market demand in order to meet the market's demand for wheat flour. Therefore, the pilot plan becomes an essential step for the wheat flour mill design before formal production.

Pilot production line setup can help the wheat milling process confirm the feasibility and efficiency of the production process and prepare for further improvements. And trial production can reduce potential production risks and costs. By conducting trial production before large-scale production, the wheat flour mill can check if the necessary equipment for formal production is functioning properly and identify and solve potential issues. Additionally, trial production allows production staff to familiarize themselves with new workflows and operating procedures, improving production efficiency and ensuring stable product quality.
Tips to Consider When Investing in Pilot Wheat Flour Mills
Production Process Verifying
By simulating the formal production environment, the pilot wheat flour mill busimess plan will evaluate the operation status of production equipment, the rationality of the process flow, and the reliability of raw material supply. This helps to discover and solve bottlenecks and defects in the production process, ensuring the smooth progress of production.
Wheat flour will be sampled and tested, including testing the nutritional composition, physicochemical indicators, and microbiological safety of the product. This ensures that the produced wheat flour meets national standards or customer requirements and ensures the safety and reliability of the product.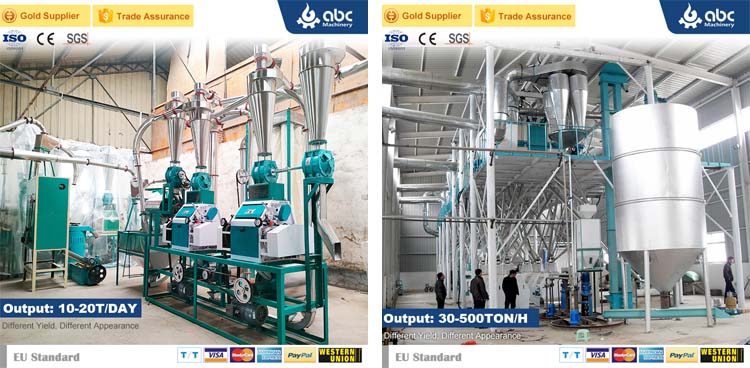 Wheat Flour Mill Structure(Small&Large)
Market Response Evaluating
By providing samples to potential customers or making market research, the wheat milling process can understand the market's response and demand for the product. This provides the mill with references for improving and promoting the product, helping the plant adapt to market changes and meet consumer expectations.
Starting with a pilot production unit helps mitigate risks associated with investing in a full-scale mill upfront. It allows for testing different strategies, evaluating market conditions, and identifying potential challenges or bottlenecks. This enables proactive problem-solving and risk mitigation, minimizing potential losses and maximizing the chances of long-term success.
The pilot production line provides an opportunity to validate the financial viability of the wheat flour mill business. By monitoring costs, revenues, and profitability during the pilot period, it becomes possible to gauge the potential financial returns of a larger-scale operation. This supports decision-making regarding further investments and expansion.

Overview of Wheat Flour Industry


Wheat Flour Business Market
Wheat Flour Market Size
Wheat flour is one of the key raw materials in many food manufacturing industries, such as bread, noodles, pastries, and more. And its price is lower than other grain flour. So the global wheat flour market is enormous in size. According to data, the global wheat flour market was valued at over $241 billion in 2022, and it is projected to grow at a compound annual growth rate of 4.1% per year until 2028.
Top 10 Wheat Production Countries

(in million metric tons per year )
China
134
India
105
Russia
79.5
United States
61.2
Canada
32.3
France
38.2
Australia
32.6
Indonesia
29.2
Argentina
19
Colombia
13.6
Wheat Flour Growth Trends
The global population continues to grow, particularly in developing countries. This population growth drives an increase in food demand, thereby propelling the development of the wheat flour production. Furthermore, as people's lifestyles change, an increasing number of individuals are paying attention to healthy eating habits. The demand for wheat flour production is gradually increasing, especially for healthier options like whole wheat flour. And the wheat flour business is constantly producing new products and improving the quality and nutritional value of its products to meet the changing needs of consumers. This innovation and diversification will also lead to the continued growth of the industry.

Whole Wheat Flour: Made from whole wheat, it contains more dietary fiber, vitamins, and minerals, suitable for consumers who require a healthy diet and whole grain intake.
Organic Wheat Flour: Produced from organically grown wheat without the use of pesticides or fertilizers, catering to the increasing demand of for healthy and sustainable products.
High-Protein Wheat Flour: Enriched with higher protein content through special techniques and processing, suitable for consumers with high protein requirements such as sports enthusiasts and vegetarians.
Low-Sugar Wheat Flour: Reduced sugar content to cater to consumers with limitations on sugar intake, such as diabetes patients and individuals on a weight-loss diet.
Multipurpose Wheat Flour: Suitable for various cooking and baking purpose, including bread, pastries and cakes.

(The above is only a partial reference for flour. There are other categories and different specifications for wheat flour products. You can customize and make creative products according to your needs.)
Seizing Market Opportunities in Wheat Flour Factory's Trial Production
Innovative Product Development: Make special wheat flour products such as whole wheat flour, organic wheat flour, high-protein wheat flour, etc., to meet consumers' demands for health, nutrition, and unique flavors.
Targeted Consumer Groups: Position specific consumer groups like vegetarians, athletes, children, etc., and develop wheat flour production tailored to their needs.
Expand International Market: Invest overseas markets by catering to different regional tastes and consumer trends, seeking international expansion opportunities.
Strengthen Brand Marketing: Enhance brand awareness and communicate quality and health values to attract more consumers to buy your brand's wheat flour products.
Establish Partnerships: Build partnerships with the pastry and baking industries to jointly promote the application and innovation of wheat flour business.

Steps and Key Technological Points for Crafting Successful Wheat Flour Trial Production
Steps for Starting A Wheat Flour Mill
Wheat Screening and Cleaning: Use advanced wheat screening equipment to clean and remove impurities from the raw wheat to ensure the quality and purity of the wheat.
Grinding: Use the flour grinding machine to mill the cleaned wheat. During the pilot, it is recommended to use a stone mill or an efficient motor-driven mill to maintain good flour quality and nutrient content.
Sifting and Grading: After grinding, use sifting equipment to sift and grade the wheat flour to remove particles that are too coarse or too fine, thereby improving the uniformity and quality of the product.
Packaging and Storage: Pack and store the sifted and graded wheat flour. During the trial production stage, suitable packaging specifications and materials such as paper bags or plastic bags can be chosen to ensure the integrity and hygiene of the wheat flour.

Key Technological Points for Wheat Flour Factory Setup
During the trial production stage,
select appropriate grinding processes and equipment, control the temperature during the flour milling process, and the contact force between the grinding groove and the wheat grains to avoid excessive grinding or damage to the nutritional content of the wheat flour during heating.
Build a quality control system, strictly monitor and inspect each process, ensuring that the product meets the specified quality standards such as ash content, fat content, bacterial indicators, etc.
Implement strict hygiene and safety control measures, including disinfection, cleaning, dust prevention, etc., to ensure a clean and hygienic production environment in the flour milling plant and prevent contamination and bacterial growth.
Choose appropriate packaging materials and equipment to ensure the integrity and safety of the packaging, avoiding moisture, contamination, or deterioration of the wheat flour.