Solid Residue & Waste Water Recycle System for Tapioca Processing Business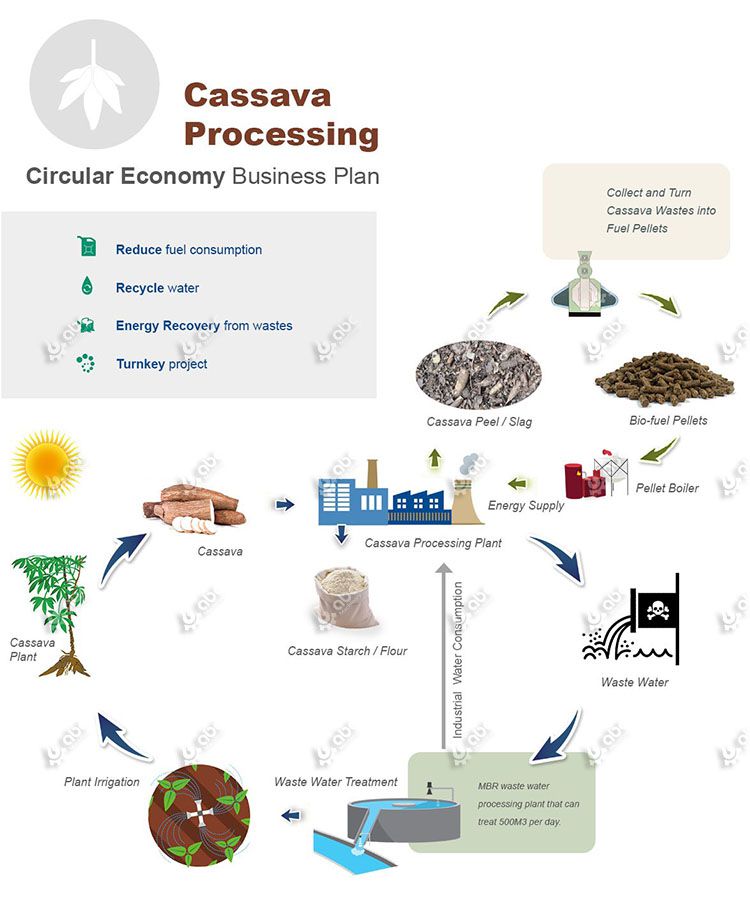 Tapioca is an agro-industries product with high consumption level that reached 1.132 million tons per year. However, there will be a lot of environmental problems in traditional cassava processing factories.
Here, ABC Machinery can offer Integrated Tapioca Processing Business Plan which has zero pollution and adopted advanced "cassava waste to biomass fuel system" to reduce water & energy consumption and production cost.
Environmental Problems of Cassava Processing Industry
Environmental problems in the cassava processing industry can be divided into the following categories:
Water Consumption - Availability of large quantities of water is a requisite to in tapioca processing factory from the washing process and starch extraction process. About 10-30 m
3
water is needed to prduce 1 ton of starch. Energy Consumption: The drying process after starch extraction requires a large amount of energy (coal, petroleum, gas, or electricity), to reduce the water content from 35-40% to 11-13%. Normally, to produce 1 kg tapioca starch, the consumption of electrical and thermal energy is in the range of 0.320-0.939 MJ and 1.141-2.749 MJ.
A tapioca starch processing factory discharges about 12 m
3
of wastewater to produce 1 ton of cassava starch. The wastewater has extremely high concentrations of organic pollutants.
Root skins and fibrous residues (cassava pulp) are the main solid residue from tapioca starch processing plant. The quantity of each is 2-3% and 15-20%, based on raw cassava root weight. A 400 ton cassava starch processing factory can produce around 80 tons of solid waste every day.
Air pollution mainly originates from the combustion of fuel. A factory with a capacity of 100 tons of starch product will consume about 3,500 L of fossil oil every day, releasing about 9.9 kg dust and 71kg SOx, 35 kg NOx per day.

Please feel free to contact us! We will offer you the solutions to overcome your current difficulties, and make your business more success!

Integrated Tapioca Processing Project Report
Cassava Residue and Waste Water Recycle Project in Nigeria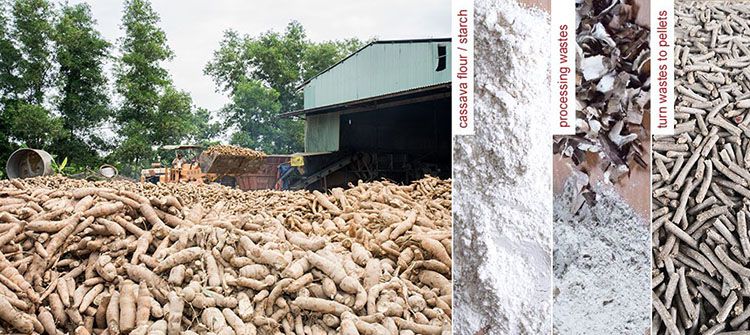 Root skins and fibrous residues (cassava pulp) to Biomass Pellets, to be burn in Boiler for energy supply
This project is designed and built for one of our client in nigeria. This client has complete production value chain from large scale cassava farming, continuous food grade starch production, marketing to sales distribution. Per day the farmers will unload 200ton fresh cassava at this factory. The cassava will be cleaned, crushed, grinded into fine powder, then the wet powder will be dryed by the hot steam from boilers, then treated into cassava starch and packed into 50kg bags. It is a very well-organized, successful enterprise. But with the farsighted vision of our client, she noticed there are some serious problems she needs to solve as soon as possible. After site investigation and discussions, we offer her one package solution to help her company to fully recycle the waste. (Read more about setting up cassava processing factory in Nigeria >>)
Waste Water Processing System

Our MBR waste water processing plants can treat 500m3 per day, so the treated water is qualified as class 4 surface water(according to gb3838-2002 environmental quality standards for surface water) or level 1 standard a discharge water (according to gb18918-2002 pollutant discharge standard of municipal wastewater treatment plants). So the treated water can be directly discharge into the surrounding environment without any pollution, or even can be recycled and used in cassava cleaning process.
Collect And Turn Cassava Pulp Into Fuel Pellets
The cassava pulp will be collected, dehydrated, dryed then used as raw materials for animal feed, also it can be mixed with sawdust & and used to make fuel pellets for boiler.

We installed 1.5ton per hour capacity drum dryer to dry the cassava pulp from 60% to 15%. The stove is manually operated and burn logs. The material loading screw conveyor feed the pulp into the drum, the rotarty mixing shaft will crush the pulp blocks. During the constantly stirring process by the shoveling plates, the wet pulp / sawdust is uniformly distributed in the drum and fully connected with the hot air. So the heat transfer between wet sawdust/ pulp and hot air is accelerated. In the process of drying, under the effect of the shoveling plate and the thermal medium flow, the dried material is transported and discharged from the end of the dryer.


Equipment for Making Fuel Pellets from Tapioca Wastes
The dryed cassava pulp is a good material for fuel pellets. After mixing with sawdust and pelletizing, the calorific value of the pellet increases to 4000kcal, which make it as an ideal fuel for boiler instead of the fast grow low density wet logs, in this way the cost for log purchasing will be saved. To make sure the production goes continuously and smoothly, this pellet plant has rotarty screen cleaner to remove oversized materials, has strong magnetic iron remover to collect iron from the pulp, peeling, and sawdust. The twin shaft mixer ensure the uniform mixing and high efficient. 75kw motor for ring die pellet machine, guarantees the good production and high density of the output pellets with 1 ton per hour capacity.
You maybe also interested in wood pellet business plan >>
Biomass Boiler – Burning Logs And Pellets
Our 3 ton (rated capacity) biomass boiler accept wood logs and biomass pellets. Its rated working pressure is 1.25 mpa, steam temperature is 194~210 °c. Before using this boiler, the cassava starch dryinbg heat exchanger is pwoder by two boilers, need six workers. Now only need three worker to operate the boiler to keep the heat exchanger at full capacity. With our boiler help, the starch production capacity is increased from 750ton per month upto 1000 ton per month.
Main Cassava Producing Countries in the World
Top 10 Cassava Producing Countries: Nigeria, Thailand, Indonesia, Brazil, Angola, Ghana, Democratic Republic of the Congo, Vietnam, Cambodia and India.
Cassava (Manihot esculenta Crantz), known also as tapioca or Manihot esculenta, a woody shrub of the Euphorbiaceae family that is native to South America. It is one of the major tuber crops grown in more than 80 countries in subtropical and tropical regions of the world. (Related Post: Cassava Flour Milling Machine for Small Scale Production >>)
| Country | Production Value Of Cassava (in tons) |
| --- | --- |
| Nigeria | 47,406,770 |
| Thailand | 30,227,542 |
| Indonesia | 23,936,920 |
| Brazil | 21,484,218 |
| Angola | 16,411,674 |
| Ghana | 15,989,940 |
| Democratic Republic of the Congo | 14,611,911 |
| Vietnam | 9,757,681 |
| Cambodia | 7,572,344 |
| India | 7,236,600 |