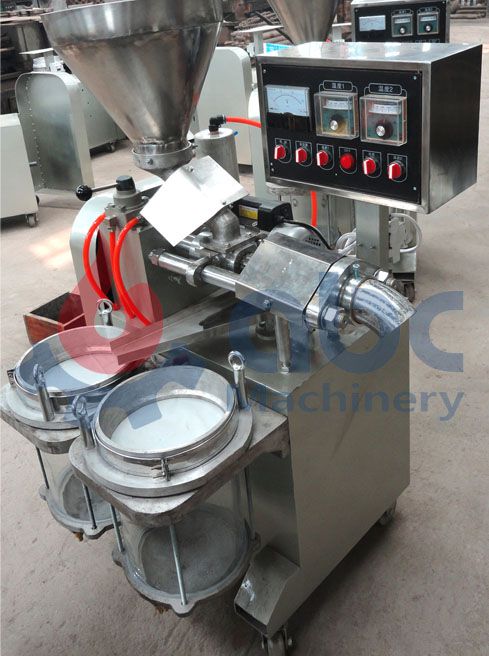 Model: YZS-60 Integrated Oil Press Machine
Capacity: 30KG/H
Power: 2.2KW
Voltage: 380V
Weight: 210KG
Package Dimensions: 600*650*880mm

YZS-60 integrated oil press machine boasts great ability to extract oil from a very wide range of plant seeds, such as sesame seeds, peanuts, grape seeds, sunflower seeds and more, which makes it the perfect choice for small oil making workshops or mobile operations, such as the vegetable market, the supermarket, the bazaar. Surely, it is a great screw oil press machine to reduce the investment cost of oil processing and making.


This type of srew oil press is compact in structurer design and easy to handle. It is an automatic oil expeller with high rate of oil production, combined the function of expelling and filtering. All parts of the machine can be dismantled , installed ,and maintained easily. About 0.2-0.4kg oil-bearing materials are allowed to be fed into the equipment when the machine is hot .
Technical Date Of Our Multifunction Screw Oil Presses
Our YZS Series Integrated Oil Presses are desgined with different models and capacities. The followings are the technical data of each model.

| Model | Power(KW) | Capacity(KG/H) | Dimension(MM) | Weight(KG) | Vacuum Pump(L) |
| --- | --- | --- | --- | --- | --- |
| YZS-30 | 1.5 | 15 | 900*900*1100 | 156 | 4 |
| YZS-60 | 2.2 | 30 | 600*650*880 | 210 | 4 |
| YZS-70 | 4 | 30 | 1000*1000*1250 | 256 | 4 |
YZS-30, YZS-60, YZS-70 are designed for extracting sesame oil, but they are also capable of pressing other vegetable seeds such as sunflower seeds, peanut seeds, rape seeds and soybeans.
| Model | Capacity(T/24H) | Power(KW) | Dimensions(MM) | Weight(KG) |
| --- | --- | --- | --- | --- |
| YZS-80A | 2~3 | 5.5+0.75 | 1860*670*1680 | 780 |
| YZS-95A | 5 | 7.5+1.5 | 2250*890*1820 | 900 |
| YZS-100A | 5 | 7.5+1.1 | 2270*750*1820 | 900 |
| YZS-120A | 6 | 15+1.1 | 2280*890*1775 | 1000 |
| YZS-130A | 10 | 18.5+1.5 | 2350*810*2000 | 1000 |

Main Structure of YZS-60 Integrated Oil Press Machine
This integrated screw oil press machine is mainly composed by four parts, including feeder, pressing cage, electric control cabinet and vacuum filters. And, the vacuum filter is designed with oil sigt glass for better control of the speed of oil clearing. This oil press machine is definitely an ideal choice for small oil making workshops or mobile oil making in the country side.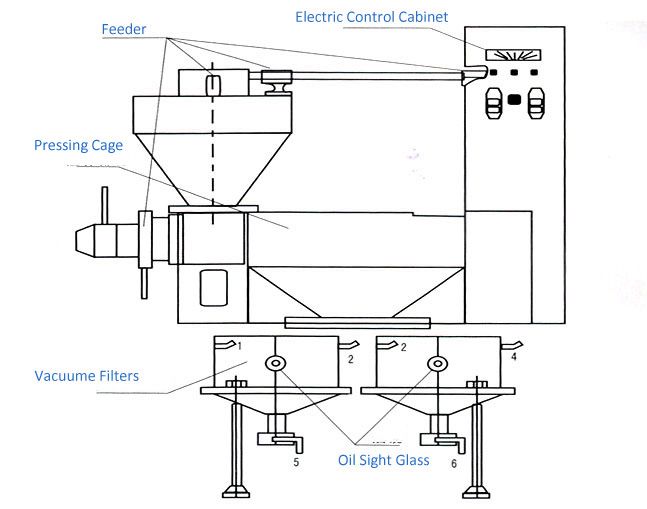 Features of YZS-60 Integrated Oil Press Machine
Lightweight design with small size is wonderful for easy transportation
High quality construction material ensures longer working life
Requires less care and saves time and costs on this oil press machine
Easy to operate during the whole process

If you are planning to buy an expeller for making oil from vegetable seeds or grape seeds. This multifunction oil press should be your best choice. With this machine, you no longer need to pay for an oil filter press. Feel free to contact us for detailed quotation and the latest wholesale price, if you are interested in this integrated screw-type oil press. We are always at your services!
How to Extract Pure Grape Seeds Oil from Grape Seeds?
Firstly, the grape seeds should be cleaned to remove the impurities from the grape seeds before turn on the grape seed oil press. Then, the grape seeds can be pressed by this professional grape seeds oil press machine. After easy operation, the grape seeds oil is obtained. However, the crude grape seeds oil should be processed with the oil filter if it is used as edible oil. Fortunately, our YZS-60 grape seed oil press machine will save the efforts on oil filtering since it has a vacuum filter that is used to filter the oil for pure grape seeds oil. (More detailed information about other
Grape Seed Oil Extraction Equipment
)
What are the Benefits of Grape Seed Oil?
Studies shows that grape seeds oil contains anti-inflammatory, anti-histamine, anti-oxidant, anti-aging, antimicrobial, anti-allergic, and adaptogenic activity. So, it has great impact on the treatment of health issues, including arthritis, edema, dermatitis, acne, wrinkles, dry and itchy skin, age spots, sun burns, chapped lips, wounds, bruising, stretch marks, varicose veins, hemorrhoids, premature aging, chronic venous insufficiency, weight loss, stress, high cholesterol levels, dandruff, hair loss, warts, cardiovascular diseases especially atherosclerosis, premenstrual syndrome (PMS), visual impairment, hypertension, diabetes, cataract, and macular degeneration. Since the grape seeds oil has such great benefits for human health, it is great to have a grape seed oil press machine for free oil making.