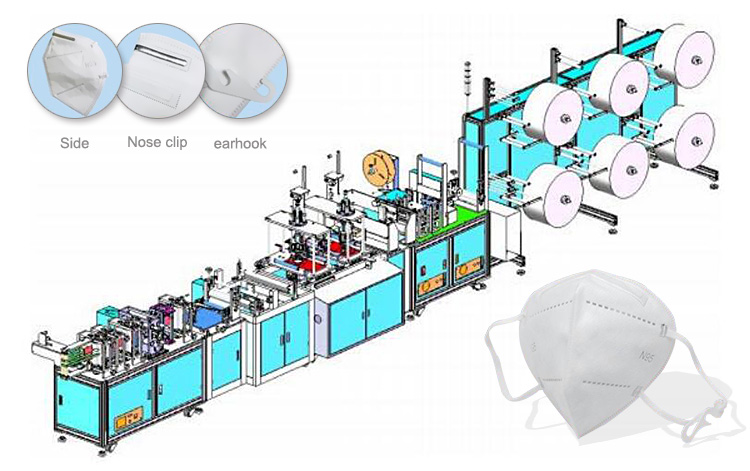 Device name: N95 mask machine
Equipment Model:GZX-N95-01
Equipment brief introduction
Equipment concept
GZX-N95-01 Fully automatic N95 mask production line is suitable for producing N95 type masks. N95 masks are automatically generated by cloth through automatic conveying, make of mask piece body, pattern printing, ear band welding, clipping and fragmentation, and automatic cutting.
Machine features
The whole machine adopts aluminum alloy structure, beautiful in appearance, strong and durable. Each machine adopts modular design, flexible combination, convenient and fast installation and debugging.
Computer PLC programming control, servo drive, photoelectric (optical fiber) detection.
Multiple positions are equipped with photoelectric detection, stable and reliable, avoiding mistakes and reducing waste.
Some machines can be adjusted to meet the personalized design: Pattern of welding point of mask body: Mask trademark and brand logo, welding strength can be adjusted.
Fully automated accomplish from raw material to finished product stacking, One person can operate multiple equipment, Responsible for raw material replenishment.
Equipment main structure
The equipment is mainly composed of five parts: Cloth conveying rack、mask slice machine、printing machine、ear band welding machine、automatic cutting machine.
The layout is as follows: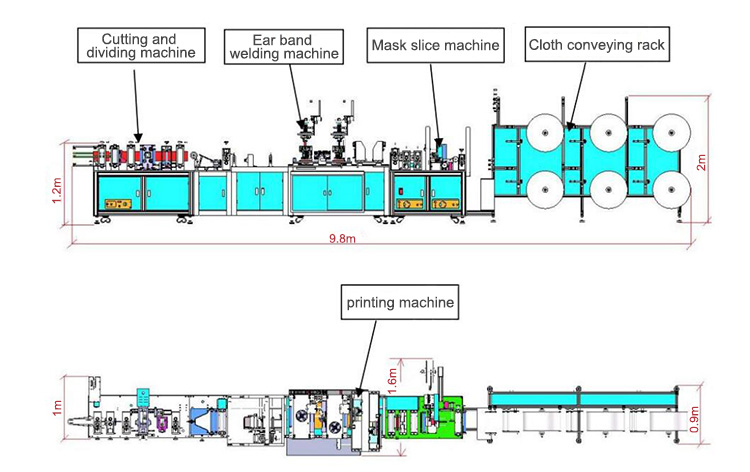 Equipment technical parameters
Boundary dimension: about 9.8m long x 1.6m wide x 2m high
Weight: About 2500kg
Power supply: AC220V 50Hz
Power: 12KW
Working height: 800mm ± 20mm
Production speed: 30-40 pieces / minute
Mask specifications: N95 type
Equipment main components configuration and standard requirements
| project | brand |
| --- | --- |
| cylinder | AirTAC |
| Solenoid valve | AirTAC |
| servo motor | Xinjie、Leisai |
| PLC | Xinjie |
| Bearing | NSK、Sanyi |
| Line rail | THK、PMI、CPC |
| Optical fiber, amplifier | OMRON、Jienshi、Panasonic |
| Touch screen | Xinjie |
| Relay | OMRON |
| Button | Helijia |
Wearing parts (not covered by warranty):
Ultrasonic welding joint, specification 15 / 25mm, Reference life 3-6 months; Ultrasonic die steel, reference life 1 month
Equipment maintenance and customer service
Equipment maintenance
Clean the machine table in the last shift every day; Clean and maintain the machine every week, and lubricate the guide rail with oil.
Note: The ultrasonic welding mechanism is a precision component, and non-professionals must not disassemble it at will;
Note: the blade of knurled cutting mechanism is sharp and must not be touched by hand.
All cleaning, maintenance and inspection work must be powered off. The repair work shall be handled by professionals.
customer service
The warranty period of the equipment is 12 months from the date of the official shipment of the equipment. In case of any fault caused by our company's responsibility, free warranty and parts delivery by Party B's company (conditions not specified in the specification are not subject to this restriction)
After the expiration of the warranty period, the buyer can still coordinate with the supplier to maintain the equipment, However, reasonable man-hour; and transportation fees shall be charged, Involving the replacement and purchase of equipment-related accessories, the supplier will charge the corresponding reasonable fee.
In order to ensure the capability and quality of the device,please comply the specifications and parts and materials required for use.
In the case of performance and function fault caused by the unpredictable contents described in this specification, the handling method shall be determined through negotiation.
During maintenance and troubleshooting, when touching the device by hand, be sure to cut off the power supply first, cover the knife edge and raised part before implementation.