Raw Materials
: Pea / Green Pea
Production Capacity
: 2 ton pea starch per hour (processing 50ton pea per day)
Country of Destination
: Russia
Scope of Inspection
: Check the equipment situation, device list, and packing.
Pea Starch Extraction Plant - Goods Inspection
Lately, a smalls cale complete pea bean starch extraction plant was exported to Russia. The following photos are taken by our specific quality inspector during the Supervising of goods packing and loading process.

About Pea Starch Extraction Technology
Pea is one of the world's widely cultivated edible bean, which ranks 4th in the leguminous crops production. The pea production of Canada is the largest, accounting for 20% of global output. Pea is also one of the major edible beans in China. ,
Pea Starch Extraction Process
The basic process flow of pea starch extraction is listed as below: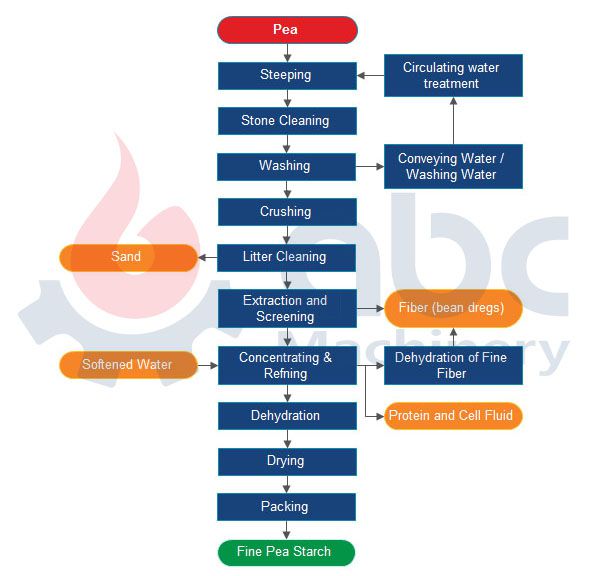 There are two kind of pea seeds: smooth peas and wrinkled peas. The main difference of chemical composition is that the proportion of A amylose and amylopectin. For smooth pea starch, the content of amylose is 33.1% to 49.6%. While for wrinkled peas, the amylose content is 60.5% -88%. The main components of pea is starch, protein, fiber and lipid. Besides, it also contains various kinds Vitamins and minerals. Its main components in the table below.
| Moisture | Starch | Crude Protein | Crude Fat | Crude Fiber | Ash |
| --- | --- | --- | --- | --- | --- |
| 10.6 | 48~53 | 21~28 | 1.0~1.5 | 4.5~5.6 | 2.5~2.9 |

Facts of Starch Production
Starch production has a history of more than 2,000 years. In the 17th century of Europe, potato starch has already been widely spread. In 1842, corn starch production was appeared. The maize starch wet extraction technique was discovered in the early 19th century. Starch industry is developing rapidly. Corn starch is mainly produced in America. Potato starch is mainly produced in Europe. Cassava starch and rice starch are mainly produced in Asia.
Common Legume Seed for Starch Production
Bean starch mainly includes mung bean starch, pea starch, broad bean starch, black bean starch, pinto bean starch, navy bean starch, lentil starch, chick pea starch and smooth pea starch. Bean starch contains higher amylose. The starch gel strength is generally high. As for the price of mung bean starch is higher, and the characteristics of pea starch is similar to that of mung bean starch, pea starch is seen as the best alternative of mung bean starch.

The yields of starch from the legume seeds ranged from 20.1 to 37.4%. The values for black bean and navy bean were much lower than for the other legumes, but were within the range (18–45%) reported for most legume starches.