As we know, Bangladesh is one Muslim country and the Islam is the state religion, 88.3% of the population believe in Islam. So, the breeding industry of this country is dominated by poultry, and the broiler chicken, layers etc.is the main resource of meat. Processing poultry feed pellet by chicken feed milling machine in Bangladesh not only meet the self-demand of their poultry animal farm, but also can be as a nice business choice for the investors.
Chicken Feed Mill Machines Ordered by Bangladesh Client
In 2020, a new customer from Bangladesh ordered a complete animal feed production line from ABC Machinery. He planned to buy this poultry feed mill machine to produce nutritional complete formula chicken feed in his own chicken farm. (Similar Project: 1Ton Small Poultry Feed Line to Thailand >>)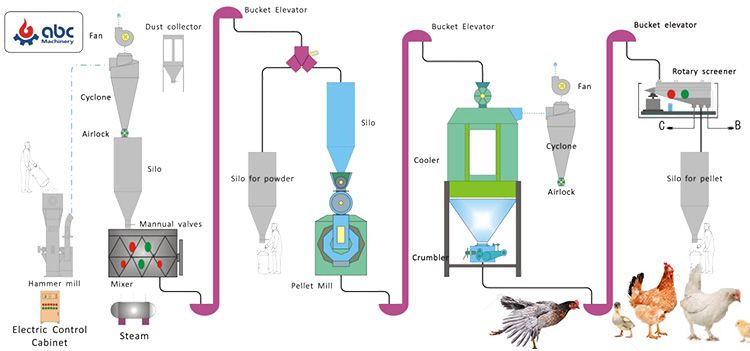 Chicken Feed Pellet Mill Plant Flow Chart
Based on his requirement and actual conditions, we help him build a
complete feed mill plant
with the main process of crushing, mixing, pelleting cooling.
If you are also interested in setting up a chicken feed mill plant for your own farm or business use, please contact us to get the latest price list!
Main Technical Parameters of this Chicken Feed Mill Plant
Destination

Production Output

Main Equipment

Bangladesh

1~1.2T/H

Hammer Mill, Ring Die Pellet Machine,

Cooler, Rotary Screener, Silo and Other Conveying Machines

Chicken Feed Mill Equipment [Inspection Report]
All the feed processing machines ordered by our customers were quickly manufactured at our factory. Below is all the chicken feed mill equipment ready for shipment to Bangladesh.

1TPH Feed Mill Plant for Poultry and Livestock Feed Manufacturing Business
Complete chicken feed mill plant exported to Bangladesh – factory price feed mill equipment for poultry feed processing: buy chicken feed mill equipment from animal feed mill machinery manufacturer or supplier at factory price, get FREE technical instruction of poultry feed pellet production process and business plan to set up chicken feed mill plant project in Philippines, Uzbekistan, Lithuania, Nigeria, Tanzania, etc., at low cost.
Steps to Setup Complete Poultry Feed Pellet Mill Plant in Bangladesh
Before the client prepares to design the production line for the investment project, we will provide design drawings and plans for free based on the information, giving certain technical guidance. (Read more: Poultry Feed Mill Cost in Pakistan >>)


Poultry Feed Mill Plant Design
During the design of complete poultry feed pellet production line, when the customer have trouble or problems, we will sometimes send specialized technical engineers or staff to visit the site and put forward reasonable design concept plans the requirements of customers.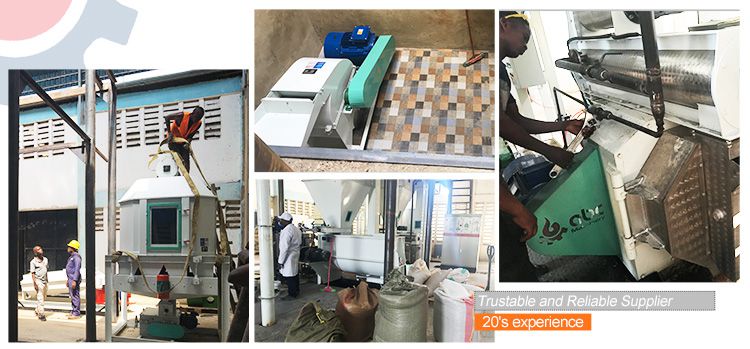 Setup Feed Mill Plant for Chickens
After finishing the design, we also offer machinery installation, sending personnel to the past for installation or installation instruction, improve the efficiency of the installation and reducing the time cost and operation cost of customers.
Factors of affecting poultry feed pellet production cost
Different poultry animal have different nutrition requirement, and also the animal has different nutrition demand in their different growth period. In order to meet the nutrition requirement, raw materials should be complete, such as, rice, corn, soybean, sorghum and vitamin agents etc., buying these raw material is not easy, you had better build the production line which is close to the original raw material place, thus reducing the transformation cost, and also make agreement on the raw material price with the seller.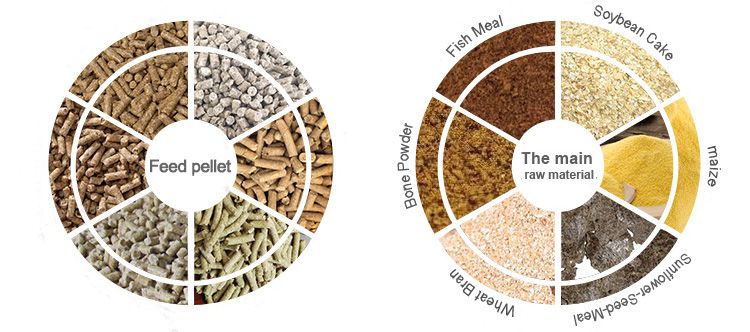 Make Various Feed Pellets
Poultry Feed Pellet Machinery Cost
For poultry feed pellet production, feed mill machinery is the core. So, the price of chicken feed mill equipment also affects poultry feed pellet production cost. Many people think high prices makes high quality feed pellet machinery. Actually, it is not true. High quality may costs much money, but high price is not always high quality. Buying reliable and cost-effective feed pellet equipment is the right way to go.