Napier Grass Processing Line in Construction
Project Name: Complete Biomass Pellet Production Line
Plant Location: The Philippines
Size of the Plant: 4800*2000*700mm
Raw Material: Napier Grass
It is also capable of processing bushes of bulrush, wheat straw, barley and pea straw, king grass…
Application:
1. Produce Shredded grass for chicken coop bedding;
2. Biomass Fuel Pellets
Production Capacity:
1. Produce 1000 tons of chicken bedding per month, that is about 4.8 tons per hour (time of production: 26 days a month, 8 hours a day).
2. Produce 500~700kg biomass pellets per hour.
Biomass Pellet Production Line Cost: Inquire for the detailed equipment price and project cost now!

Napier Grass is also known as elephant grass. 10mm~30mm in diameter, 2m~4m in height, moisture content between 69% and 72%. Due to advanced farming techniques, the elephant grass can grow up to 4m in just 4 mouths.
Napier Grass Biomass Pellet Production Project Design
This complete biomass pellet production line was designed for processing Napier Grass. It was built for one of our old client – an investor from Japanese. He have bought a small unit of pellet press (ZLSP200B) in October 2016 and set up a small scale trail production line with some other simple pretreatment equipment including sugar cane extruder, disc crusher and hammer mill. The pelletizing result was quite satisfied. Therefore, he decided to make this order and let us help his build a complete plant of Napier Grass pelletizing. (Related Project: 2~3TPH Wood Pelletizing Plant Set Up in Italy)
It is his first complete processing line of Napier grass. Using pretreatment similar with cane mill which is very famous in project location Negeros Philippine.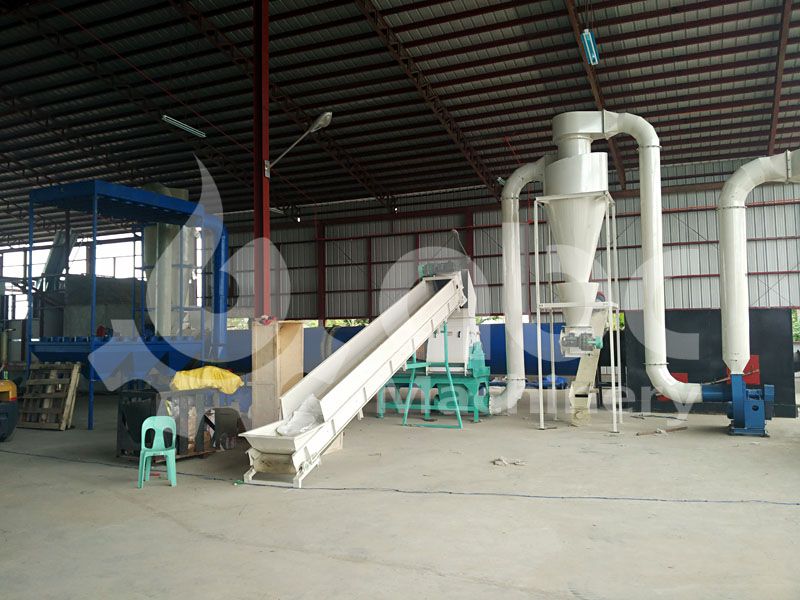 Crushing
and Drying Section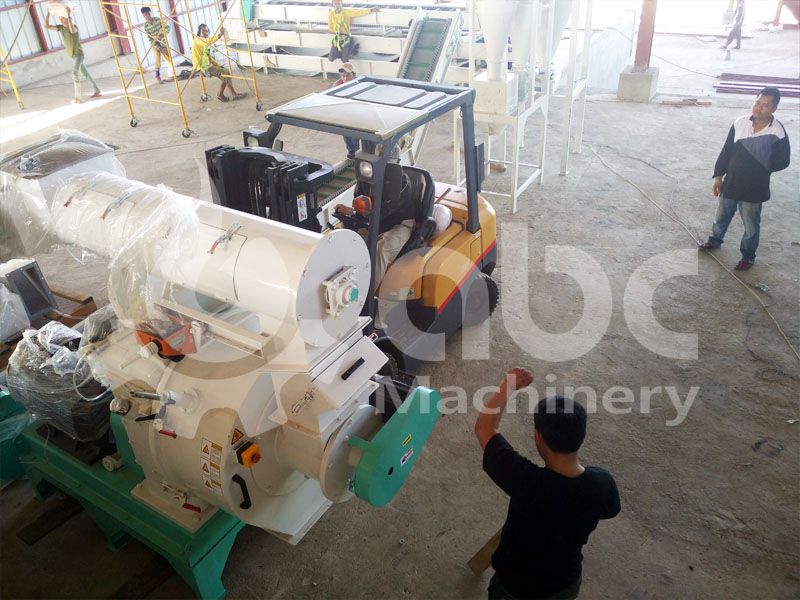 Placing of
Pellet Machine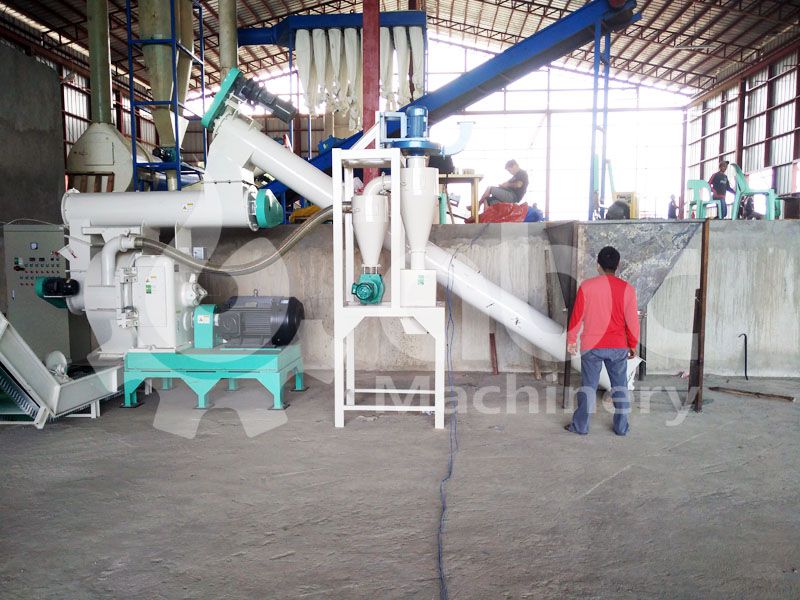 Pellets Manufacturing Section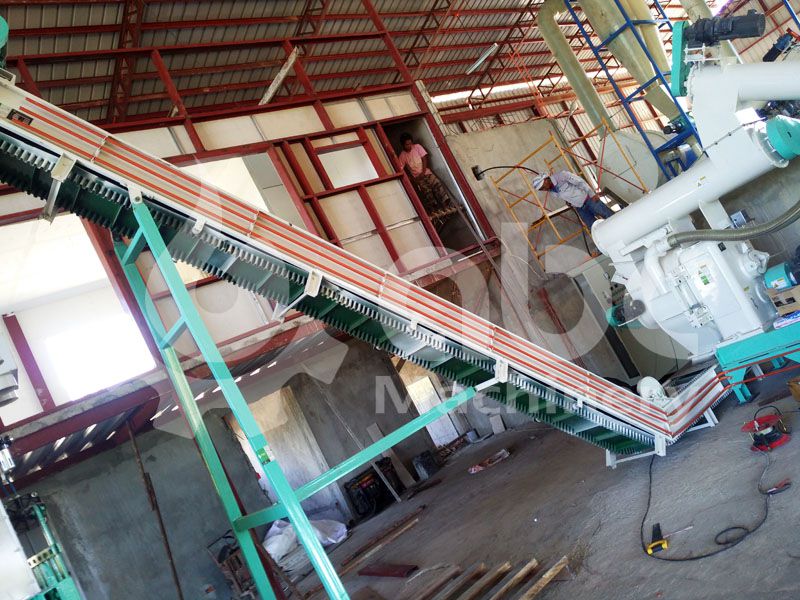 Conveyor between Pellet Mill and
Pellet Cooler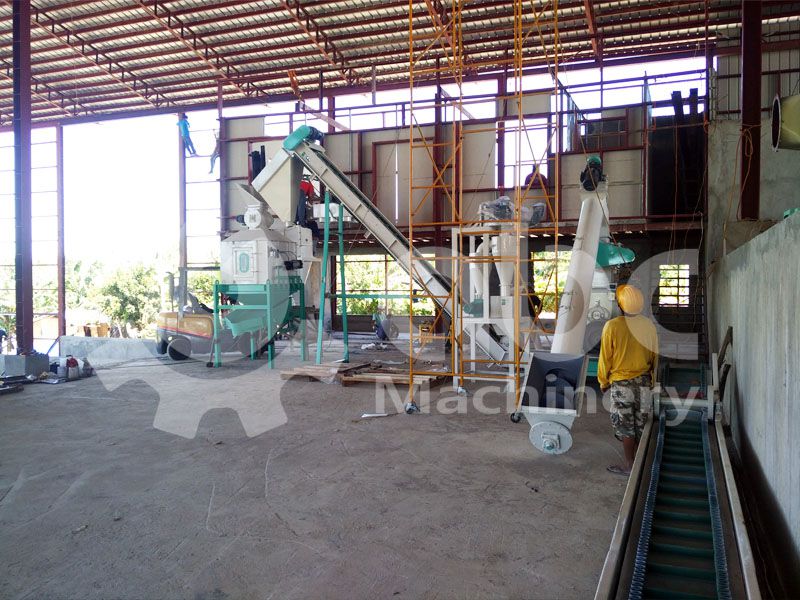 Pelletizing and Pellets Cooling Section
Napier Grass Pellet Production Process
After harvesting, the grass will be dried up. Then pass through high effective hammer mill and rotary drying system. After that, all the raw materials will be fed into ring die pellet machine use special design feeding device to ensure this kind of light material can feed into pellet machine easily. After pelletizing, all the extruded pellets will be weighted and packaged into jumbo bags, ready for leading into container or truck for local biomass power plant.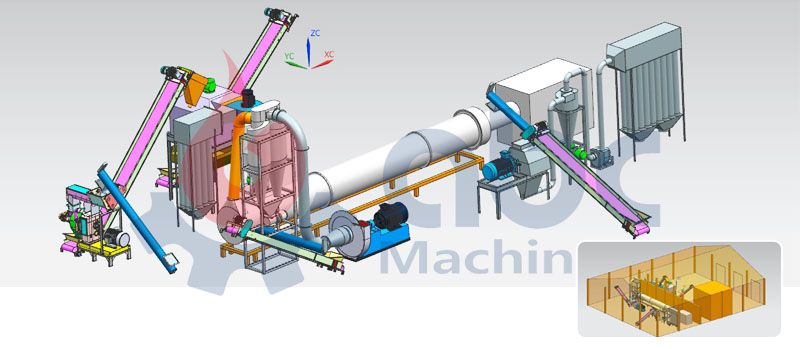 Production Line Layout Designed for this Project

Detailed Napier Grass Processing and Pelletizing Process Design
Harvesting: The harvested elephant grass is 30 mm in diameter and 4 meters in length with about 70% water content.
Washing: After washing, the grass will be sent to water squeezing machine to get rid of dirt and worm, so that to make the animal bedding cleaner.
Squeezing: After squeezing the water, the moisture content will reduced to 30%. They are turned into small blocks, about 3~5mm in width and 5~8mm in thickness.
Crushing: Then the grass will be cut into small pieces by using hay cutter or chipper. The size should be less than 5cm.
Drying: In drying process, the moisture content should be reduced to around 15%. The drying production output is 5.3~5.5 tons per hour.
Distribution: After drying, 4.8 tons are used for chicken bedding; 0.5~0.7 tons are to for biomass pellet production line.
Temporary storage bin: The grass for pelletizing process are temporarily stored in a 20-foot container.
Pelletizing and Cooling
Bagging: This plant is equipped with simple weighting (LCS-MT) and bagging equipment.