Working Principle of Oilseed Expanders / Extruder
Under a series of mechanical actions including extruding, shearing, turbulent and kneading, as well as the hot and humid of s steam injection, the cell tissue of oilseed flakes is completely destroyed. The enzymes in the oilseeds are passivation. When exiting from the expander, oil materials of high temperature and high pressure will shift to atmospheric pressure instantly, moisture quickly released from the materials, the extrudate to puff or expand.
Yes! I am Interested!
Ask for Price
Details:
Main Technical Parameters of the Oil Seeds Expander / Extruder
| | |
| --- | --- |
| Raw Materials | Soybean, Rice Bran, Rapeseed |
| Thickness of Flaking | 0.35~0.45mm |
| Moisture Content before Extruding | 10~11% |
| Moisture Content after Extruding | 12~13% |
| Discharge Temperature | 105~110℃ |
| Steam Pressure | 0.65~0.75Mpa |
| Steam Temperature | 174.5℃ |
Main Technical Parameters of the Soybean / Rice Bran Expander
Item
YPHD35-S
YPHD30-S
YPHD25-S
YPHD20-S
YPHD15-S
Capacity
63T/h
50T/h
34T/h
14.5T/h
6T/h
Screw Diameter
φ355mm
φ304mm
φ254mm
φ201mm
φ150mm
Speed of Mainshaft
290rpm
307rpm
278rpm
278rpm
278rpm
Power of Main Motor
250KW—6
200KW—6
160KW—6
75KW—6
35KW—6
Power of Hydraulic Power Unit
3KW—4
3KW—4
3KW—4
3KW—4
Weight
100000kg
6911kg
4660Kg
3800kg
2850kg
Dimensions
7169×2690×3521mm
6440×4225
×1800mm
5154×2845×1430mm
4686×2300×1260mm
2930×1200
×1000mm
Extruding Ratio
1:1.2~1:1.4
1:1.2~1:1.4
1:1.2~1:1.4
1:1.2~1:1.4
1:1.2~1:1.4
Why Puffing Before Solvent Extraction?
Increase the capacity of oil extractor. After extruding, the volume-weight is increased by 20%~30%, which greatly raises the capacity of extractor.
Increases the efficiency of extraction plant, shorten the extraction time.
Lower solvent content of wet meal, reducing the load of wet meal desolventizing.
Higher concentration of miscella, reducing the load of evaporation.
Improve the quality of crude oil after extraction.
Increase the production of flaking equipment. The requirement of oil seed extruder is no high on flake thickness, which means the thickness of flaking is properly relaxed, therefore to increase the output of the flaking machine.
Reduce the energy consumption in the solvent extraction.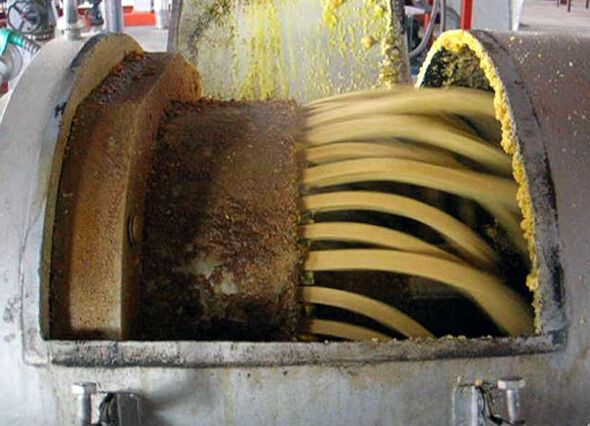 Oilseed expander is also known as extruder that cause the extrudate to puff or expand, as it exits from the extruder. Expanders are a low-cost, efficient means to improve the extractability of oil seed materials ahead of solvent extraction. Starting with their introduction in 1965 on the direct expansion of low-oil materials such as rice bran, they were later successfully applied on high-oil materials that had been partially defatted by means of screw press. For well over a decade now, expanders have been successfully used on a wide variety of full-fat or prepressed materials that have oil levels below approximately 35%. For high-oil materials, it is better to go through prepressing before expanding.
How Oilseed Expander Works?
Expander is made of a cylindrical barrel inside of which is a worm shaft with interrupted flighting. Protruding from the barrel wall are a number of stator pins which intermesh with the interruptions of the flighting and allow for high turbulent, kneading and shearing action on the oilseed flakes as it propelled through the barrel. Live steam is injected directly into the materials to elevate the temperature and moisture, and the temperature is further elevated by the friction of the flighting slipping against the material subjecting it to higher and higher pressure as it is moved down the length of the barrel. By the time the material reaches the discharge openings, it has been converted into an agglomerated, plastic-like mass that flows out under pressure through the discharge openings and puffs or expands as it exits each opening.
The Importance of Oilseed Expander in Solvent Extraction Plant
Oilseed Expanders are particularly helpful in soybean oil plants where they permitted considerable increase in plant capacity with only minimal renovation of existing process equipment. Except soya, oilseed expander is also suitable to process other oilseed materials, including prepressed oilseed cakes where, for a modest capital investment, an expander can significantly increase the capacity of oil mill plant, or increase plant efficiency at the same capacity, or correct for persistent processing problems, such as crumbly prepress cake or poor quality flakes. Actually, a combination of all three is achieved under most situations.
For a new solvent extraction plant, the use of oil seeds expanders can allow for the selection of a smaller size, and less expensive, extractor system.