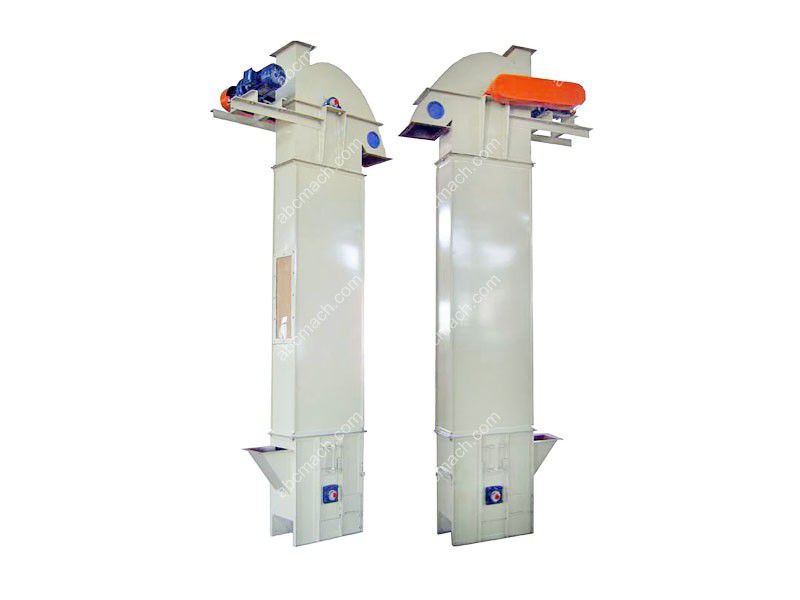 Bucket elevator is a kind of vertical transportation equipment, which is used for vertical lifting of powder and particle materials. Its features are: large hoisting height, stable lifting performance, small occupation area, good sealing and long lifetime. The hoisting height is adjustable according to your needs (usually 7 to 10 meters). It is the most widely used vertical conveying machinery in edible oil factory and vegetable oil plant.
In edible oil plant, from oil materials to finished products, different kinds of elevator are needed to send semi-finished products to the flowing process according to the technological requirements of oil processing. It is important to choose the right conveying equipment, to ensure continuous and automation production, reduce labor intensity, improve production efficiency and the quality of oil products.
Yes! I am Interested!
Ask for Price
Details:
Model

Main wheel diameter
(mm)
Winnowing pan width
(mm)
Rotating speed
(r/min)
Capacity
(t/h)
Max lifting
(m)
Power
(kw)
TDTG-26/13
260
130
1.05
2-3
12
2.2
TDTG-36/18
360
180
1.5
8-10
12
3
TDTG-36/23
360
230
1.5
13-15
15
3
TDTG-48/23
480
230
2.2
20-25
30
5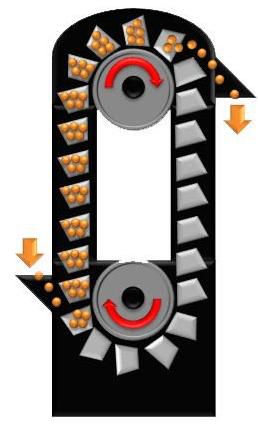 The common conveying machinery of oil plant includes bucket elevator, scraper conveyor, pneumatic conveying equipment, and belt conveyor (belt conveyor is mainly suitable for conveying of raw materials and finished goods). TDTG is the most common used bucket elevator in edible oil processing plant.
Main Structure of Bucket Elevator
Bucket elevator is mainly composed of traction belt, tensioning device, loading and unloading device and other parts.
There are a number of small steel bucket on the traction institutions (belt or chain). By the dragging of traction institutions, the elevator can lift the raw materials continuously. Driving by a rotating drum the traction part keeps moving vertically, and the small bucket filled in the lower loading place, then will be lifted upwards. When reached the top, across the upper drum and turn out, the materials will be discharged under the effect of gravity and centrifugal force, so as to achieve the purpose of conveying.
Feel free to contact us through the below contacts form if you need more details of our expeller press, edible oil plants or other oil pressing machinery.