Soybeans are quite important in the world today since it is an important source of food, protein, and oil. Soyabean oil is one of the most common products gotten from the soyabean crop. It is the most commonly used cooking oil in the US and in other countries around the world. This is because it is very nutritious and has lots of health benefits. Soyabean oil has low saturated fats, polyunsaturated fats, and omega-3 fatty acids. This makes it one of the healthiest choices of cooking oil available. Therefore, soybean oil is in high demand in the food industry. It also finds applications in the production of paints, solvents, adhesives, biodiesels, lubricants, and biocomposites. The increasing demand for soybean oil in food processing industry and the growing trend of soybean oil in biofuels has been the market forces of soybean oil production industry. If you are interested in soybean oil processing business, a reliable and experienced oil mill machinery supplier can help to to avoid detours and loss, lower soybean oil processing plant cost.
Great Opportunities for Soybean Oil Processing Business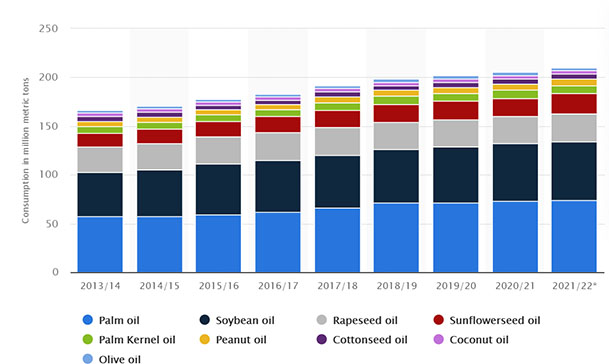 Global Soybean Oil Consumption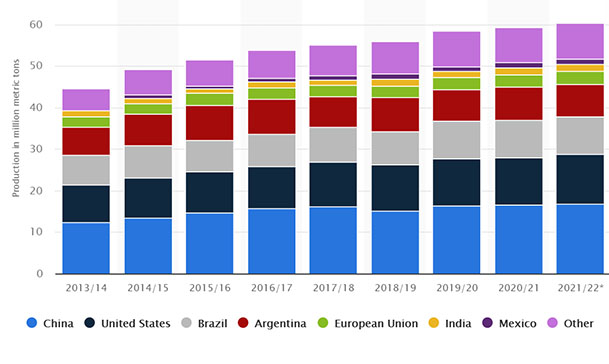 Global Soybean Oil Production

Compared with other vegetable oils such as rapeseed oil, sunflower oil, palm oil, olive oil, peanut oil and coconut oil, the price of soybean oil is more competitive, especially in developing regions. In addition, the potential growth of biomass fuel demand indicates the market outlook for further development of soybean oil. The global soybean oil market is expected to grow from $62.16 billion in 2021 to $80.48 billion in 2027. Soybean oil export markets in Argentina, Brazil, the European Union, Russia and Bolivia are expected to grow consecutively during the forecast period.
❈ Soybean Oil Uses ❈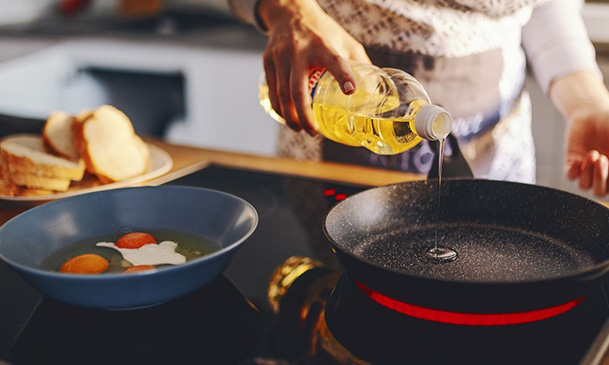 Food: frying and baking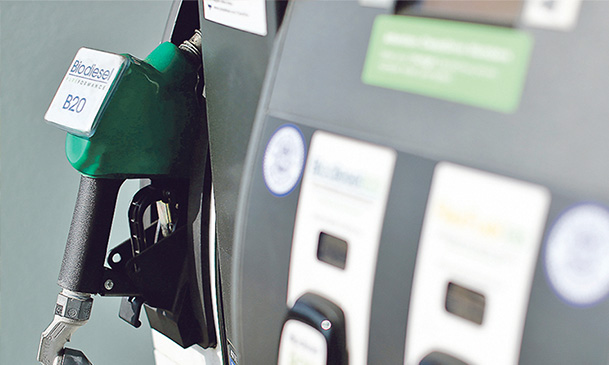 Non-food Industries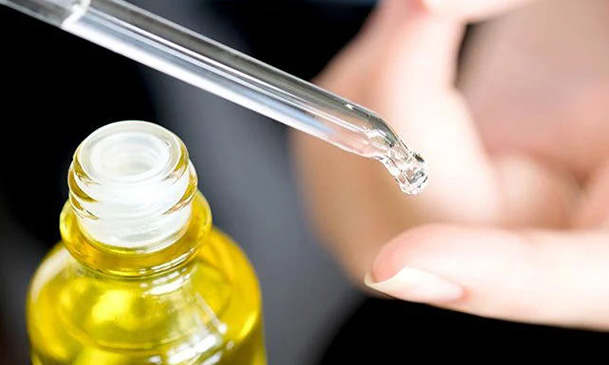 Medicial
Soybean Oil Processing Plant Supplier - ABC Machinery
Offer Professional Instruction & Customized Solutions for Soybean Oil Production Methods, Machinery and Process
As the demand for soybean oil continues to grow, more and more customers are interested in starting soybean oil processing business by setting up professional and efficient oil mill plant to make a profit. As an oil mill machinery manufacturer that has helped many domestic and international customers to set up successful soybean oil processing plants, ABC Machinery is pleased to share information about how soybean oil is extracted? What equipment is required for soybean oil mill plant? How much will cost to set up a soybean oil mill plant, including mini scale, small scale, medium scale, large scale to industrial scale. Surely, we also like to offer supports on market anaysis and ROI.
▎Soybean Oil Extraction Methods
Complete soybean oil mill plant is usually designed with seeds pretreatment section, oil processing section, oil refining section and oil filling section. According to oil extraction methods, soybean oil production can be divided into mechanical oil pressing and solvent oil extraction. And crude soybean oil extracted from both mechanical or solvent has impurities and should be refined through a series of oil refining process to get edible refined soybean oil.
▎Soybean Oil Processing Machines
For over 20 years, ABC Machinery has provided customers with high quality oil processing machines for various oilseeds oil extraction. We specialize in the design and manufacture of grains processing machine, oil extraction machine, oil refinery machine and turnkey project of oil mill plant. Based on China, ABC Machinery has exported more than thousands of oil processing equipment to 60 countries. Our technical staff find the best ways for our customers to be more productive and save money through our continuuous improvements solutions on edible oil extraction. Above is some hot sale soybean oil processing machines, if you are interested in, just contact us to get the technical parameters and price list!
➤ Soybean Oil Processing Plant Cost ➤
Soybean oil production business can be started from mini or small-scale oil mill plant since it requires lesss investment cost. The small soybean oil processing plant designed by ABC Machinery, with capacity 5~20 tons per day may need at least $7,500. But the final exact cost should be confirmed with your sales or engineers.
▎Soybean Oil Production Process


Soybean Oil Processing Flow Chart
Above listed the most efficient soybean oil processing flow chart. If you are interested in knowing more about soybean oil manufacturing process in different capacities and oil extraction methods, just contact us directly, our professional engineers will get back to you soon!

Soybeans Cleaning
Soybeans can be mixed with impurities during harvest, transportion and storage. Although the soybean is usually cleaned before storage, it will still contain a small number of impurities after the initial cleaning, which cannot meet the requirements of soybean oil extraction. Therefore, soybeans have to be further cleaned after entering oil mill factory to reduce its impurity content to the range required by sobean oil extraction so as to ensure the effect of the oil production process and quality of final soybean oil. Cleaning methods include screening, air selection, specific gravity destoning, magnetic separation, dust removal, etc. The cleaning of soybeans usually requires an array of seeds cleaning machines to remove all the impurities. Sometimes, it doesn't require many unites.
Soybean Moisture Conditioning
The moisture affects the physical properties of soybeans, such as elasticity, plasticity, mechanical strength, thermal conductivity and tissue structure, which directly affect the effectiveness of soybean oil processing. Moisture also has an impact on the activity of various enzymes in soybeans, which can change the nature of certain components in soybeans, which in turn affects the quality and yield of the soybean oil and its by-products. If the moisture content is too high, soybeans will be dried, usually by convection drying and conduction drying. If the moisture content is too low, it is humidified. Generally, saturated steam and water are mixed and sprayed onto the soybeas that is being transported, which can achieve a better wetting effect and a shorter time for moisture homogenisation.
Soybean Crushing
Before soybean flaking, large soybeans must be crushed into a certain particle for flaking. Soybean crushing increases the surface area, which facilitates the transfer of temperature and moisture when softening, thus improve softening effect. The requirements for soybean crushing are particle size uniformity, no oil, not into a group and less powder. The standard for soybean crushing is 4~6 petals, and power control at no more than 10%~20% mesh. If moisture content is too high, soybeang are not easily crushed and easily flattened, can has oil, which leads unsmooth and low output; Otherwise, the oil-containing powder is easy to adhere together to form a group. Commonly used crushing equipment are rod-toothed crushers, hammer crushers and disc shellers.

Soybean Softening
Softening is to improve the elasticity of soybeans by adjusting the moisture and temperature of soybeans, so that it has the best conditions for flaking, reducing the powder and sticky roll phenomenon and ensuring the quality of flakes. Softening is mainly used for oilseeds with low oil content, low water content and high shell content with poor physical plasticity and hard texture. Oil content of soybean is low, poor plasticity, so it is generally softened before flaking. Flaking temperature should depend on the level of moisture content of soybeans. Soybean moisture for 13% to 15%, softening temperature is usually mastered in 70 ~ 80 degrees, softening time 15 ~ 30 minutes. Commonly used softening equipment are layer-type softening pot and drum softening pot.
Soybean Flaking
Flaking is to take use of mechanical action to make materials from the granular sheet into flake. The purpose of flaking is to destroy the cellular organisation of materials, to increase the surface area, to shorten the distance of the oil flow, to facilitate the extraction of the oil and to improve the evaporation effect. Flaking is the key to pretreatment and is related to the yield and quality of the oil. The key to soybean flaking lies in the operation of the flaking machine. In order to ensure the quality, the moisture and temperature of the material before flaking should be strictly controlled. Generally, soybean flaking thickness is 0.3mm or less. The flaking equipment can be divided into two categories: inline and flat mills.
Soybean Extruding
Soybean extruding is the process of using extrusion and puffing equipment to convert crushed, flaked or whole oilseeds into porous puffed pellets. Extrusion is a high temperature, short processing process. Commonly used soybean extruders have single screw, twin screw two types, according to the extrusion of moisture content can be divided into wet, dry extrusion two methods. Generally speaking, in the extrusion process, the extrusion temperature can reach about 110 ~ 200 ℃, the residence time in the extruder for 1~3 mins, shortly 5~105 sec. The most important function of soybean extruding is to destroy cell structure for easy oil extraction, blunt all kinds of enzymes, improve the oil yield, increase oil output and reduce solvent loss.

Soybean Oil Extraction – Leaching
This process is mainly using solvents that dissolve fats and oils to extract the fats and oils from soybean through wetting and penetration, molecular diffusion and convection diffusion. The basic elements in this process are solvent and soybean materials as well as the leaching method and process parameters. The type of leaching equipment is generally divided into batch and continuous. According to the leaching method, it is divided into immersion, infiltration and mixed. Each leaching equipment can be divided into many types based on its structure. And, Flat rotary extractor and ring type drag chain extractor features high efficiency, advanced technology and wide application. But its cost is higher.
Crude Soybean Oil Refining
Crude soybean oil is generally defined as oil extracted by solvent extraction or pressing process that contains certain impurities that are not suitable for consumption (or industry). The main component of crude soybean oil is a mixture of glycerol triglycerides (neutral oil) and non-glycerol ester substances (impurities). Soybean oil refining is to add edible phosphoric acid, sodium hydroxide, decolourisation active white clay and other process auxiliaries, after a series of processes to remove impurities and components affecting the colour, stability and flavour, to improve the quality, flavour and storage stability. Tyical soybean oil refining process is degumming, deacidification, decoloration, deodorization.
Final Soybean Oil Packaging
After above processes, edible refined soybean oil is produced and can be sale in the market. Generally, edible oil can be packed in PET barrels, glass bottles, tin barrels and so on. Nowadays, cooking oil is generally packaged in PET, which requires low cost and is environmentally friendly. Finished soybean oil packaging machines can be selected according to the output of soybean oil processing plant. The edible oil filling line consists of a blowing machine, air washing machine, edible oil filling machine, edible oil capping and capping machine, edible oil labelling machine, edible oil cartoning machine, edible oil conveyor, edible oil palletizing and handling equipment, etc., which is a complete production line.
For soybean oil manufacturing business, a scientific soybean oil production process design is essential. Above is just a sample for large scale soybean oil processing. If you are interested in mini, small, medium or industrial scale soybean oil production, just contact us to get professional instruction and equipment list.
Soybean Oil Mill Plant Project Report
Undertake 5~1000TPD Soybean Oil Processing Projects
The fast-growing edible oil industry has attracted more and more investors. At the same time, with the increasing sales of edible oil, many edible oil processing plants are looking to expand its oil production line equipment to improve product quality and production efficiency. So, how to choose a reliable edible oil production equipment manufacturer? Through years of production practice, ABC Machinery has rich production and practical experience in the design, manufacture, installation and commissioning of pre-treatment, pre-pressing, leaching and refining processes of vegetable oils. In order to better serve our overseas customers, we have also established a professional overseas installation team. If you are intested in starting soybean oil processing business by setting up soybean oil mill plant, just contact us to get more real and practical project report!